This post was authored by Laura Jordana Technical Marketing Engineer, Nutanix
We are excited to introduce Nutanix Test Drive 2.1, which now allows you to test drive Xi Leap, our easy to use, no-install, Disaster Recovery as a Service (DRaaS) solution.
Nutanix Test Drive is a way for you to try out the Nutanix platform easily, through your web browser. Recently, we announced our new and improved Test Drive 2.0 running on Google Cloud Platform, which showcases 3 areas of the Nutanix portfolio - managing your virtual infrastructure with Prism and AOS, monitoring and planning with Prism Pro, and easily deploying and publishing applications with Calm. For more details, click here.
With Test Drive 2.1, we have introduced a new tile, My Recovery, which allows you to explore Xi Leap. Xi Leap is natively integrated with AOS and Prism and utilizes Xi Cloud, Nutanix's subscription-based public cloud services platform that features guaranteed SLAs.
Test Drive 2.1 With DRaaS
You can get started with Disaster Recovery as a Service in the cloud now by navigating to our Test Drive site.  When you log in, you will be presented with a menu of modules to explore. Clicking on the new My Recovery tile will give you 3 brand-new guided tours that allow you to explore Xi Leap capabilities.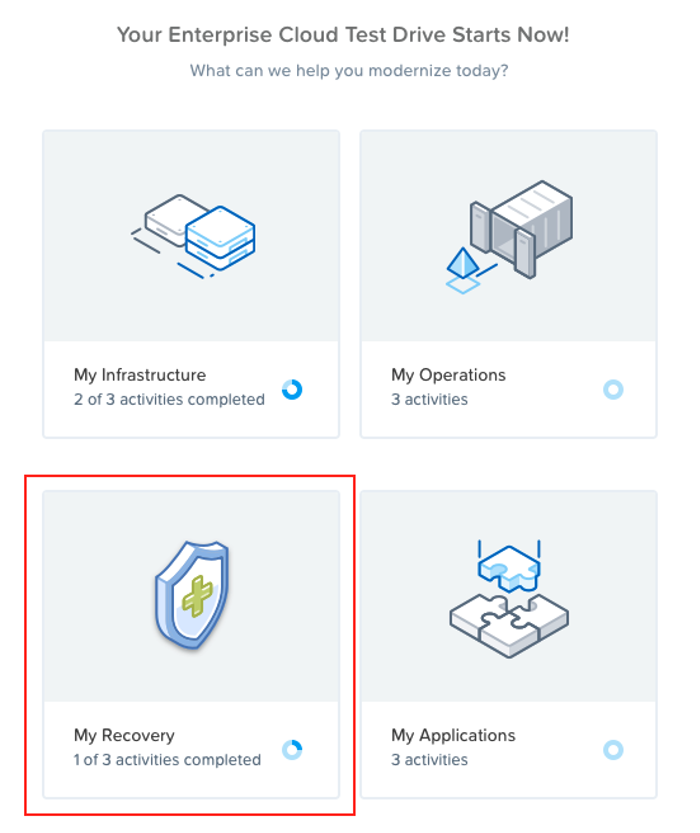 Note: At any point during the guided tour, you can exit the tour by clicking the X in the top-right corner of the current window. You can return to the guided tour by clicking on the Continue Guided Tour button at the bottom of any screen.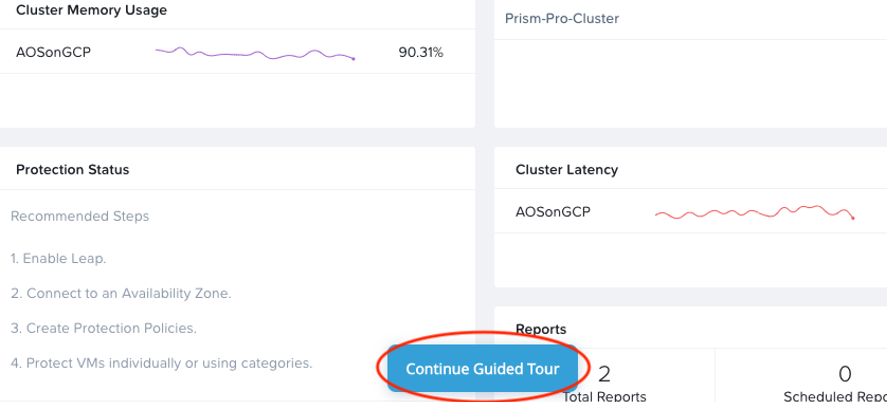 My Recovery
The 3 new guided tours underneath My Recovery will walk you through:
What an Availability Zone is and how it can be set up

(Configure Setup)

How to configure Protection Policies and Recovery Plans (Configure

Policies

)
Logging into the Xi console and initiating a failover

(Perform a Failover)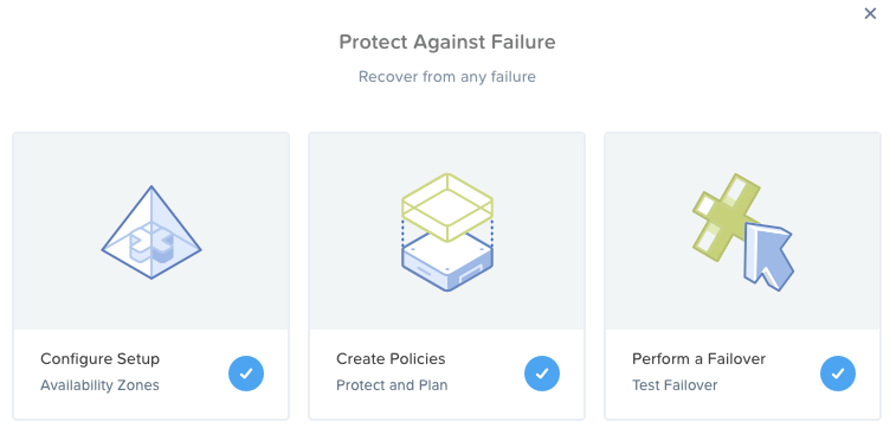 Availability Zones
You will learn about Availability Zones and view the configuration set up to the Xi Cloud as the disaster recovery cloud.

Protection Policies and Recovery Plans
You will explore protection policies and recovery plans and learn about the different options for retention policies and RPOs.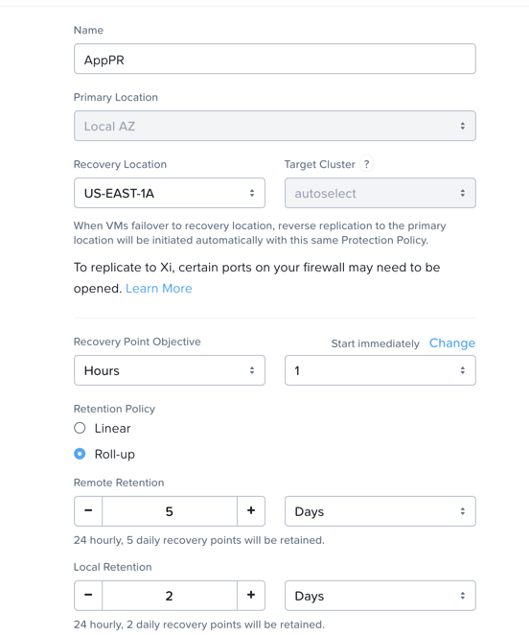 Failover
You will be able to trigger a live failover from the Xi instance.
To learn more about Xi Leap DRaaS features, including categories and how to failback to the on-prem instance, click on the Recovery Deep Dive link at the end of the walkthroughs or from the Quick Links menu!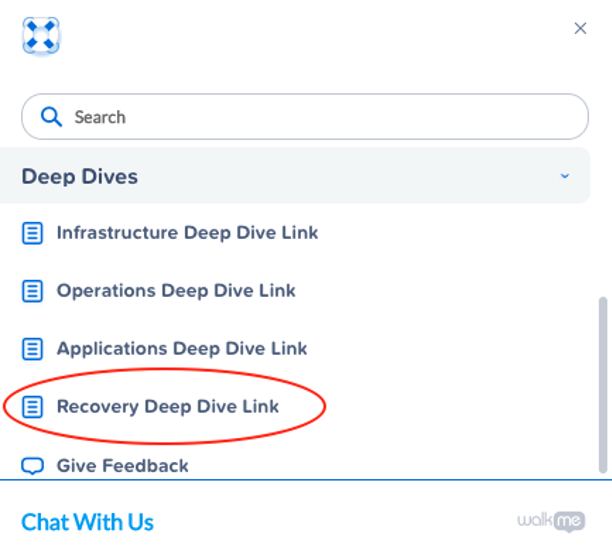 Tips & Tricks
If you want to start over, feel free to X out of the current step and click on Continued Guided Tour at the bottom.
This is a live, fully functional system, so once you are done with the walkthroughs, feel free to explore on your own for the remainder of the time. Note that not all Nutanix solutions are currently able to be demoed in this environment.
Click the Quick Links menu at the bottom right of the screen to quickly jump to different guided tours and deep dives.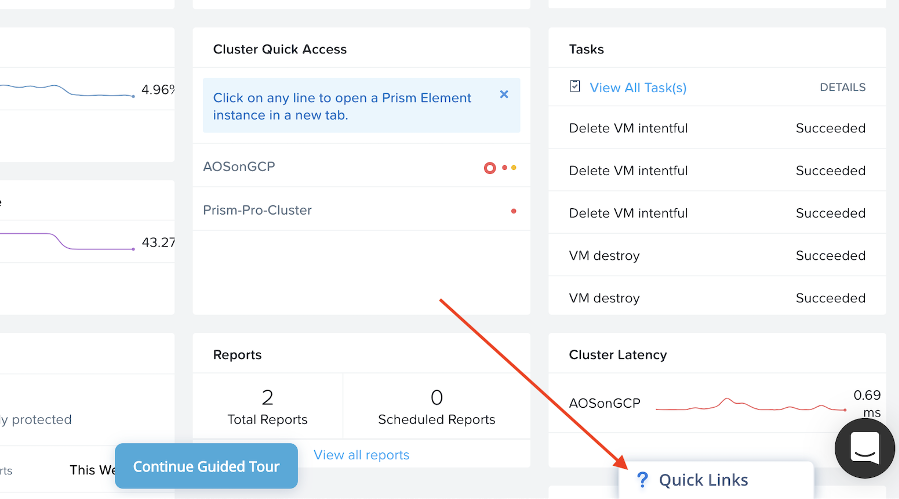 Other Features of Test Drive
Read about the other features of Test Drive by checking out our Test Drive 2.0 blog!
Join the Community
Be sure to join the conversation at our NEXT Community Forums!
To learn more about Xi Leap, please visit our Xi Leap page.
We are continuing to expand the experiences offered in Nutanix Test Drive, so stay tuned for what's to come! Check it out now at www.nutanix.com/testdrive!
---
2020 Nutanix, Inc.  All rights reserved. Nutanix, the Nutanix logo and all Nutanix product, feature and service names mentioned herein are registered trademarks or trademarks of Nutanix, Inc. in the United States and other countries. All other brand names mentioned herein are for identification purposes only and may be the trademarks of their respective holder(s). This post may contain links to external websites that are not part of Nutanix.com. Nutanix does not control these sites and disclaims all responsibility for the content or accuracy of any external site. Our decision to link to an external site should not be considered an endorsement of any content on such a site. Certain information contained in this post may relate to or be based on studies, publications, surveys and other data obtained from third-party sources and our own internal estimates and research. While we believe these third-party studies, publications, surveys and other data are reliable as of the date of this post, they have not independently verified, and we make no representation as to the adequacy, fairness, accuracy, or completeness of any information obtained from third-party sources.