This blog series provides the new feature updates that have been GA'd through the Nutanix
Files
4.0 release.
This is the second of four blogs to teach you about the new features in Nutanix Files 4.0.
We will update the other blogs as they are posted:
Nutanix Files has long been integrated into the core Nutanix AOS
software. File server deployments, share creation, upgrades, node expansions, and other core services are delivered using the same interface. This integration has been key to keeping Nutanix Files simple and intuitive so that any administrator, whether they are an expert in Network Attached Storage (NAS) or not, can easily manage Files and their entire Nutanix Hyperconverged Infrastructure (HCI) environment.
While being tightly coupled to AOS is beneficial, differing product release cycles, along with delivering a file server centric interface, has driven a project to partially decouple Nutanix Files management from the Prism
Element management software. This decoupling started with the File Server Module (FSM), which for the past few releases has enabled incremental GUI changes independent from AOS.
With Files 4.0 release, the next phase of this process has delivered a separate GUI presented directly from the File Server Virtual Machines (FSVMs.)  This new interface provides several benefits including:
A file server centric interface
Faster product release cycles with fewer AOS dependencies
A Prism Central based look and feel, for link and launch integration with Files Manager (FM)
File server deployments, scale-out operations and upgrades through the Nutanix Lifecycle Manager (LCM) will continue to be executed from Prism to provide a consistent infrastructure management experience. But file server specific operations like share creation and settings management, antivirus server configuration, file blocking and role management, among other items, will be executed from this new Nutanix Files console and API.
Files Console
Within Prism Element on the File Server page, you'll find all of your deployed file server instances. From here you'll be able to launch into the Files console for the server you'd like to manage. You'll initially connect to the dashboard that gives you an overview of the instance including:
Capacity Summary
Performance Summary
File Server Health
Data Lens Status
Top Shares by Storage Used
Feature Status
Performance Recommendations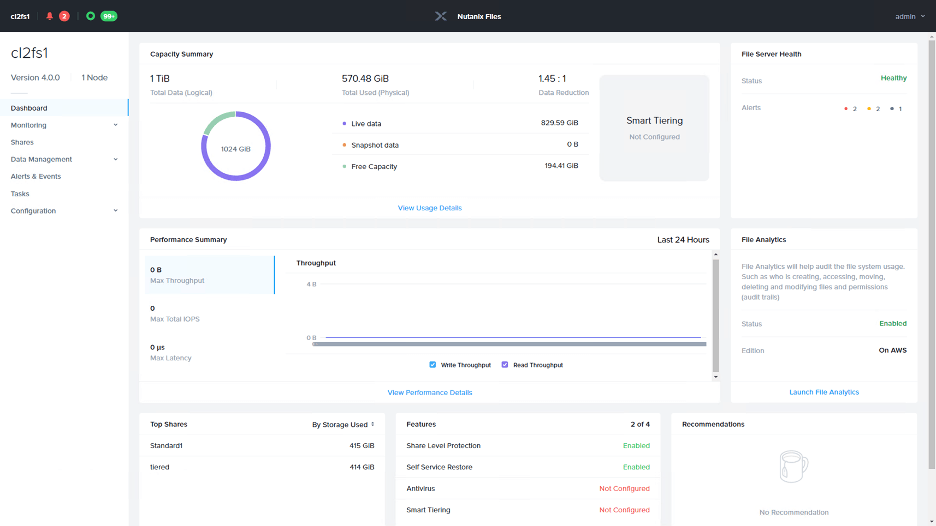 The monitoring page of the console gives you all of the metrics and performance charts for the file server including:
Storage Metrics

Usage
Open Connections
Number of Files

Performance Metrics

Latency
Throughput
IOPS

Antivirus Server Activity
FSVM Metrics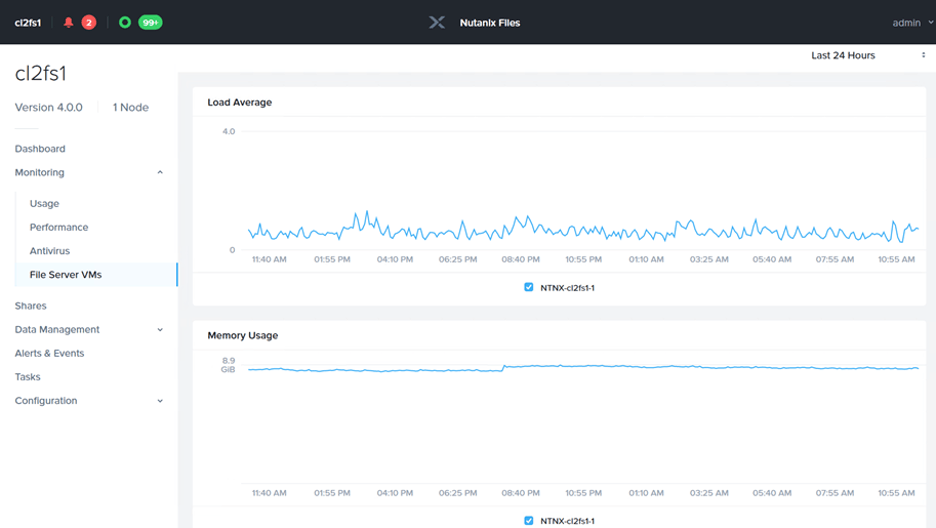 The shares page of the console give you complete share management including:
Share Creation and Deletion
Quota Policy
Share Settings Management:

Multiprotocol access
Self-Service restore
Inline compression
Share leve file blocking
In-flight encryption
Access Based Enumeration
Share level performance metrics
Access management for NFS and more…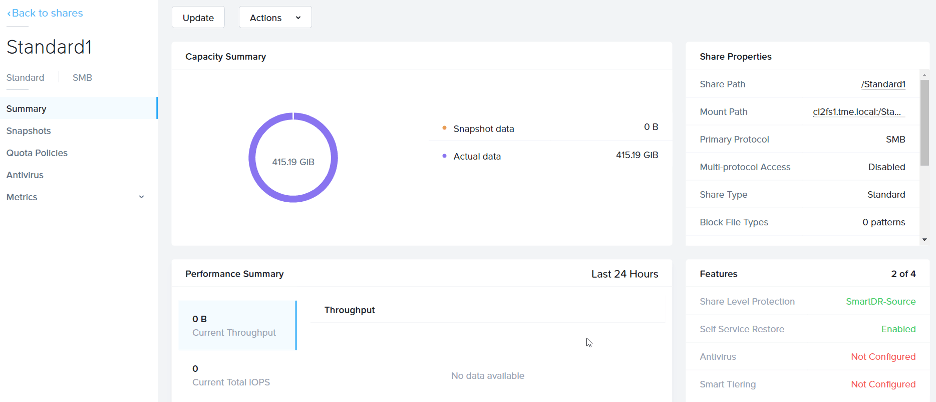 The data management section of the console lets you view and edit your self-service restore snapshot schedule, see your data protection status whether you're leveraging native AOS protection domains or Smart DR, and see the status of Smart Tiering.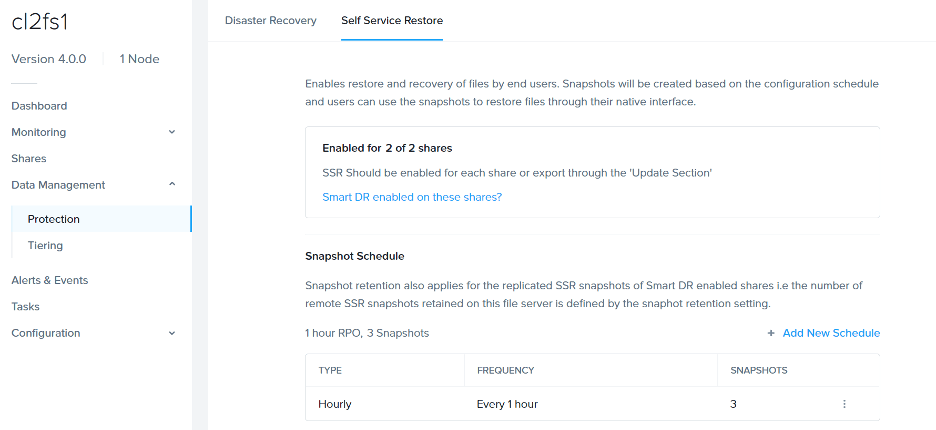 Alerts, Events, and Tasks, as they sound, give you a file server centric view of these items.
Last, but not least, the configuration section of the console let's you modify critical settings of the file server:
Authentication
Blocked Files
Manage Roles

File Server Admin
Backup Admin
REST API User

DNS Management
Antivirus ICAP Servers
Platform Settings

Scaling up storage
Scaling up file server compute resources
We hope these updates give you an enhanced experience for managing your Nutanix Files environments. Feel free to comment below and let us know what you think.
Visit the first blog in the series: Blog 1: Smart Tiering
See the next blog in the series: Blog 3: Performance and Improvements
You can continue the conversation and ask questions in the Nutanix Files forum.
---
2021 Nutanix, Inc.  All rights reserved. Nutanix, the Nutanix logo and all Nutanix product, feature and service names mentioned herein are registered trademarks or trademarks of Nutanix, Inc. in the United States and other countries. Other brand names mentioned herein are for identification purposes only and may be the trademarks of their respective holder(s). This post may contain links to external websites that are not part of Nutanix.com. Nutanix does not control these sites and disclaims all responsibility for the content or accuracy of any external site. Our decision to link to an external site should not be considered an endorsement of any content on such a site. Certain information contained in this post may relate to or be based on studies, publications, surveys and other data obtained from third-party sources and our own internal estimates and research. While we believe these third-party studies, publications, surveys and other data are reliable as of the date of this post, they have not independently verified, and we make no representation as to the adequacy, fairness, accuracy, or completeness of any information obtained from third-party sources.
This post may contain express and implied forward-looking statements, which are not historical facts and are instead based on our current expectations, estimates and beliefs. The accuracy of such statements involves risks and uncertainties and depends upon future events, including those that may be beyond our control, and actual results may differ materially and adversely from those anticipated or implied by such statements. Any forward-looking statements included herein speak only as of the date hereof and, except as required by law, we assume no obligation to update or otherwise revise any of such forward-looking statements to reflect subsequent events or circumstances.