The Nutanix Files
storage solution introduces new enhancements in its newest 4.0 release that improve client performance, enhance file server compute efficiency, and deliver a consistent experience in mixed environments.  We've also done some scalability testing we're excited to share.
Improving Synchronous Random Write Performance
To help take advantage of storage class memory technologies like Intel's Optane
product line, Nutanix Files 4.0 creates separate high speed log devices placed on the fastest storage tier of the Nutanix cluster. Each file system associated with a share will include log devices either on initial creation or upon upgrade to Files 4.0. Use of the high speed log has shown to improve sustained synchronous random write performance. Synchronous writes are required when setting SMB shares to be continuously available (CA.)  
CPU Scheduling with NFS
Improvements were also made to how CPUs are utilized for NFS workloads. Applications requiring high IOPs can lead to high CPU utilization on the file server. This high CPU utilization leads to growing thread counts, which impact locking and scheduling for CPU time. With Files 4.0, improvements limit locking and scheduling contention, including the optimization of leveraging multiple thread pools.   
Ultimately, these improvements allow more efficient CPU utilization and better performance for CPU intensive workloads. In fact, cached random read tests showed a file server could support more than double the number of NFS based IOPs.
Flow Control with Nutanix Volumes
Nutanix Files leverages the block storage capabilities of the Nutanix AOS
infrastructure software. This feature is called Nutanix Volumes
storage.  Volumes is a highly scalable iSCSI-based service that can leverage all nodes in a Nutanix cluster to support the performance and capacity requirements for any individual file share. Files 4.0 adds queueing and flow control improvements to handle bursty workloads and large storage queues. These improvements help provide more consistent performance both for dedicated and mixed environments where Nutanix Files runs in concert with other virtualized or bare metal applications on the same hardware. 
Pushing the Performance Envelope
With every release, we compare performance using standardized tests to ensure we haven't regressed and have delivered improvements for just about any workload. With this, we do quite a bit of large-scale testing. In preparation for the release of Files 4.0, we re-ran our scale test suite, this time with 16 AOS and Files nodes. This was intended to highlight the full capability of what a Nutanix
NX-8055 4 SSD hybrid cluster configured with the maximum amount of Files nodes could do. This also illustrates one of the Nutanix core strengths: if your application and users need more performance, simply scale your cluster out.
These tests were run with fio to determine maximum throughput for each configuration of 1, 4, 8, 12, and 16 nodes. We wanted to see that the capabilities of the cluster scaled up along with the number of hardware and Files nodes.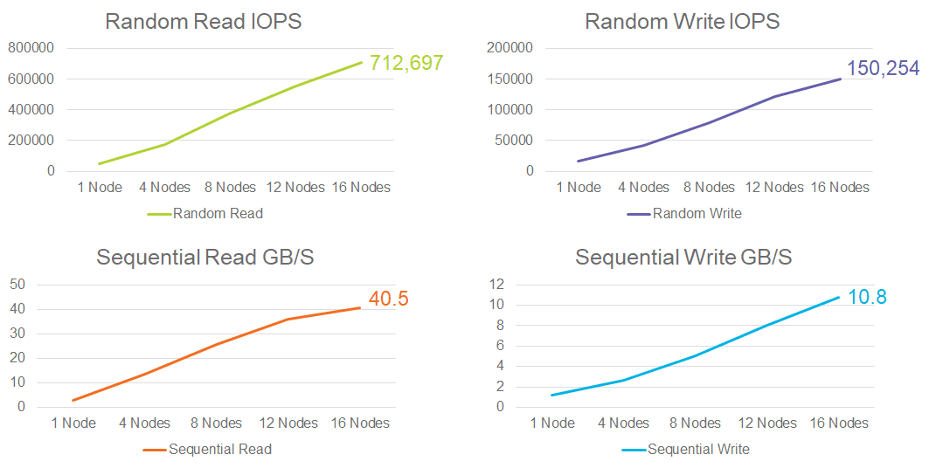 Our testing found that Files performance did indeed scale along with cluster size. At the top end of the sequential read test, there is a slight dip due to pushing the capabilities of our test network.
Files 4.0 delivers higher performance with linear scalability. We hope these improvements are beneficial to your Nutanix Files environments and improve your business outcomes. 
 
---
2022 Nutanix, Inc.  All rights reserved. Nutanix, the Nutanix logo and all Nutanix product, feature and service names mentioned herein are registered trademarks or trademarks of Nutanix, Inc. in the United States and other countries. Other brand names mentioned herein are for identification purposes only and may be the trademarks of their respective holder(s). This post may contain links to external websites that are not part of Nutanix.com. Nutanix does not control these sites and disclaims all responsibility for the content or accuracy of any external site. Our decision to link to an external site should not be considered an endorsement of any content on such a site. Certain information contained in this post may relate to or be based on studies, publications, surveys and other data obtained from third-party sources and our own internal estimates and research. While we believe these third-party studies, publications, surveys and other data are reliable as of the date of this post, they have not independently verified, and we make no representation as to the adequacy, fairness, accuracy, or completeness of any information obtained from third-party sources.
This post may contain express and implied forward-looking statements, which are not historical facts and are instead based on our current expectations, estimates and beliefs. The accuracy of such statements involves risks and uncertainties and depends upon future events, including those that may be beyond our control, and actual results may differ materially and adversely from those anticipated or implied by such statements. Any forward-looking statements included herein speak only as of the date hereof and, except as required by law, we assume no obligation to update or otherwise revise any of such forward-looking statements to reflect subsequent events or circumstances.