Introduced with the Nutanix Files
release 3.8, Smart DR brought share-level replication between active file server instances for disaster recovery. If you're not yet familiar with Smart DR, you can get an overview of the feature and its benefits here. Shortly after its initial release, Nutanix introduced 1-minute replication interval support with the Files 3.8.1 release. 
The recent Files release 4.0 further enhances Smart DR with scalability improvements and self-service restore (SSR) integration.
Scalability
Smart DR allows for file server share replication regardless of the storage density of the physical nodes, but Smart DR did come with the limitation of supporting up to 25 shares for replication. Files 4.0 increases this limit to replicating up to 100 shares between file servers. Replication is supported down to 1-minute replication intervals for up to 25 shares. The remaining shares can support down to 10-minute intervals.
SSR Interoperability
Nutanix Files has long supported SSR snapshots, which allow end users to access previous versions of their files. With Files 4.0, Smart DR supports replicating the snapshots between the source share and its target.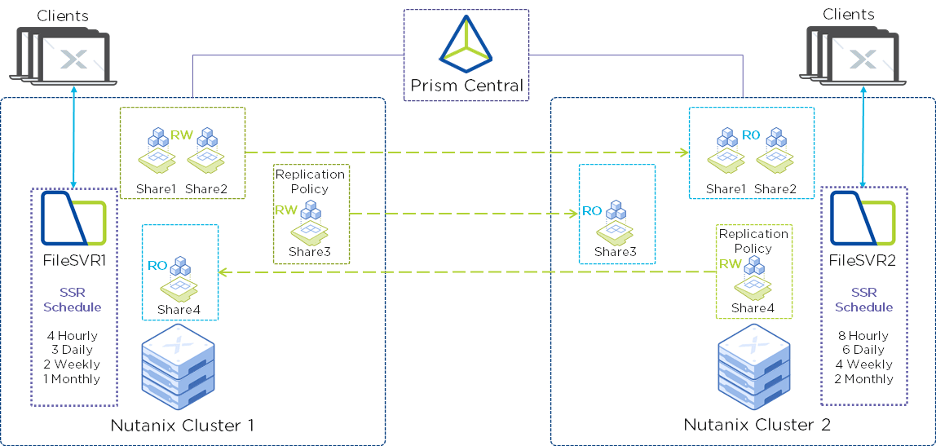 The target share can have the same or different retention schedule compared to the source. For example, if the file server is configured on the source to maintain the last two hourly snapshots, you can configure the target file server to maintain the last ten hourly snapshots to provide a longer retention window. Or, you can match retention schedules to simply ensure the same SSR copies exist in both sites for any failover event.
End users, IT support engineers, or file server administrators can recover their data using the SSR copies from either the source or read-only target of the Smart DR relationship.
If you're using Nutanix Files with Smart DR today, you can simply upgrade your environment to start taking advantage of these enhancements. If you're new to Nutanix Files and would like to see Smart DR in action, give it a test drive and let us know what you think.
---
2022 Nutanix, Inc.  All rights reserved. Nutanix, the Nutanix logo and all Nutanix product, feature and service names mentioned herein are registered trademarks or trademarks of Nutanix, Inc. in the United States and other countries. Other brand names mentioned herein are for identification purposes only and may be the trademarks of their respective holder(s). This post may contain links to external websites that are not part of Nutanix.com. Nutanix does not control these sites and disclaims all responsibility for the content or accuracy of any external site. Our decision to link to an external site should not be considered an endorsement of any content on such a site. Certain information contained in this post may relate to or be based on studies, publications, surveys and other data obtained from third-party sources and our own internal estimates and research. While we believe these third-party studies, publications, surveys and other data are reliable as of the date of this post, they have not independently verified, and we make no representation as to the adequacy, fairness, accuracy, or completeness of any information obtained from third-party sources.
This post may contain express and implied forward-looking statements, which are not historical facts and are instead based on our current expectations, estimates and beliefs. The accuracy of such statements involves risks and uncertainties and depends upon future events, including those that may be beyond our control, and actual results may differ materially and adversely from those anticipated or implied by such statements. Any forward-looking statements included herein speak only as of the date hereof and, except as required by law, we assume no obligation to update or otherwise revise any of such forward-looking statements to reflect subsequent events or circumstances.