This post was authored by Devon Helms Senior Product Marketing Manager - Storage Services
Data is growing at an exponential rate, and growth in unstructured data is driving it. Even 15 years ago, 100TB of data was considered a large amount of data to store. Today, most of our customers are having to manage a multiple of that. Legacy NAS storage solutions were not designed for this rapid growth. They make the challenge of data management even greater. IT Administrators struggling with this rapid data growth and legacy systems spend about 80% [1] of their time keeping the lights on and only 20% innovating for the business.
Nutanix Files is designed for simplicity, flexibility and data intelligence. With the release of Nutanix Files 3.5 we are adding several new capabilities.
What's new with Nutanix Files 3.5?
Nutanix Files analytics brings deep intelligence to your file data
File data accounts for a large portion of the data in most organizations. According to IDC, by 2025 the world will produce 175 zettabytes of data ("The Digitization of the World From Edge to Core"; IDC; Authors: David Reinsel, John Gantz, John Rydning; November 2018). With so much data, visibility and control become difficult without tools built to handle such scale. Nutanix Files analytics engine logs all file level activity and represents that in dashboards to provide deep insights into all the data about your data. With Nutanix Files analytics, administrators can…
Track and analyze file data and storage use by user, by file type, or by individual file
Audit historic permissions changes
Monitor for access delials for potential bad actors
Automatically identify and alert on anomalies such as failed access patterns or mass change/delete actions to prevent and recover from malware
For additional details on our coming file analytics capabilities, read the
deep dive file analytics
blog.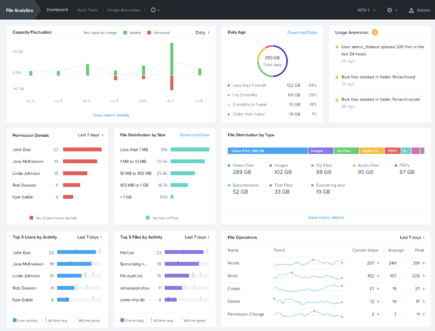 More flexibility to share file data including NFSv3 support and multiprotocol support
As the file storage footprint grows, the number of devices, applications, or users who need access to that data grows. Applications generate a significant portion of data but an increasing number of internet connected devices are generating data as well. According to IDC, 90 ZB of data will be created on IOT devices by 2025 ("The Digitization of the World From Edge to Core"; IDC; Authors: David Reinsel, John Gantz, John Rydning; November 2018).
Whether it's applications or connected devices, the preferred method of file access and share is Network File System (NFS) and the preferred implementation is version 3. Nutanix Files now supports NFSv3. Along with our previously released support for SMB and NFSv4, Nutanix Files is now able to provide file share access to practically all the applications, devices, and users in an organization.
An increasing number of file storage use cases require access by multiple clients - some utilizing NFS and others utilizing SMB. Media files from medical devices for example, may need to be uploaded to a file share using NFSv3 but the end user may need to access those media files with a Windows directory requiring SMB. Nutanix Files version 3.5 now supports multiprotocol; the ability for one share to be simultaneously accessible across any of the Nutanix Files supported protocols.
Faster backups of file data with Commvault
Protecting all this data can be challenging, especially in environments with short backup windows. Nutanix Files has many protection options including snapshots, cloning and replication. Backup is a primary method of data protection and recovery from local outages where snaps and clones are not available or are damaged. Incremental backup (as opposed to full backup) speeds the time to backup data from file shares but scanning the entire file share to identify changed files since the last backup is time consuming. Nutanix Files offers changed file tracking (CFT) to help overcome this challenge.
With CFT, backup clients can use an API call to obtain the list of files created, changed or removed since the last backup. That list can then be used as the target list for backup. This eliminates the directory scan process and enables backup to happen significantly faster and meet those short backup windows. Nutanix Files CFT is now supported by Commvault, a leader in data protection. Commvault was able to do extensive testing during their integration and their results were impressive. Sam Grover, the product manager in charge of virtualization and private cloud had this to say:
"Storage and backup administrators are always pressured to meet ever tighter backup windows in order to keep applications online and available as much as possible. Nutanix Files change file tracking dramatically reduces scan time for incremental backup operations which is often a bottleneck for traditional NAS backup operations. In our lab testing with the Commvault platform, we were able to scan 300K changed files in roughly 8 minutes."
You can learn more about Commvault's support of Nutanix Files CFT in Sam Grover's blog on the Commvault blog site
here
.
Availability dates
Nutanix Files 3.5 will become generally available this month. This includes support for NFSv3 and Commvault CFT support. Update files are available online and non-disruptive software updates are a single click away. Nutanix Files multiprotocol is available through tech preview as now and will be generally available in April. And Nutanix Files file analytics is available through tech preview now and will be generally available in May. You can learn more about Nutanix Files in the launch webinar live or replay
here
.
Disclaimer:
This blog may contain links to external websites that are not part of Nutanix.com. Nutanix does not control these sites and disclaims all responsibility for the content or accuracy of any external site. Our decision to link to an external site should not be considered an endorsement of any content on such site.
Forward Looking Statements Disclaimer
This blog post includes forward-looking statements concerning our plans and expectations relating to new product features and technology that are under development, the capabilities of such product features and technology and our plans to release product features and technology in future releases. These forward-looking statements are not historical facts, and instead are based on our current expectations, estimates, opinions and beliefs. The accuracy of such forward-looking statements depends upon future events, and involves risks, uncertainties and other factors beyond our control that may cause these statements to be inaccurate and cause our actual results, performance or achievements to differ materially and adversely from those anticipated or implied by such statements, including, among others: the introduction, or acceleration of adoption of, competing solutions, including public cloud infrastructure; a shift in industry or competitive dynamics or customer demand; and other risks detailed in our quarterly report on Form 10-Q for the fiscal quarter ended January 31, 2019, filed with the Securities and Exchange Commission. These forward-looking statements speak only as of the date of this press release and, except as required by law, we assume no obligation to update forward-looking statements to reflect actual results or subsequent events or circumstances.
Footnotes
[1] https://www.networkworld.com/article/3325397/idc-expect-175-zettabytes-of-data-worldwide-by-2025.html