Hello Everybody,
Hope you're all doing well !
I want to install Nutanix using Foundation.
I have 3 Lenovo nodes and one Cisco 2960X switch that consists of 24 x 1 Gig RJ45 ports and 04 x 1 Gig SFP ports.
Unlike Supermicro nodes, Lenovo nodes do not have Shared IPMI ports.
So, for each Lenovo node, I have to connect 01 x 10 Gig port and 01 GbE IPMI Port to the same CISCO 2960X switch (10 Gig ports of the nodes connected to 1 Gig SFP ports of the switch and 1Gig IPMI ports to the 1 Gig RJ45 ports ).
Please take a look of the picture below…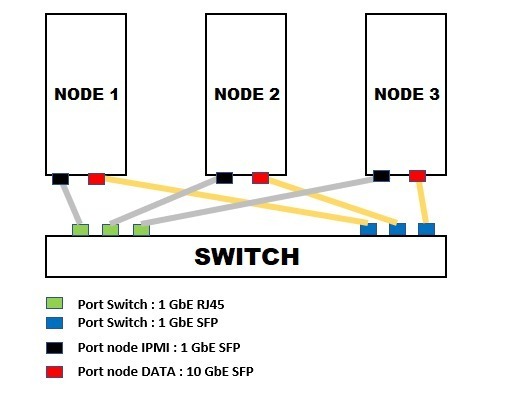 Since 10 Gig ports of the nodes are connected to 1Gig ports of the switch, I wonder if this architecture can allow me to install nutanix and create the cluster without any issues ?
Thanks in advance.