Hello,
I was hoping to get some clarification as to what features are included in AOS Starter.  I usually use the following link as a guide:
Nutanix Software Editions & Licensing: Solutions to Run on Our Appliances
The above link states that "Basic Compression (LZ4) - Inline and post process" are included starter.  However as soon as I enable post compression I get a license violation notice.  In prism element it also shows the available features for starter and post compressions shows as yes: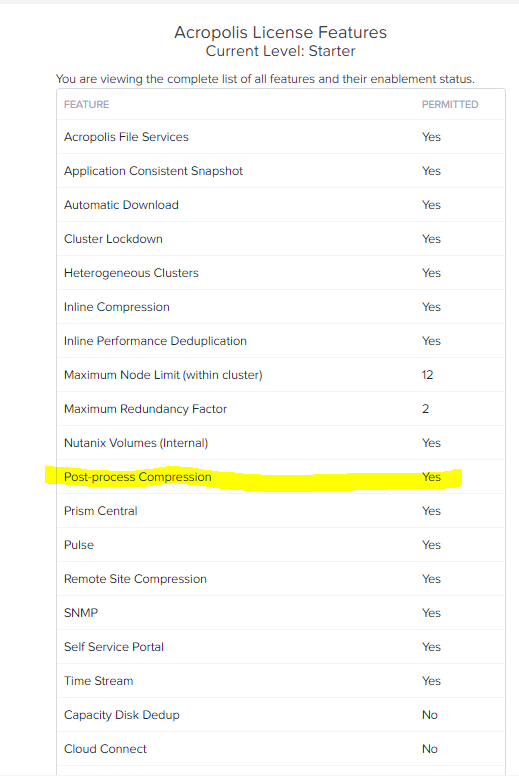 Is post compression available in Starter?
Also the link states that lz4hc compression is not available for Starter but running the following command on a starter clusters show it is available and compressing data:
curator_cli display_data_reduction_report
Has something changed to make lz4hc available to starter?
Is there another document or link with a comprehensive list of features available for each edition?
Thanks,
--Zip
Best answer by AnishWalia20 1 February 2021, 06:40
Hey @zip yes, that is absolutely correct, i.e if the delay is set to zero there will be NO post-process compression and it will be INLINE compression.
Exactly, with INLINE compression, there will be no LZ4HC compression too.
Both your points are correct. 
I hope I cleared your doubts. Let me know if I can help in any other way.
View original