Just about a decade back, when Nutanix set on the path to bring simplicity to IT infrastructure, we created the operating system for datacenters. An OS that can manage and provide services that typically run in a DC - compute, virtualization, storage, and associated networking. Some of the focused workloads were (and are) End User Computing, Server Virtualization, Database Management (SQL, Oracle, SAP HANA) and so on.
On this journey of bringing simplicity and agility, we mastered the art of 1-click (Foundation, Upgrades, Prism), Business Continuity and DR (so mission-critical apps can run confidently on AOS), and Security (making it one of our leading differentiators).
Even a decade back, from what I have heard from the early stakeholders, our founders always had a vision about the upcoming Cloud era. Our steps from the beginning were first freedom of choice, second HW agnostic SW, and finally the transition to a software business model and then to subscription. These have all been steps in that direction, while continuing to earn our customers' trust that they can run their entire gamut of workloads with Nutanix.
Announcing Nutanix Objects 3.0 - The Data Stack For The New HCI
We created Nutanix Objects with the goal of bringing simplicity, security, and scale to customers trying to modernize their infrastructure. The next 10 years will place different demands on your stack. After a lot of hullabaloo, a few key themes have started solidifying as the *requirements* for the new Hybrid Cloud Infrastructure, and what it means for the data stack supporting it.
Application Mobility: There is a nice continuum here:  app mobility within a cluster -> across clusters -> across data centers -> across clouds. Advent and adoption of containers help customers move their workloads across cloud environments with confidence, based on their ever changing business requirements.
Access Anywhere (Securely): As Apps move, they need access to their data in a way that is agnostic to infrastructure. Modern application developers don't want (and shouldn't need!) to deal with file system semantics, and would rather access storage over standard RESTful APIs such as S3.
Automated Data Management: While cloud-native apps can take advantage of cloud resources, what about legacy apps? If we can provide a way even for legacy apps to take advantage of cloud resources unbeknownst to them, (that is, without requiring any changes) that can bring unparalleled efficiency to customers.
The vision is to be able to deliver a modernized infrastructure with the above qualities under the constraints of Cost, Control and Compliance.
It is in this context that we are happy to announce the general availability of Nutanix Objects 3.0. Objects 3.0 strengthens our commitment to data security (protection against ransomware), data mobility, secure yet simple 1-click access, solution expansion for our partner ecosystem, and delivers fundamental building blocks towards our new Hybrid Cloud Infrastructure vision.  Let's take a look.
Protection Against Ransomware
Object Lock: Companies are modernizing their data protection infrastructure focused on protection against ransomware. To further strengthen security of data from malicious attackers, Nutanix announces the general availability of the Object Lock feature with Objects 3.0. Object Lock enables applications to set up a Write Once Read Many (WORM) policy at a per file/object level granularity. Object Lock guards against unauthorized deletion or encryption of data rendering techniques widely deployed by ransomware attacks ineffective.
We are happy to also announce that Nutanix Objects has been certified by Veeam under the "Object with Immutability" category.

All Nutanix and/or Veeam customers can take advantage of this as follows:
Nutanix Mine customers (existing or new) can use Objects as the WORM-protected immutable capacity tier.
All Veeam customers, regardless of what they use as a backup target, can leverage Nutanix Objects as their WORM-protected immutable capacity tier.
Pro tip: To ensure that ALL Veeam backup data gets Nutanix Objects Immutability protection, use the Veeam configuration shown below ("Copy backups to object storage as soon as they are created") to enable all data to be written immediately to object storage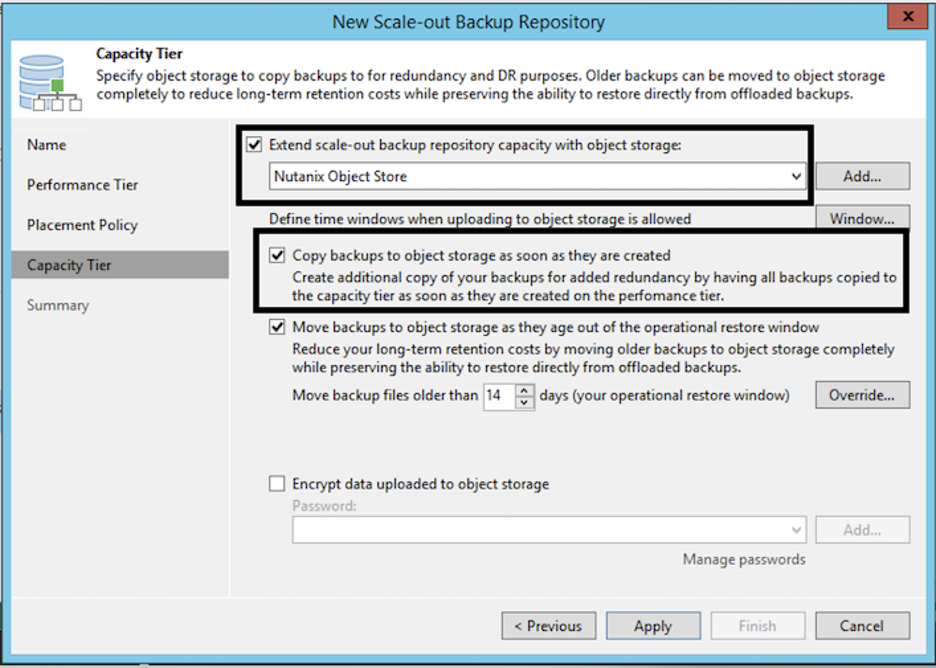 Legal Hold: Furthermore, customers can mark data/files/objects with "Legal Hold". This is a safety feature that ensures that data marked with Legal Hold cannot be deleted or modified until the hold is removed. This is often useful when customers need to ensure a particular data set can be preserved and produced "as is" to auditors or in response to court orders. Legal Hold is planned to go GA with Objects 3.1 release.
Hybrid Cloud Infrastructure (Building Blocks)
Streaming Replication: Nutanix Objects announces general availability of Streaming Replication. Streaming Replication enables customers to achieve a recovery point objective (RPO) in seconds (Near-Synchronous). Replication is configured at the bucket level, and is carried out with object granularity. The source and the target object store clusters can be managed by the same or different Prism Central instances.
Streaming Replication is particularly helpful for Cloud Native workloads that often use an S3 endpoint as their primary storage. With Streaming Replication, enterprises can containerize their mission-critical stateful applications, and ensure business continuity even for the most demanding of applications creating billions of objects. Customers can also create a replica of their backup data to another site using this capability, and recover their apps on remote sites. #AppMobility.
Cloud Tiering: With Cloud Tiering, customers can now take advantage of public cloud infrastructure to store infrequently accessed data, while maintaining their hot data sets on-premises. Customers can use any S3-compatible target as a tier to Nutanix Objects. Customers using Nutanix Clusters can also create an AWS S3 bucket in the same Virtual Private Cloud (VPC) and use that as a tier for their Nutanix Objects deployments. Furthermore, customers can enable tiering from their AWS S3 bucket to AWS Glacier for data that needs to be stored strictly for compliance purposes, thereby meeting their regulatory needs at a reduced cost.
Tiering can be enabled on a per-bucket level as a lifecycle policy. The automated data tiering per customers' desired policies ensures its applicability at scale. It will be completely transparent to the front-end application - this is huge since it ensures even legacy applications that have no awareness of cloud storage can still take advantage of Objects tiering. Cloud Tiering is planned to be generally announced with the Objects 3.1 release. #AutomatedDataMgmt
Multi-tenant Objects Access: Nutanix Objects architecture is natively multi-tenant wherein it enables applications to create/access/share their buckets as if the deployed object store belongs to them entirely. However, for any UI-based action, users are expected to login to Prism Central. This can become challenging at large organizations where IT leaders do not want everyone to have access to Prism Central. With a native Objects Browser, users can launch Objects UI in a supported browser, use their credentials (access/secret keys) to create/share/work on their buckets as they would work with any file share.
Objects Browser brings a simple and native UI interface to users with all the user-facing capabilities such as versioning/tagging. Objects Browser is planned to go GA with Objects 3.1 release. #SecureAccessAnywhere.
Partner Solution Expansion
VMware ESXi Support: At Nutanix, we have always prided ourselves in making available the best infrastructure for customers to run VMware ESXi.  This is central to our "freedom of choice" belief. A number of our customers using ESXi hypervisor have asked us for supporting Nutanix Objects on ESXi. With Objects 3.0, we announce the general availability of this capability. What's more, with Objects Multi-Cluster Global Namespace support, customers can also have AOS clusters with AHV and ESXi hypervisors be part of the *same* object namespace!
IBM Spectrum Protect: Nutanix Objects continues to expand the supported data protection partners. With Objects 3.0, we are happy to announce that Objects has been validated as a cloud object storage target for IBM Spectrum Protect by IBM.
350TB Node Support - Nutanix Objects announces availability of 350TB nodes on HPE DX platform. These nodes can support up to 320TB of HDD tier and up to 30TB of SSD tier, and are available to be configured/ordered immediately. This further reduces the TCO for customers looking to bring simplicity to petabytes of their unstructured data.
With Objects 3.0/3.1, we are continuing the Nutanix tradition of keeping our ears close to our customers, delivering on what they truly need in helping them modernize their infrastructure without compromising on their Cost, Control and Compliance requirements. The image below recaps where our customers have led us in delivering a SIMPLE | SECURE | SCALE OUT data management solution for the new Hybrid Cloud Infrastructure.

This post was authored by Priyadarshi Prasad, VP GM, Objects, Mine, BC & DR
---
Nutanix Objects 3.0 is generally available now.
Nutanix Objects 3.1 is planned to be generally available soon.
© 2020 Nutanix, Inc. All rights reserved. Nutanix, the Nutanix logo and the other Nutanix products and features mentioned on this post are registered trademarks or trademarks of Nutanix, Inc. in the United States and other countries. All other brand names mentioned on this post are for identification purposes only and may be the trademarks of their respective holder(s). This post may contain links to external websites that are not part of Nutanix.com. Nutanix does not control these sites and disclaims all responsibility for the content or accuracy of any external site. Our decision to link to an external site should not be considered an endorsement of any content on such a site. Certain information contained in this post may relate to or be based on studies, publications, surveys and other data obtained from third-party sources and our own internal estimates and research. While we believe these third-party studies, publications, surveys and other data are reliable as of the date hereof, they have not independently verified, and we make no representation as to the adequacy, fairness, accuracy, or completeness of any information obtained from third-party sources.
This post may contain express and implied forward-looking statements, which are not historical facts and are instead based on our current expectations, estimates and beliefs. The accuracy of such statements involves risks and uncertainties and depends upon future events, including those that may be beyond our control, and actual results may differ materially and adversely from those anticipated or implied by such statements. Any forward-looking statements included in this post speak only as of the date hereof and, except as required by law, we assume no obligation to update or otherwise revise any of such forward-looking statements to reflect subsequent events or circumstances.