We are excited to announce a huge milestone for our pioneering HCI software, Nutanix® AOS and the release of Nutanix AOS 6.0. Nutanix AOS™ software has matured into the industry standard platform for virtualized datacenters, and now we're helping our customers bridge into the hybrid cloud.
Available today, AOS 6.0 introduces a set of groundbreaking new business continuity and disaster recovery (BC/DR) features that enable the protection of large scale deployments with the help of long awaited capabilities including AHV™ Metro, the new DR Dashboard, end to end encryption, instant restore, and stretched networking.
AHV Metro Availability
BCDR offerings have been core features in AOS right from the beginning. In AOS 6.0 we continue to innovate with the latest addition to the AHV hypervisor's Metro Availability suite of functionality. Nutanix already released synchronous replication and cross cluster live migrate (CCLM) capabilities in an earlier release (you can read about those features here), but is now completing the functionality by providing automatic application failovers in case of a cluster or data center outage. AHV Metro Availability is for business/mission critical applications running AHV which require zero RPO (no data loss) and near-zero RTO (very fast recovery after an outage) for disaster avoidance as well as automatic recovery during DR events.
This feature leverages synchronous replication to keep mission-critical applications within 5ms or less latency in sync. To configure and leverage all aspects of AHV Metro Availability, our Prism Central™ control plane software  includes Protection Policies, Recovery Plans, as well as the new 'Witness' service to assist in automatically failing over during an unplanned outage. This provides customers with a full featured DR solution whether you are using VMware ESXi® or AHV hypervisors.
DR Dashboard
While Nutanix BCDR solutions have expanded from on-premises to multi-hybrid clouds, the DNA has remained the same. With expanded topology with private cloud, DRaaS with Xi Leap® and Nutanix Clusters on AWS, observability has become a priority for customers in their hybrid cloud journey with Nutanix. With the AOS 6.0 release we are adding a dashboard in Prism Central that will provide insights into some key performance indicators around DR like RPO (recovery point objective) SLAs, DR readiness, alerts, etc. With single PC support for Xi Leap, customers can now have a single pane of glass view to monitor DR related key performance indicators across all their cluster deployments including Nutanix Clusters™ on AWS® cloud.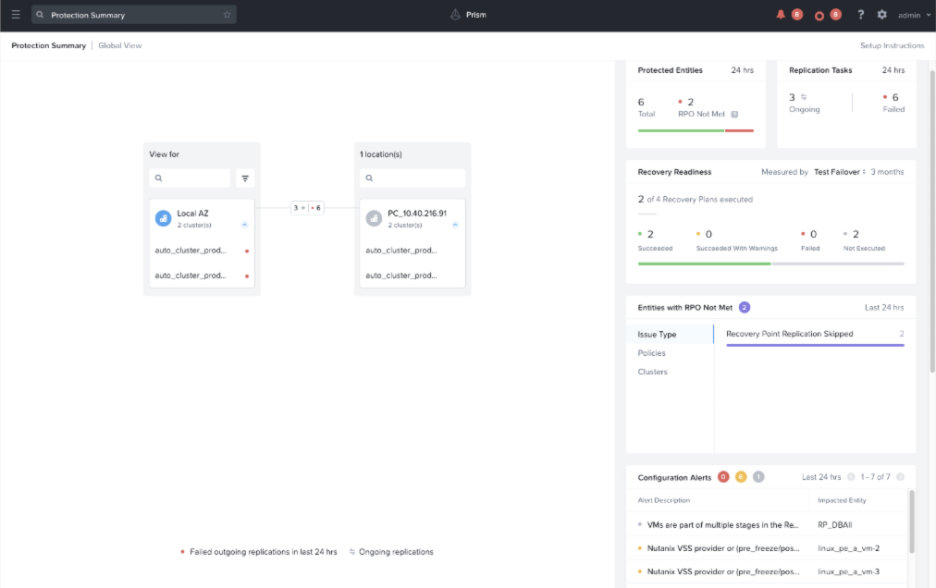 For a deeper look into DR Observability please have a look at the disaster recovery dashboard blog post.
End to End Encryption
As Nutanix continues to gain momentum in G2K adoption, data protection and security becomes an even more vital part of our product portfolio when being evaluated in sectors like Pharma, Healthcare, Oil & Gas, Manufacturing, Banking, Insurance and the Public Sector.
Currently Nutanix supports encryption of data-at-rest, and in continuing our security journey we have announced the upcoming release of Encryption of Data Replication Traffic in transit. This will offer our customers an end to end hardened and secure HCI stack by encrypting all replication traffic between all AOS clusters participating in replication as well as the Prism Centrals that are managing them. 
Instant Recovery
RTO (recovery time objective) is a very important aspect to a BC/DR plan and helping customers recover quickly is what the new feature Instant Recovery provides. This feature allows customers who want to leverage the Instant Recovery functionality from their backup solutions, to quickly restore their applications from backups. In addition, once the VM has booted, restoring performance to that VM will become important so we have also included a foreground and background migration process to migrate that data back to the Nutanix platform.
There are two flavors of Instant Recovery. The first and recommended for most use cases is Fast-Clones External Datasource. In this method, we absorb the writes locally and only forward the read request to the external datasource when we can't service it locally. This type of Instant Recovery supports foreground and background migrations and can be snapshotted, cloned and backed-up. The second use case is Passthrough External Datasource. This type is passed though as a virtual disk to the VM on AHV. The local stargate instance acts as an iSCSI terminator and forwards all IO requests to the external datasource. This type of Instant Recovery cannot snapshot or clone the VM Disks and we recommend it be used for ephemeral VM disks such as CD-ROM ISO's.
The adaptive foreground migration is based on workload IO. When a read request for data happens and pre-defined criteria is met, the requested data will be migrated to the AOS cluster.
The background migration is based on a policy set to allow data to migrate from external storage to the AOS cluster.
Layer 2 Stretched Networking into Xi Leap DRaaS
Xi Leap now supports Layer 2 stretching between your primary datacenter and Xi Leap DRaaS. By extending layer 2 networks to the Nutanix Cloud, VM's that have failed over are able to communicate without re-architecting the network all while retaining your IP and MAC addresses, simplifying DR failover. For more information please have a look at the Xi Leap: Standing the Test of Time blog.
This post was authored by Mike Umphreys, Sr. Technical Marketing Engineer
---
© 2021 Nutanix, Inc.  All rights reserved. Nutanix, the Nutanix logo and all Nutanix product, feature and service names mentioned herein are registered trademarks or trademarks of Nutanix, Inc. in the United States and other countries. Other brand names mentioned herein are for identification purposes only and may be the trademarks of their respective holder(s). This post may contain links to external websites that are not part of Nutanix.com. Nutanix does not control these sites and disclaims all responsibility for the content or accuracy of any external site. Our decision to link to an external site should not be considered an endorsement of any content on such a site. Certain information contained in this post may relate to or be based on studies, publications, surveys and other data obtained from third-party sources and our own internal estimates and research. While we believe these third-party studies, publications, surveys and other data are reliable as of the date of this post, they have not independently verified, and we make no representation as to the adequacy, fairness, accuracy, or completeness of any information obtained from third-party sources.
This post may contain express and implied forward-looking statements, which are not historical facts and are instead based on our current expectations, estimates and beliefs. The accuracy of such statements involves risks and uncertainties and depends upon future events, including those that may be beyond our control, and actual results may differ materially and adversely from those anticipated or implied by such statements. Any forward-looking statements included herein speak only as of the date hereof and, except as required by law, we assume no obligation to update or otherwise revise any of such forward-looking statements to reflect subsequent events or circumstances.