As a boxing fan in the 90's and 2000's, I watched the most famous boxers of the era rise from naturally-talented newcomers to dominators in the ring. And while their talent and hard work propelled them early in their careers, they were never satisfied with their current skills and conditioning. They continued to work hard on improving hand speed, movement, conditioning, and power en route to many years as champions of their respective weight classes.
Now you may be asking yourself, what does boxing have to do with replication or Nutanix? Well, Nutanix, like the boxing legends we all know, continues to hone and improve our products with new capabilities, better performance, easier to navigate UI's, etc. We don't have a "good enough" mindset where once we deliver a capability, we move onto the next. We continue to iterate and improve on it.
To that end, Nutanix has delivered a more efficient method of replicating data from one  Nutanix AOS™ cluster to another AOS cluster for the purpose of disaster recovery. The new method is called  "range-based replication" or RBR. 
Nutanix has included native asynchronous replication as a part of its core offering for a long time. The replication used prior to AOS 6.0 is known as "extent-based replication" or EBR and is very granular in nature. Simply put, the Nutanix hybrid multicloud platform replicates at the granularity of an extent which is 1MB in size. But what if we could do better and replicate only the exact data that was newly written or changed? Well, that is exactly what we have done. New to AOS 6.0, range-based replication will replace extent-based replication, giving customers faster completion of snapshot replication, and further helping them achieve their RPO and lessen downtime in the event of an outage. Why is this important you may ask?
Simply put, RBR will help our customers not only save on the replication bandwidth consumed, but more importantly reduce their risk allowing them to recover from a disaster or outage with less data loss (RPO) while taking less time to recover (RTO).
To demonstrate how effective the new RBR is we have decided to put our latest LTS release, 5.20 up against our latest STS release, 6.0 in snapshot replication tests using an OLTP workload designed to simulate our customers' most common scenarios. Without further ado, let's get to the tale of the tape.
Test Environment Configuration
We used the following Nutanix hardware and software to complete the testing:
One four-node source cluster and one four-node target cluster
Nutanix AOS version: 5.20 and AOS 6.0
Simulated database with OLTP workload
Each node has 1 VM with 6 vDisks (4 data disks and 2 log disks)
Each vDisk is 64GB
Data disks are filled with 64GB of Data and log disks are filled with 4GB of data.
Total WSS per node is 264GB and 1056GB for the entire cluster.
Showing Base snapshot plus 8 more
Data Change Rate
Using multiple change rates as well as multiple snapshots will show that the enhancements in RBR are effective for low change rates and a small snapshot count to higher change rates and larger snapshot counts. This test is conducted with multiple change rates in between the snapshots:
11% change rate: 125 IO/s per data disk and 12 IO/s per log disk (524 IO/s per node)
22% change rate: 250 IO/s per data disk and 25 IO/s per log disk (1050 IO/s per node)
38% change rate: 500 IO/s per data disk and 50 IO/s per log disk (2100 IO/s per node)
62% change rate: 1000 IO/s per data disk and 100 IO/s per log disk (4200 IO/s per node)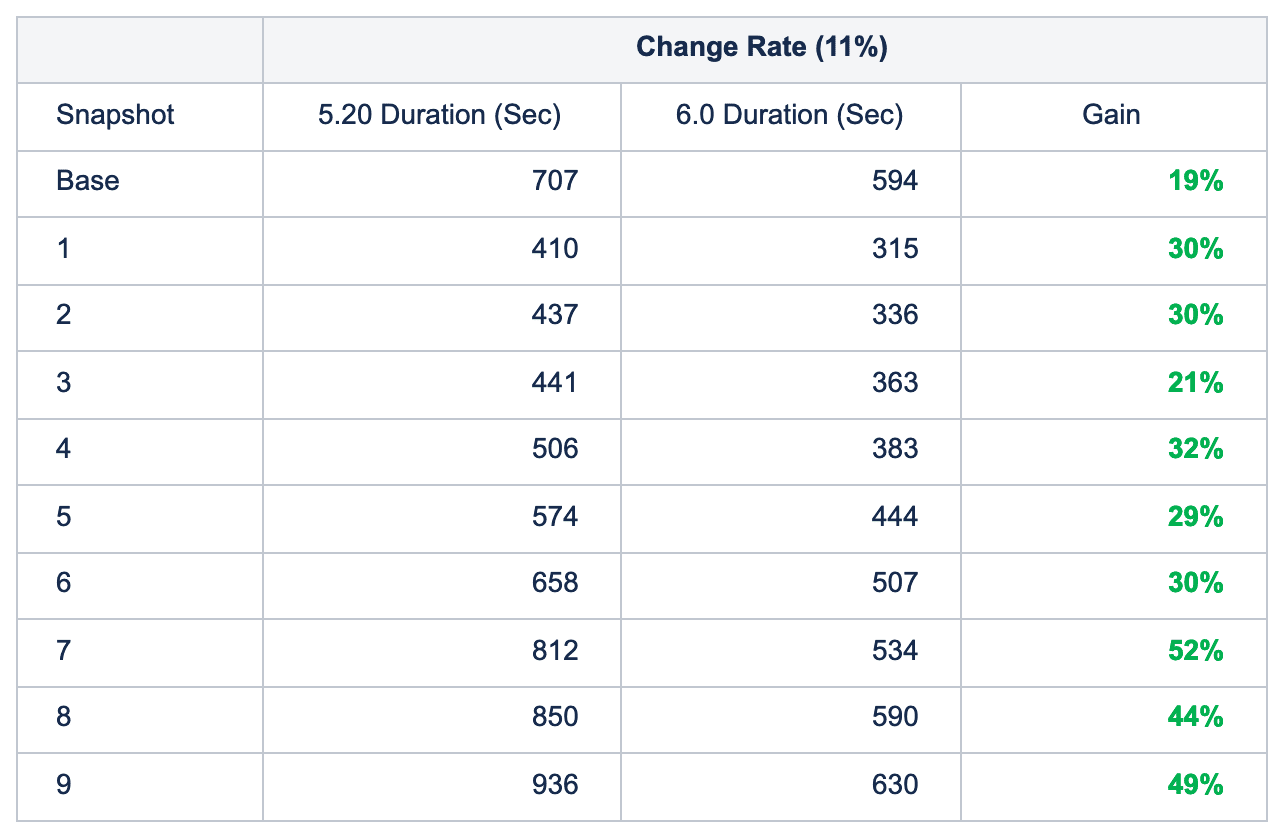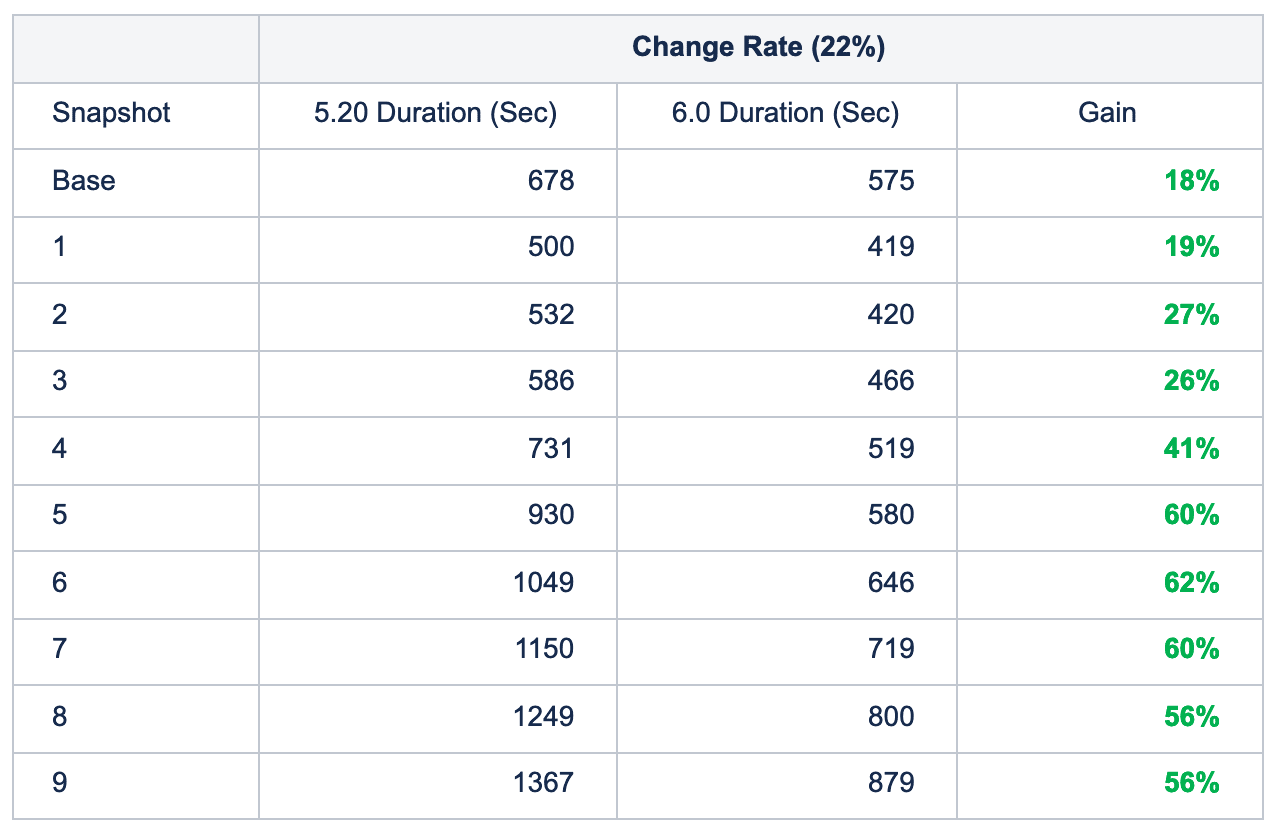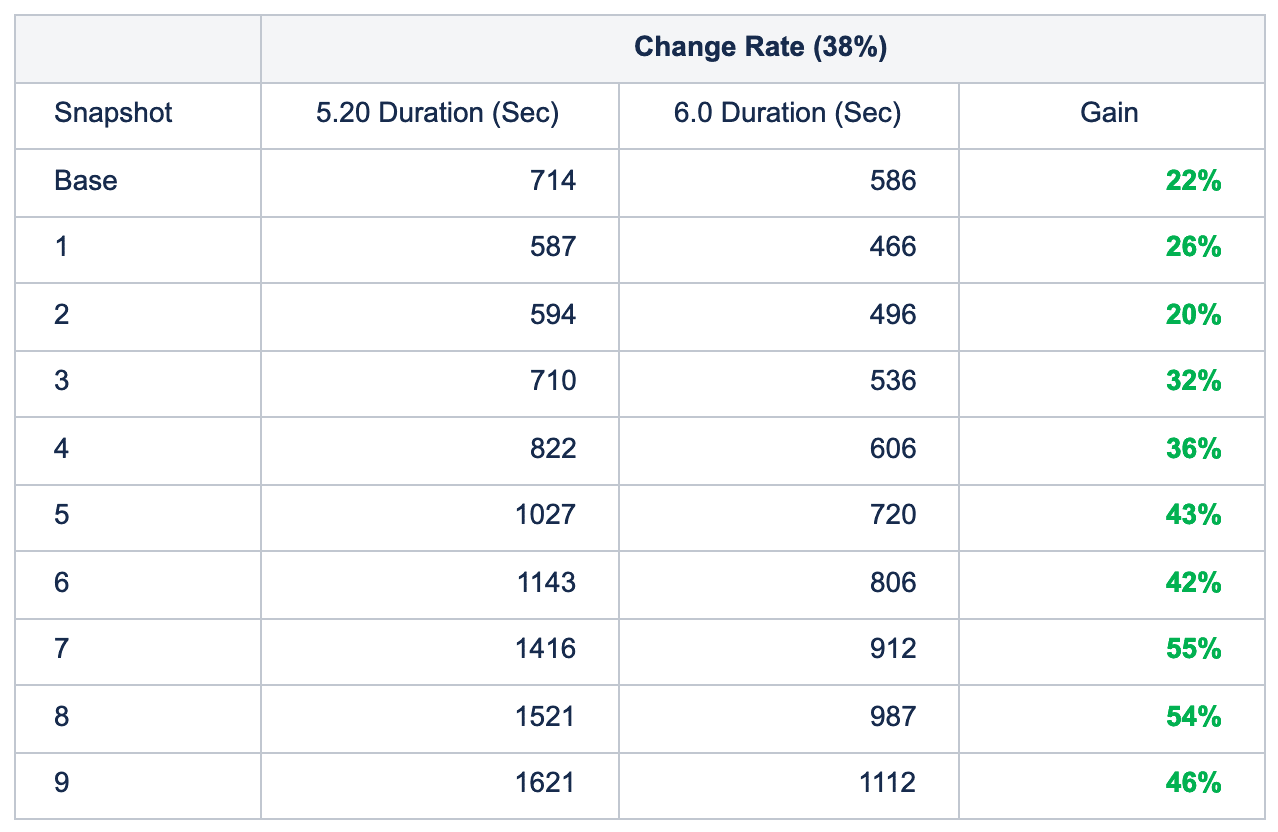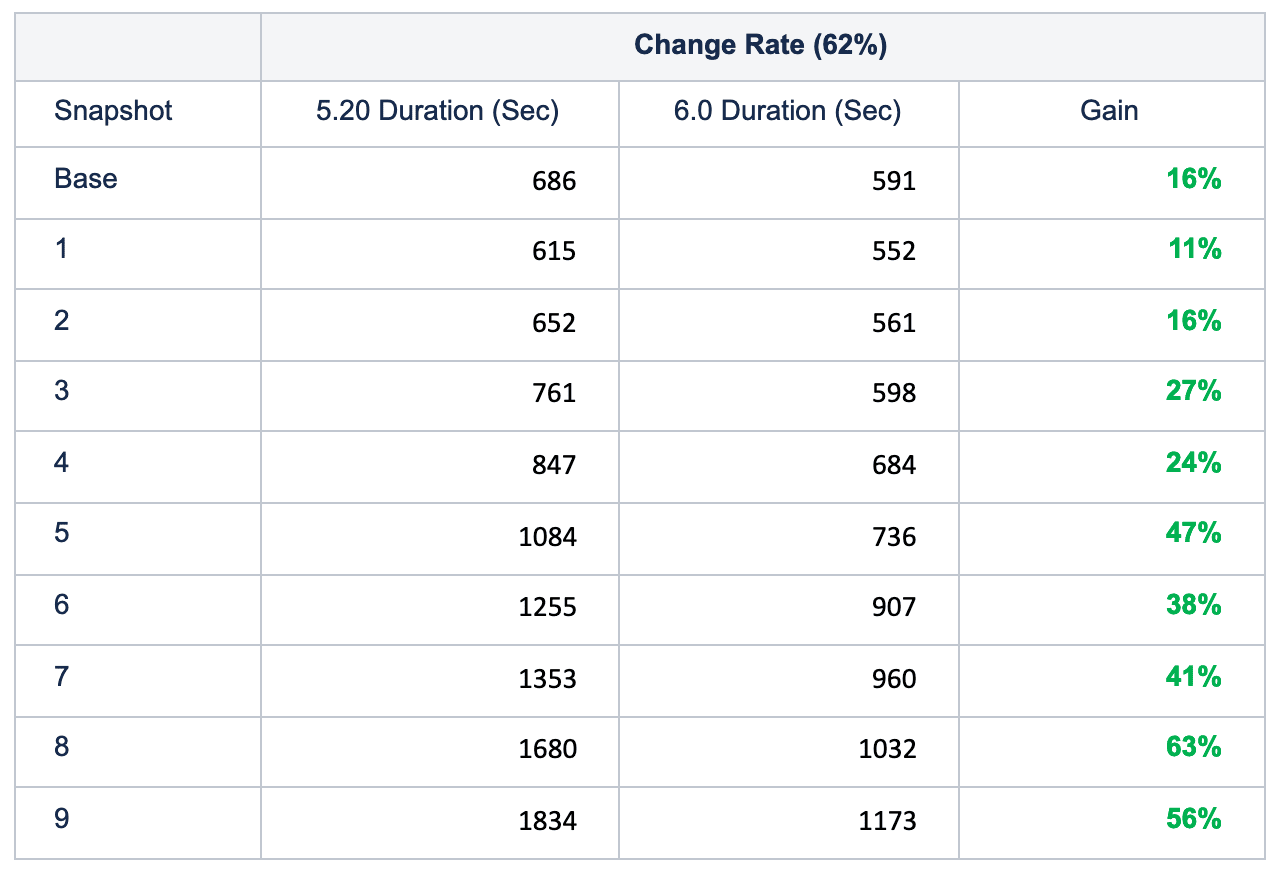 Conclusion
Nutanix AOS 6.0 asynchronous range-based replication shows up to a ~60% improvement on replication performance by only replicating the exact data that has changed since the last snapshot. This allows customers to replicate more data in less time, helping to keep them within their SLA's to the business thereby reducing risk.
Take a test drive to see how Nutanix can help reduce risk in your environment and simplify your IT strategy. 
This post was authored by Mike Umphreys, Technical Marketing Engineer
---
© 2021 Nutanix, Inc.  All rights reserved. Nutanix, the Nutanix logo and all Nutanix product, feature and service names mentioned herein are registered trademarks or trademarks of Nutanix, Inc. in the United States and other countries. Other brand names mentioned herein are for identification purposes only and may be the trademarks of their respective holder(s). This post may contain links to external websites that are not part of Nutanix.com. Nutanix does not control these sites and disclaims all responsibility for the content or accuracy of any external site. Our decision to link to an external site should not be considered an endorsement of any content on such a site. Certain information contained in this post may relate to or be based on studies, publications, surveys and other data obtained from third-party sources and our own internal estimates and research. While we believe these third-party studies, publications, surveys and other data are reliable as of the date of this post, they have not independently verified, and we make no representation as to the adequacy, fairness, accuracy, or completeness of any information obtained from third-party sources.
This post may contain express and implied forward-looking statements, which are not historical facts and are instead based on our current expectations, estimates and beliefs. The accuracy of such statements involves risks and uncertainties and depends upon future events, including those that may be beyond our control, and actual results may differ materially and adversely from those anticipated or implied by such statements. Any forward-looking statements included herein speak only as of the date hereof and, except as required by law, we assume no obligation to update or otherwise revise any of such forward-looking statements to reflect subsequent events or circumstances.