We are delighted to announce that Sophos XG Firewall has been validated to protect Nutanix AHV infrastructure and is Nutanix Flow Ready.
Sophos is a worldwide leader in next-generation cybersecurity protecting more than 400,000 organizations from today's most advanced cyberthreats. Powered by SophosLabs - a global threat intelligence and data science team - Sophos' cloud-native and AI-enhanced solutions secure endpoints, servers, and networks against evolving cybercriminal tactics and techniques, including automated and active-adversary breaches, ransomware, malware, exploits, data exfiltration, phishing, and more.
Sophos XG Firewall provides comprehensive next-generation firewall protection powered by innovations in deep learning, Synchronized Security, and their new Xstream architecture. Sophos XG Firewall running on Nutanix AHV provides deeper visibility into applications, network activity, and threats – able to stop even previously unseen attacks.
Sophos XG Firewall has been validated to provide two modes of operation within Nutanix AHV infrastructure:
XG firewall can provide standard NGFW protection on Nutanix AHV similar to any other physical, virtual, cloud, or hybrid network.

In addition, non-IP bridge mode in XG Firewall can be used within the network as part of Nutanix Flow's microsegmentation to transparently redirect VM traffic through a virtual XG Firewall running in bridge mode on every AHV host to protect east-west traffic.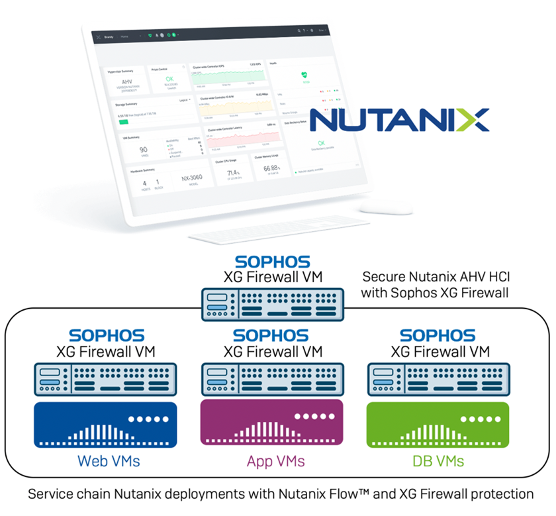 Sophos XG Firewall can protect traffic entering and leaving the Nutanix AHV infrastructure while also securing traffic moving within the Nutanix Flow software-defined network, taking advantage of the granular redirection capabilities of Nutanix Flow microsegmentation that ensures security protection policies are optimized for individual applications.
Sophos XG Firewall's full suite of protection capabilities will help secure Nutanix applications and network traffic flows, including TLS inspection, intrusion prevention, application control, web protection and filtering, and zero-day threat protection with sandboxing and threat intelligence.
Visit Sophos.com/Firewall to learn more about Sophos XG Firewall and start a free 30-day trial.
Keep the conversation going in our 'How it works' community forums.
Guest post from Chris McCormack, Senior Product Marketing Manager, Sophos
---
2020 Nutanix, Inc.  All rights reserved. Nutanix, the Nutanix logo and all Nutanix product, feature and service names mentioned herein are registered trademarks or trademarks of Nutanix, Inc. in the United States and other countries. All other brand names mentioned herein are for identification purposes only and may be the trademarks of their respective holder(s). This post may contain links to external websites that are not part of Nutanix.com. Nutanix does not control these sites and disclaims all responsibility for the content or accuracy of any external site. Our decision to link to an external site should not be considered an endorsement of any content on such a site.