This post was authored by Luke Congdon, Sr. Manager, Product Management for AHV
Automatically put images on the clusters you need, before you need them
How do you make an enterprise hypervisor in 2019? You make it dead simple. With our latest release of Prism, we're doing exactly that for virtual machine disk image management. The Nutanix Prism Central management plane provides a highly-available repository for your images. These images may be guest OS ISOs or your application disk images, which are uploaded via Prism Central and stored on a cluster. In an active environment, these images are frequently used.
Before the Prism Central 5.11 release, the image service ensured that uploaded images were saved to a cluster, and copied to additional clusters whenever you needed them, on-demand. As customers began managing higher numbers of clusters and needed those images on them, however, on-demand replication of images became too slow. If you had narrow network links to remote locations, this could add to copy time, making this process frustrating.
You demanded simplicity and we've heard you. In the Prism Central 5.11 release we're giving you new powerful tools built into the image service to simplify images uploads and distribution across clusters.
Key Challenges Solved
The first key new benefit is hands-free image replication to your clusters. Nutanix has built a simple, policy-based method to replicate images to the clusters where you decide they are needed. Simply upload new or updated images, and Nutanix Prism Central copies them everywhere you want them automatically. Policy-based replication also gives you control over allowing or disallowing additional image copies.
The second key benefit is a simple, straightforward option to upload images via Prism Central and directly choose the clusters to copy them to. Past AOS releases placed your image on one cluster and made copies on-demand. Now you can simply place your images where you need them and then decide on replication at a later time.
What's New
See
AOS 5.11 What's New
and
Prism 5.11 What's New
(Nutanix Portal Links)
Image Service Improvement highlights:
Introduced with Prism 5.11
Easy images replication control to clusters for large environments
Dead simple direct, named cluster image upload from Prism Central
Flexible workflow allows for assigning categories and policies in any order
Hard and soft policy options for preventing or allowing images copies to additional clusters
The Power of Policies
The policies-based feature for replicating images gives you a powerful and easy to manage method to ensure your images are copied to the clusters you need. Based on the categories concept already in use for many other policy-based functions, both images and clusters are grouped into categories. An image replication policy then tells Prism Central where to copy your uploaded images. As a flexible solution, images can be given a category upon upload, or updated at a later time to add a category.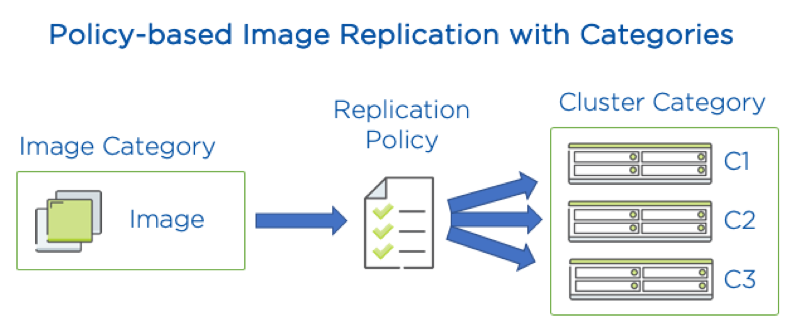 Overview:
Organize images and groups of clusters into Categories. Next apply an Images Replication Policy to connect them. Now the policy will replicate the images in the images category to the clusters defined in the cluster category. Done.
Create your cluster category and assign clusters to it
Create your images category
Create your image replication policy
Upload your image file and tag it with your image category
Prism automatically distributes images to the desired clusters.
Done!
Step-by-step Example
Example: Let's define a policy to copy VDI images to your VDI clusters
(1) Create a Category for the
Clusters
you want the images replicated to. E.g. "
VDI_Clusters
".
(a) Attach cluster category to selected clusters.
(2) Assign Cluster category to the clusters you want it to apply to. This is easy to do by selecting multiple categories and using 'Manage Categories' to apply your selected category in bulk. You can also do this one cluster at a time, which is useful to add another cluster at a later time.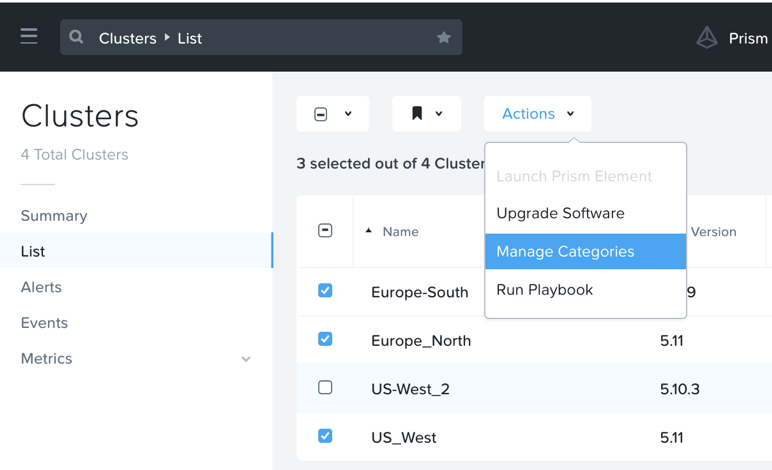 (3) Create a Category for the
Images
you want to have automatically replicated. E.g. "
VDI_Windows_Images
".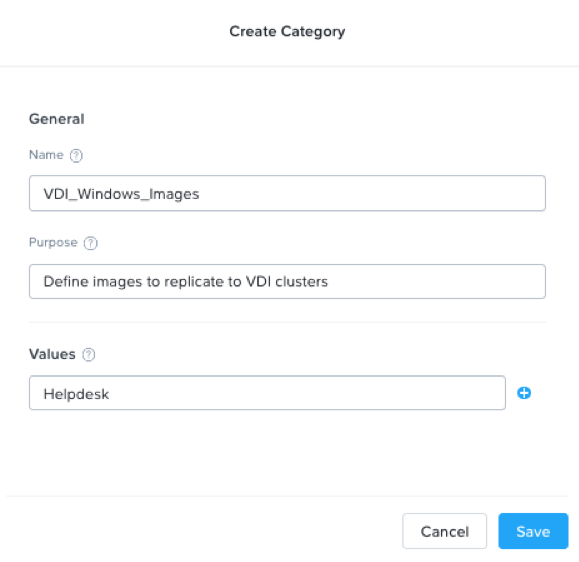 (4) Create an Image
Placement
Policy. E.g. "
Helpdesk VDI Images Policy
".
(a) Select your images and your cluster categories.
(b) Choose your control policy
Soft Enforcement: Replicate images per your policy, but allow additional manual creation of the same image on other clusters if needed.
Hard Enforcement: Replicate images per your policy, but disallow additional manual copies of the same images on other clusters. This is useful for images which would incur a licensing impact if deployed in the wrong location. E.g. Licensed databases.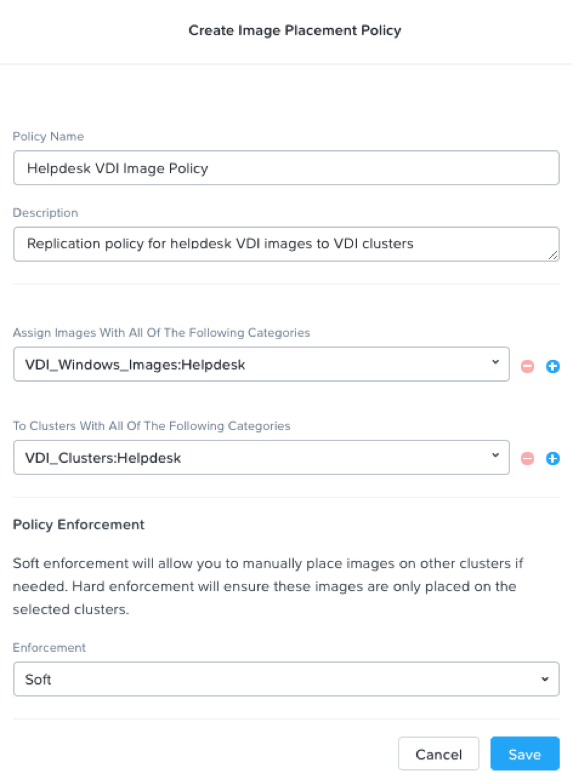 (5) Upload images and add the images category, "
VDI_Windows_Images
" to them.
TIP: If you already have an image uploaded, you can update it to apply the images category to it. If the other parts are already done, the image replication policy will kick in automatically.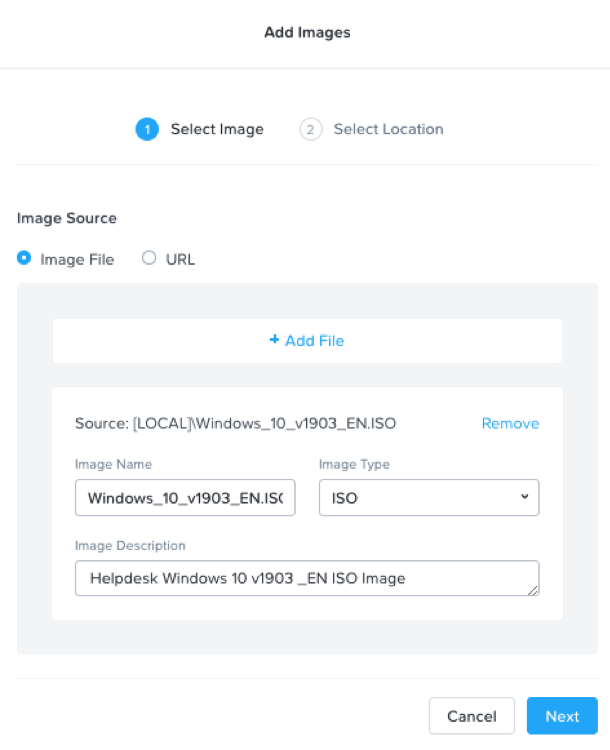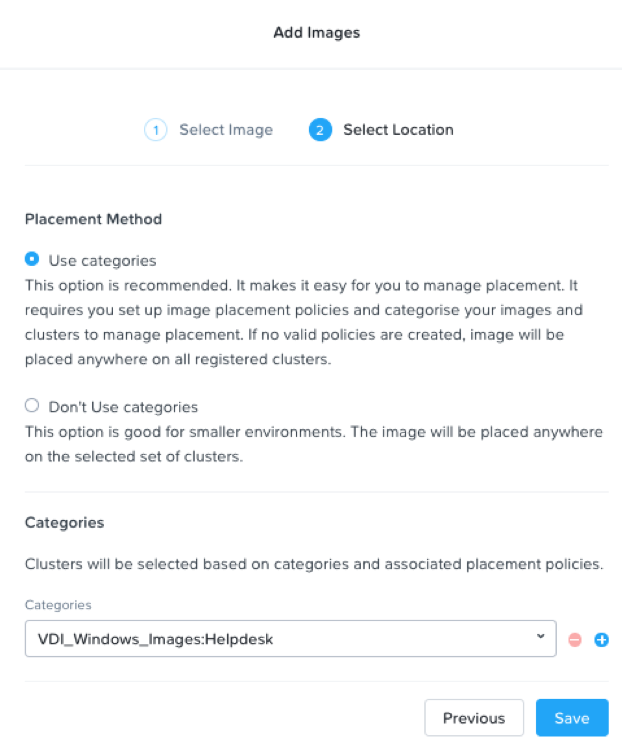 (6) Done! Your image is automatically replicated to the clusters you defined in your cluster category according to your policy. Click on an image name to confirm the result. Note that according to image size and network throughput, the replication process itself may take some time before completing.

Direct Image Upload to Named Clusters
Sometimes you just want to get a job done immediately. If you have an image you simply want copied to a set of clusters from Prism Central, choose the 'Don't Use Categories' method when adding images. There are no categories or policies in place with this method. You also don't get any hard enforcement of subsequent image copies prevention. You do, however, get the immediate satisfaction of getting your images uploaded to the named clusters you need them on. Once complete, you can confirm that your image was uploaded in the same manner as described above. You can always add policies to these same images at a later time if desired.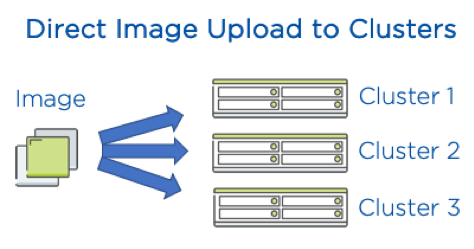 Images Made Easy
These two methods remove the complexity incurred with managing image copies in small and large environments. Upgrade to Prism Central 5.11 today to start leveraging these features now.
© 2019 Nutanix, Inc. All rights reserved. Nutanix, the Nutanix logo and the other Nutanix products and features mentioned herein are registered trademarks or trademarks of Nutanix, Inc. in the United States and other countries. All other brand names mentioned herein are for identification purposes only and may be the trademarks of their respective holder(s).