Nutanix Files is a software defined, flexible, file storage service.  Since its early access release in 2016, Files has been focused on simplifying and consolidating network attached storage (NAS) for the enterprise and supporting use cases from end user computing through video surveillance and medical imaging.
In parallel, Nutanix engineering has been executing on act two, evolving Files into an intelligent data management platform for the hybrid cloud.  One of the first steps in this second act was introducing File Analytics in 2019, a native and integrated software offering to help you audit user activity, detect anomalies, and derive deeper insights into your unstructured data.
With the release of Nutanix Files 3.8 and File Analytics 3.0 we progress further into act two, delivering more flexible and efficient remote replication to help enable hybrid cloud disaster recovery.  We also extend File Analytics to include native ransomware intelligence, custom reporting capabilities, and data age categorization, which is a first step in our data tiering framework.
Nutanix Files Disaster Recovery (DR)
Nutanix Files has long relied on the core snapshot and remote replication capabilities of Nutanix AOS software.  Leveraging the core Nutanix software has several benefits, including simplified and consolidated administration like your core hyperconverged infrastructure (HCI) environment. But there were also some drawbacks around granularity, node density, and the active/passive nature of share access and failover orchestration. Files DR helps to address these challenges while maintaining the same simple and consolidated administrative experience.
Prism Central (PC) Integration
Files DR starts by moving remote replication management and orchestration into Prism Central (PC).  With recent releases of PC, Nutanix Files has supported an integrated service called Files Manager.  The first release of Files Manager discovers all Files instances running on clusters registered within PC and provides views on all alerts and events across your file server farm.  You can also view the file server configurations and launch into managing the file servers in Prism Element.

With Files Manager 2.0 there is now a Data Protection menu where you can configure, monitor, and orchestrate failover and failback operations for Files DR.

Files DR Architecture
Along with moving management into PC, Files DR changes several key areas of Nutanix Files remote replication. First, the replication engine itself is no longer managed by the AOS clusters using native Nutanix protection domains. Nutanix Files now directly manages the replication. Like Files Self-Service Restore (SSR), snapshots are taken at the share (file system) level with block level incremental changes replicated between source and target.
Files replicates between active file servers running on their respective Nutanix clusters. Shares that are targets of replication are available in a read-only (RO) state. Replicating between active file servers helps lower failover times, reducing your Recovery Time Objective (RTO), and enables simplified use of the replicated data, for use cases like backup consolidation or reporting.  Because Files manages replication, node density limits specific to AOS snapshots and replication no longer apply.  You can now use our most storage-dense nodes, which support up to 350TB of hybrid storage, with the benefits of native remote replication. 
Moreover, with replication performed by the file systems supporting the shares, you can now set policies on a share-by-share basis to manage your Recovery Point Objective (RPO) at the share level instead of at the file server level.
Replication Policies
A replication policy defines the share or group of shares you are going to replicate. The policy also defines the source and target file server and the replication frequency. You can create multiple policies as needed and specify a default policy for any newly created shares.
For the first release of Files DR you can choose down to a 10 minute RPO. 
Monitoring
Service level agreements (SLA) monitoring and job replication status are provided at several levels with Files Manager in PC. You can also find an RPO compliance overview on the summary page to quickly see if replication is achieving the defined policy.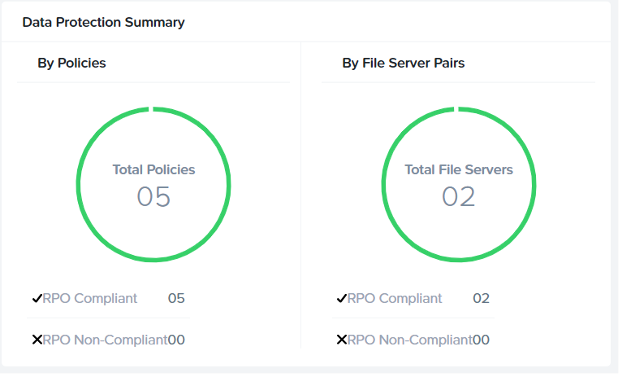 You can also view each replication job and see its completion percentage, start and end times, amount of data synchronized, and the average network bandwidth utilization.
Failover and Failback
Planned or unplanned failover and failback are executed from Prism Central.  Failover operations move the persona of the source file server and apply it to the target file server.  PC orchestrates the required updates to DNS and active directory service principal names (SPN) to move the file server instance name from the source to the target.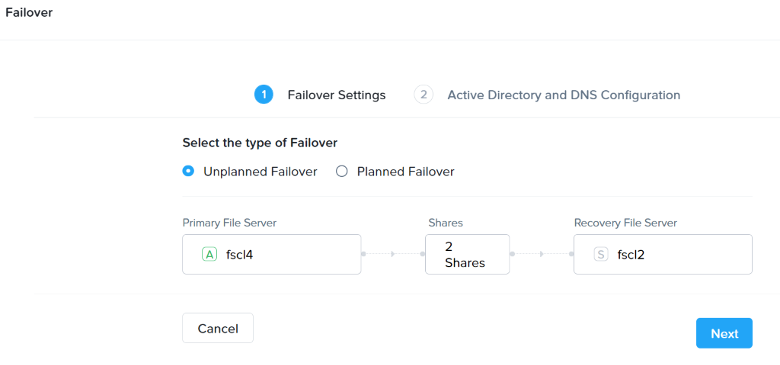 With a planned failover you can choose to automatically begin replicating in the opposite direction.  Replicating after failover helps maintain SLA and RPO during your failover testing or disaster avoidance operations. 
Files DR Summary
Files DR is a smart, simple, and effective way to replicate between Files instances on-premises or running on Nutanix Clusters in AWS today, and Azure in the future. Additionally, Files DR is the mechanism by which Files will support disaster recovery in the Nutanix Xi cloud. 
Files DR provides the following benefits, all while maintaining simple and common administration for your Nutanix environment:
Prism Central Integration 
Share-level replication policies
Replication to an active read-only file server target
Faster RTO
Storage-dense node support
Now let's dig into some of the enhancements to File Analytics.
File Analytics: Ransomware Intelligence
Ransomware is a persistent concern that requires multiple security controls and software layers to mitigate. Nutanix Files has long supported centralized antivirus scanning via ICAP with security vendors like Trend Micro, McAfee, BitDefender, and Symantec. Nutanix overall offers a comprehensive approach to the ransomware threat across our portfolio that you can read about in more detail here. The goal of any solution is to prevent the infiltration of ransomware and malware, to detect any infection attempts, to alert and take defensive measures, and if the worst should happen, have a comprehensive strategy to recover.
Nutanix Files and File Analytics have many of the core features required to help detect, protect, analyze, and recover from ransomware.  File Analytics 3.0 begins the journey to combine these technologies into a comprehensive interface, built with the purpose of managing your ransomware strategy with Nutanix Files.  It starts with a dedicated ransomware page within File Analytics that gives you a dashboard summarizing any detected vulnerabilities, including the impacted shares and the clients that may be compromised.  The dashboard also shows you whether your shares are protected with SSR snapshots.  You will have the option to enable SSR against the unprotected shares.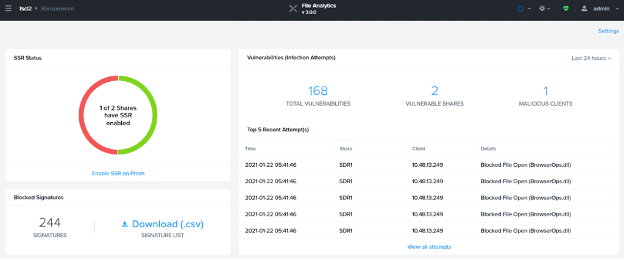 Nutanix Files is capable of blocking file creation or file rename operations of specific file extensions. With Files 3.8 this feature was extended to include wildcard-based file names and file extensions. When you enable ransomware protection within File Analytics, a specific list of names and extensions of known ransomware variants are automatically added to the blocking list. If any file creation or rename event of these blocked file types is attempted, it will appear as a vulnerability and be reported on the dashboard and emailed to the specified users.
File Analytics: Reporting
File Analytics captures the real-time user audit data and file metadata for Nutanix Files environments.  While some of that information was available via the dashboard or through audit search, creating your own custom reports was not readily available to the end user. The 3.0 release of File Analytics enables you to mine this data more effectively by introducing a custom reporting page.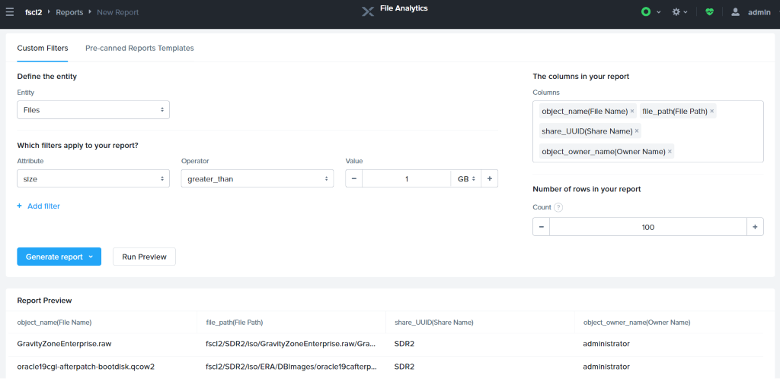 When creating a new report, you first select an entity, such as files, folders, audit events, and users. You can then choose which attributes to filter with customizable values.  For example, you can choose attributes like file size greater than or less than a given value, file age based on access time or creation date, or all audit events between a given time range. Finally, you can choose which columns of data to include in the report, like user and file names, paths, clients, operation types, and others associated with the entity. Once you define the report it can be saved and run again at any time. 
File Analytics: Data Age Analytics
Data Age Analytics shows how frequently data is accessed. Once you customize data age ranges to match your requirements, Data Age analytics shows you the hot, warm, or cold data trends over a specified time range, such as the last week, month, or longer.  You will also see the growth percentage of a given category.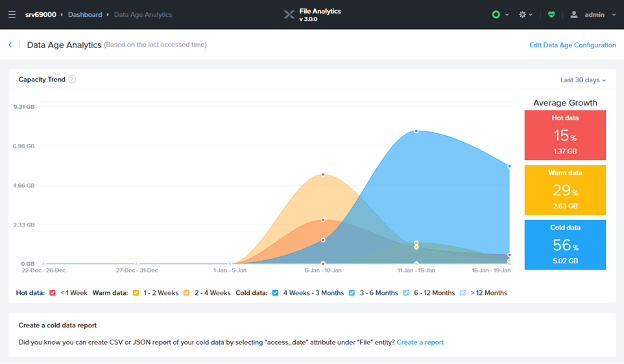 Customizable data age categories are a first step in the journey toward automated tiering.  In the future you will be able to choose what happens to "cold" data, including tiering that data to an external S3-based objects repository either on-premises or in the public cloud. 
Performance Improvements
Files 3.8 also includes storage performance enhancements.  To demonstrate the performance gains, we used Nutanix X-Ray to orchestrate a Four Corners test that covers random reads, random writes, sequential reads, and sequential writes. The X-Ray software combines a powerful systems-testing tool with an intuitive user interface. X-Ray creates and clones multiple Linux NFS clients. Each client connects over NFS to a distributed share hosted by all Nutanix Files nodes, then runs the Four Corners workload. The cluster used for the testing included four all-flash nodes with four NVMe and eight SSD per node.

These results show that Nutanix Files can deliver high sustained IOPS and throughput for performance-sensitive applications.
Final Thoughts
Nutanix Files 3.8 and File Analytics 3.0 give you more flexible disaster recovery, greater protection from ransomware, customizable reporting, and data age categorization. While these are the main features, this release also includes performance improvements, enhanced load balancing recommendations, and enhanced Connected Shares support for customizing your namespace.
We encourage you to read the release notes to learn more.  If you're new to Nutanix Files, give it a test drive. If you're already a Nutanix customer, start using your free 1TiB today, with no license required.
This post was authored by Mike McGhee, Director, Technical Marketing Engineering
---
© 2021 Nutanix, Inc.  All rights reserved. Nutanix, the Nutanix logo and all Nutanix product, feature and service names mentioned herein are registered trademarks or trademarks of Nutanix, Inc. in the United States and other countries. Other brand names mentioned herein are for identification purposes only and may be the trademarks of their respective holder(s). This post may contain links to external websites that are not part of Nutanix.com. Nutanix does not control these sites and disclaims all responsibility for the content or accuracy of any external site. Our decision to link to an external site should not be considered an endorsement of any content on such a site. This post may contain express and implied forward-looking statements, which are not historical facts and are instead based on our current expectations, estimates and beliefs. The accuracy of such statements involves risks and uncertainties and depends upon future events, including those that may be beyond our control, and actual results may differ materially and adversely from those anticipated or implied by such statements. Any forward-looking statements included herein speak only as of the date hereof and, except as required by law, we assume no obligation to update or otherwise revise any of such forward-looking statements to reflect subsequent events or circumstances.