The Nutanix Calm™ application orchestrator offers a powerful way to enable self-service and manage applications across hybrid clouds. While we continue to add more features to Calm, this blog post highlights and explains a new feature which allows application owners to take Snapshots of and Restore the services in an application running on Nutanix® Cloud Platform.
Snapshot and Restore are two basic operations that are used by datacenter admins and IT admins during routine maintenance of applications. Previously, IT admins had to rely on scripting Snapshots and restoring tasks inside the blueprint or by using native Snapshot/Restore capabilities provided by the underlying cloud platforms.
Calm 3.3.0 introduces Snapshot and Restore tasks for multi-VM blueprints. Keeping customer feedback in mind, our aim is to make the lives of Calm users simpler by providing configurable Snapshot and Restore tasks along with the already powerful orchestration capabilities of Nutanix Calm.
Having Snapshot and Restore as day 2 actions in the blueprint allows not only IT admins, but also self-service users in Calm to accomplish many use cases that involve multiple tasks and actions before and/or after taking Snapshots and also during the Restore process. Let us take a quick dive into what are the new capabilities that Calm has to offer with this feature.
At a high level, Snapshots taken from Calm can either reside on the cluster running the VM or on a remote cluster. The remote cluster option is provided for use cases where storage heavy clusters are used to store Snapshots. Further, when these Snapshots are Restored, the Restored VMs will come up on the clusters where the original VMs were running.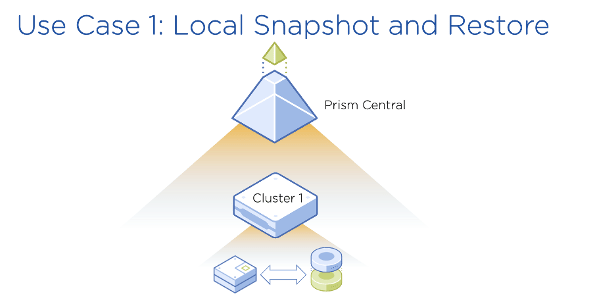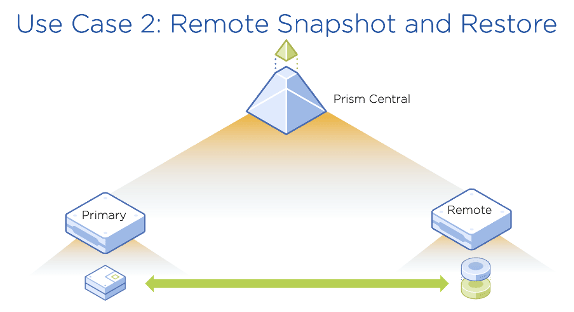 A typical user flow involves multiple personas.
This feature introduces a new policy in the Calm ecosystem – "Snapshot policy". Snapshot policies provide better governance and controls on what the end-user, typically the consumer and operator roles, can or cannot do when executing snapshot and restore actions. A Snapshot policy is defined by the admin. It contains one or more rules that dictate the behavior of the Snapshots taken from Calm. Typical attributes of a Snapshot policy include:
Snapshot retention time for both local and remote Snapshots
Remote Snapshot rules – cluster mapping for remote Snapshots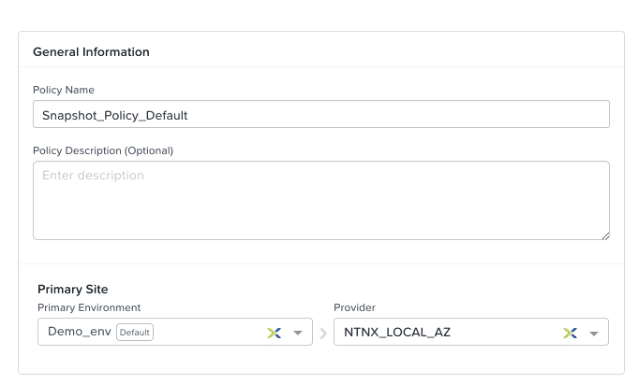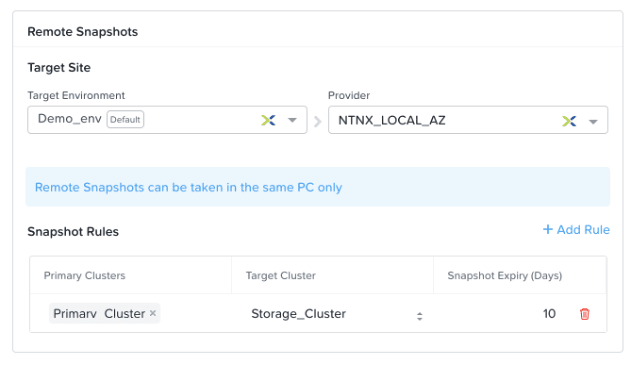 For example, there could be three Snapshot policies with different expirations for Snapshots.

In the blueprint editor, the developer can choose to add Snapshot/Restore tasks on each service. The task config specifies the Snapshot name, choice of whether to Snapshot all replicas or the first replica, and choice of location to store the Snapshot (either local or remote). Snapshot and Restore runbooks are automatically generated in the blueprint and these runbooks can be called from within any custom action created by the blueprint developer. To help with easy access to Snapshot and Restore actions, when the Snapshot and Restore runbooks are created, Calm also generates profile actions for the same.
In a typical scenario, other actions and tasks may have to be chained before/after the profile actions. Often in a multi-tier app, users might be interested in restarting services after a Restore operation, or gracefully pause/stop the applications running in the VM before taking any Snapshots.  This also gives users the ability to Snapshot the entire application at once by chaining Snapshot actions of all the services in a single profile action.
The Snapshot policy is then bound to the blueprint during application launch. In essence, an application launch will not be blocked due to non-availability of Snapshot policies.
After a successful launch, an operator can take a Snapshot of configured services with a one click day 2 action that can be accessed from the "Manage" tab in the application. Users are also able to view all the Snapshots taken from the new "Recovery Points" tab.
This new feature is currently available on the Nutanix® cloud platform. For more information and the detailed user guide, please refer to the Nutanix Calm documentation.
This post was authored by Sampanna Hegde, Senior Product Manager, Nutanix
---
© 2021 Nutanix, Inc.  All rights reserved. Nutanix, the Nutanix logo and all Nutanix product, feature and service names mentioned herein are registered trademarks or trademarks of Nutanix, Inc. in the United States and other countries. Other brand names mentioned herein are for identification purposes only and may be the trademarks of their respective holder(s). This post may contain links to external websites that are not part of Nutanix.com. Nutanix does not control these sites and disclaims all responsibility for the content or accuracy of any external site. Our decision to link to an external site should not be considered an endorsement of any content on such a site. Certain information contained in this post may relate to or be based on studies, publications, surveys and other data obtained from third-party sources and our own internal estimates and research. While we believe these third-party studies, publications, surveys and other data are reliable as of the date of this post, they have not independently verified, and we make no representation as to the adequacy, fairness, accuracy, or completeness of any information obtained from third-party sources.
This post may contain express and implied forward-looking statements, which are not historical facts and are instead based on our current expectations, estimates and beliefs. The accuracy of such statements involves risks and uncertainties and depends upon future events, including those that may be beyond our control, and actual results may differ materially and adversely from those anticipated or implied by such statements. Any forward-looking statements included herein speak only as of the date hereof and, except as required by law, we assume no obligation to update or otherwise revise any of such forward-looking statements to reflect subsequent events or circumstances.