Digital transformation is not characterized by the rampant adoption of new-age technologies, but by the end objective achieved by introducing simplicity and agility, that comes with it, in key areas that keeps the business running.
In the world of digitization, the customer's expectations are to address the business challenges of their data center and leverage niche technologies to adapt, grow and transform the business processes that deliver solutions to resolve the pain points and give a hybrid platform to use functionalities of on-premises and public cloud capabilities. Organizations have been exploring the public cloud platform, but are not fully satisfied with the capabilities that it offers. It gets expensive in the long run.
The organization's business model/KPI, customer's digital adoption, IT maturity, application landscape, and strategic alignment play a pivotal role in choosing the hybrid cloud. The objective of this blog is to highlight the key business drivers that are crucial for enterprises to have an evolving hybrid cloud strategy. The blog highlights the key challenges of the organizations and helps them to evolve from the traditional IT landscape to modernize data center capabilities to adopt TCS Hybrid cloud strategy.
Customers have varied expectations and requirements in today's digital age. It is increasingly important for enterprises to have a flexible cloud strategy to meet the customer's expanding needs. This requires a new approach of offering the products/services as a 'partner' keeping the customer and it's well-being in mind instead of pushing products/services in the traditional way.
The new technology-savvy customer is hyper digital. This would be possible only by adopting a strategy that is flexible with the needs of the business. While enterprises are keen to move most of the workloads to the cloud to be competitive and responsive to customer's needs, the cost value proposition also needs to be taken into consideration. Moving applications to the cloud would require strategic planning that drives integrated decisions across business units. Organizations would need a plan for the right hybrid cloud strategy.
TCS scope of services include the following:
Cloud consulting for hybrid cloud strategy design, ROI definition/measurement, and roadmap for phased approach

Cloud native application architecture design, build, and support

Application runtime platform design, integration, and build

Application migration to target cloud platform

SaaS

Platform services such as cloud platform setup, infrastructure automation, service management, and service orchestration

IP's and frameworks
Why Hybrid cloud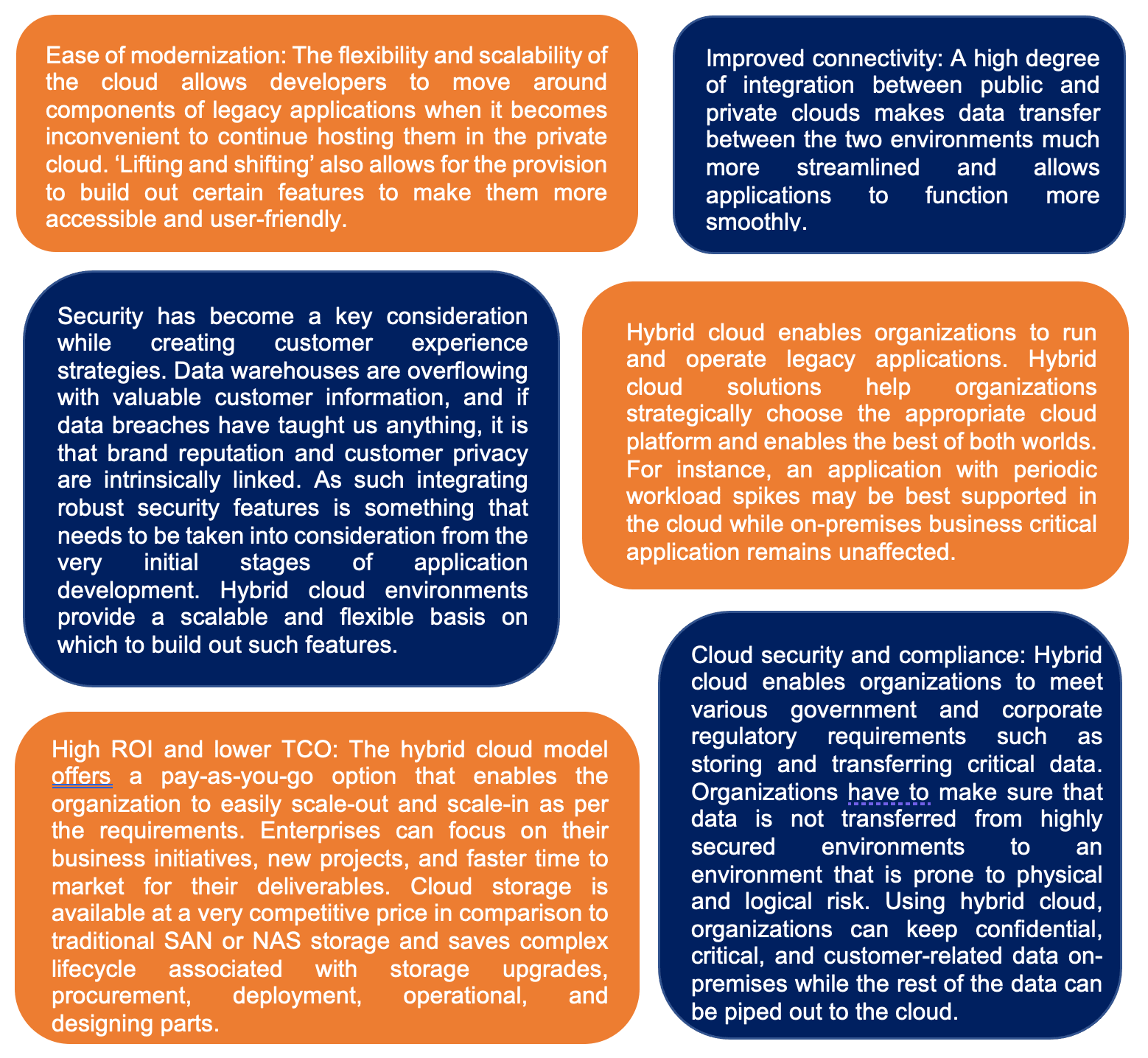 Why TCS and Nutanix: A Perspective & Strategy
Nutanix Hybrid Multicloud solutions elevate you from the tedium of managing and troubleshooting complex, legacy silos of infrastructure, letting you focus on the applications and data that serve your customers and drive your business. Nutanix eliminates the pain points of legacy IT operations that lead to silos of infrastructure. TCS and Nutanix works jointly to enhance the business agility, continuity for the organizations and at the same time, serves a plethora of business benefits that can troubleshoot, manage, and resolve the complex problems to drive the hybrid cloud journey.
Nutanix provides a public cloud experience to Customers in a software-defined approach that allows for simplicity and agility, while utilizing a single platform for all workloads across private, public, and hybrid cloud deployments. Nutanix has some of the best features in their arsenal to meet all the different customer needs. With their consumer-grade single interface with no plugins they promise availability and resiliency. It is flexible with no lock-in, and since it is a software-based solution, the customer has the freedom to choose any hypervisor, hardware, cloud platform, location and configuration.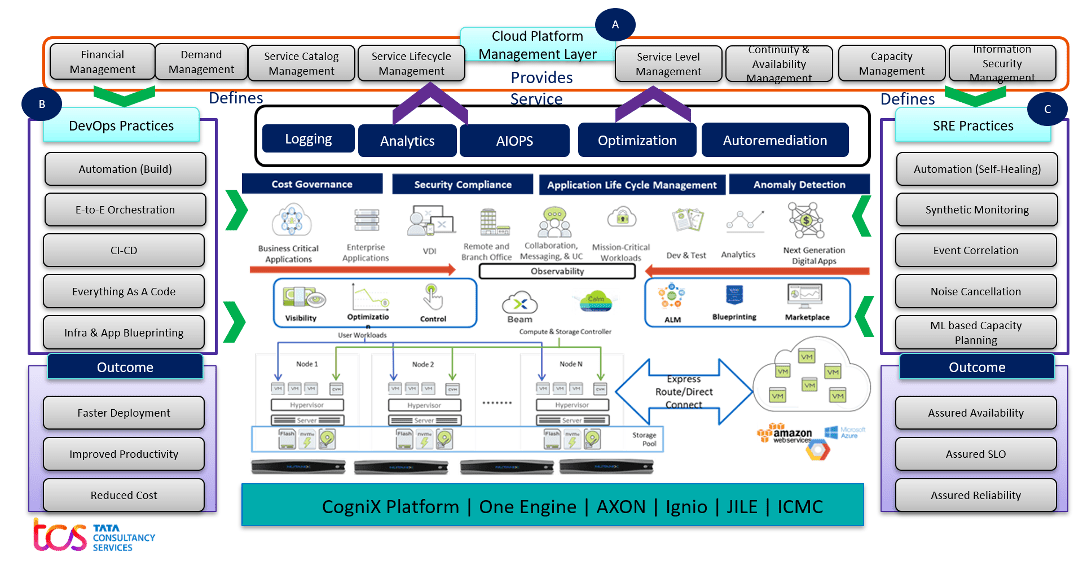 Calm – a multicloud application management framework that provides ALM, Blueprinting, RBAC based governance & publishes the blueprints to end user

Beam – a multicloud management platform that provides Cost Governance and enhances cloud security compliance

Clusters – true hybrid cloud extension for managing applications across private and public clouds without retooling

Era – provides a DBaaS experience that is capable to provision, clone, refresh and backup databases with one click from Prism

Xi Frame – provides

D

esktop-as-a-Service that can be scaled globally in AWS, Azure, GCP and on prem with Nutanix AHV

Xi Leap – provides DRaaS with built-in DR capabilities

Move – easily migrate between ESXi, AWS, Hyper-V and AHV

ITSM Integration – Nutanix supports OOB integration with ServiceNow which provides Discovery, Alerts Integration and Provisioning Automation

Speed & Scalability – One click operation for day-to-day operations and linear scale out architecture

Self-Healing – Detects anomalies and remediate them in real time through AI-assisted automation

No Vendor Lock-I

n

– Freedom to choose Hypervisors including AHV, VMware, ESXi, Hyper-V and Hardware which includes DELL, Lenovo, HPE etc.
What does the offering do for your customers?
It enables workload portability across On Premise and Public Cloud based on business requirement

Enables workload bursting into cloud resources to bring new workload in public cloud

Enables an IT organization to be more agile

Ensures Organization has control over its data using its private cloud, at the same time new products can be tested, prototyped and launched quickly using public cloud

Improve the overall reliability and performance of the DR solution
Nutanix – TCS Partnership Wins
TCS

has had a 360-degree

partnership with Nutanix since 2013.

TCS solutioned Nutanix as IaaS on HP Greenlake. TCS has also won the Partner of the Year Award for HP Greenlake

TCS and Nutanix have successfully delivered various diverse solutions across 100+ customers with varied industries vertical

Alliances jGTM(joint Go-to Market) strategy, built in CoE, operating from America, Europe and India, has some great success stories, for e.g.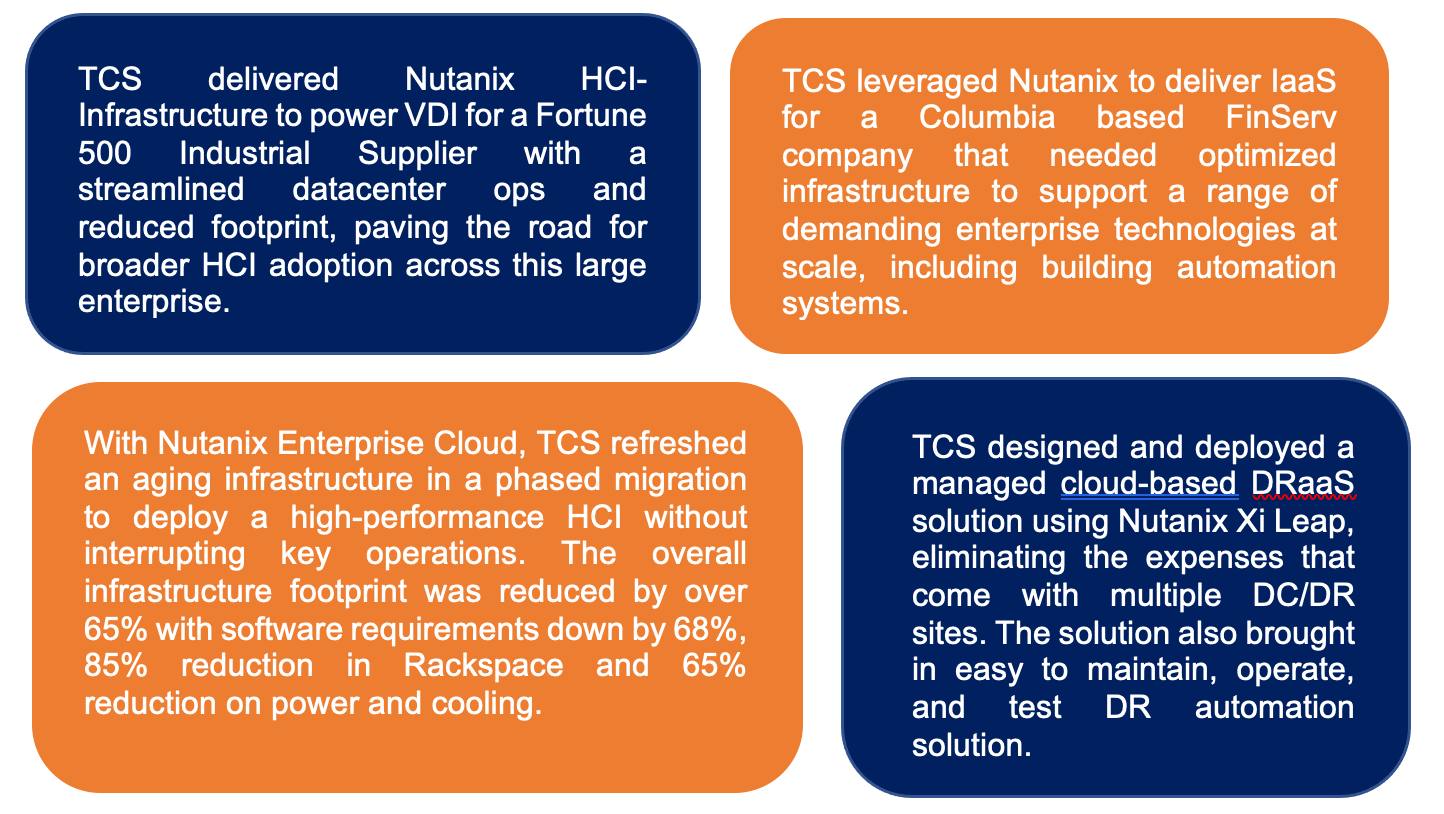 Joint investment: Nutanix

setup

Nutanix nodes in Center of Excellence (CoE) Labs in TCS Siruseri, which primarily focuses in developing Business Centric Solutions and to showcase to customers how they can Power Any Workload Anywhere.

Nutanix & TCS jointly developed various solutions, such as VDI, ROBO, Nutanix-AWS Hybrid Cloud, Database Platform Management Service and has also successfully deployed it for various customers.
TCS continues to focus on cognitive infrastructure offerings, providing assessment, implementation and managed services including Agile & Intelligent data center, Cognitive Enterprise Networks, Agile DevOps, and next-generation Workspace solutions which provides multi-channel, personalized and integrated experience for users. TCS has been working with clients and partners like Nutanix to drive Digital Transformation programs accelerated by TCS Cognix
- An AI – Human driven collaboration suite and an ecosystem of pre-built solutions and powered by MFDM
to make enterprises competitive while also creating sustainable and exponential business value. Further Cognix
contextualises, Integrates and orchestrates solutions by industries and business functions by harnessing the knowledge from vast expanse of customer operations, to realize a Configurable Enterprise.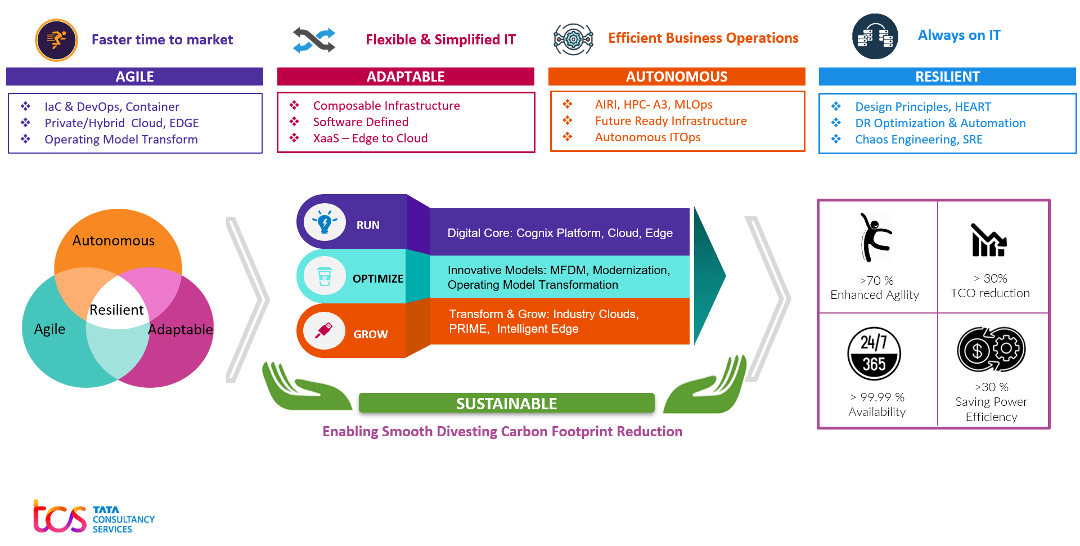 Hybrid cloud addresses all the challenges which is resulting in enterprises choosing a hybrid cloud strategy for various business initiatives. A recent study conducted by Market Research future states that the hybrid cloud market will reach a value of $173.3 billion by 2025. Hybrid cloud brings the capability of on-premise and cloud resources together and enables the businesses to maximize the flexibility and performance they need for their IT operations by leveraging all private & public cloud tools, features & functionalities. In the last few years, digitization has gained momentum and it has boosted up the need for the hybrid cloud concept. The tangible benefits of using hybrid cloud are reduction of cost and enhance scalability, flexibility, and security. Owing to tangible benefits, organizations are shifting more toward hybrid cloud and deploying a combination of the private and public cloud model.
This post was authored by Devkant Sharma, Rajan Iyer, and Aarti Srivastava, member of Nutanix CoE, at Tata Consultancy Services (TCS).