This post was authored by Laura Jordana, Technical Marketing Engineer, Nutanix
We are excited to announce the release of our new and improved Nutanix Test Drive, running on Google Cloud Platform!
Nutanix Test Drive History
For the past couple of years, we have offered the capability for customers and prospects to try out a Nutanix instance directly from their web browser. The original offering was a cloud-based version of Nutanix Community Edition (CE). In early 2019, we were able to deploy the full-blown Nutanix AOS software in the cloud and enhanced the experience by incorporating a couple of guided demos on how to create a storage container and a VM on a fully functional, live system. It was a way to get a feel for what Nutanix had to offer, but by no means did it do justice to the full functionality of our solutions.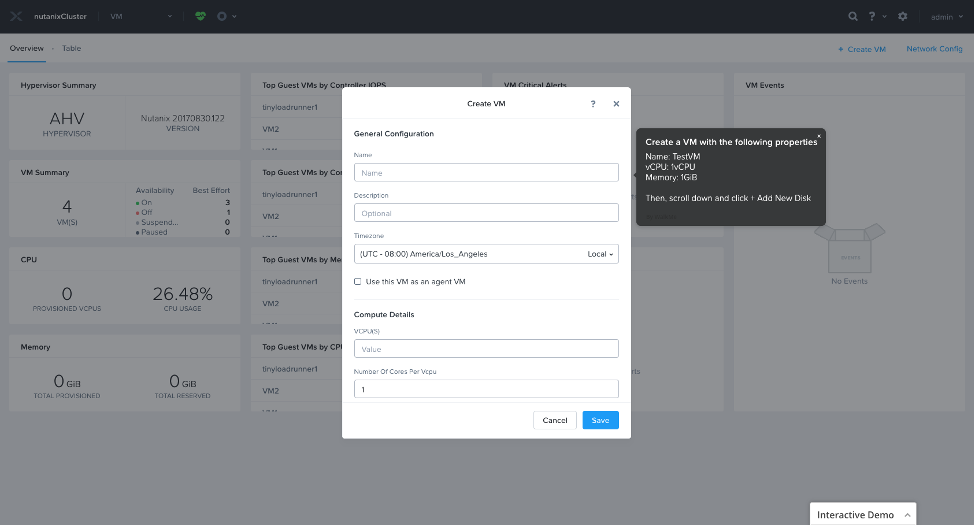 Test Drive 2.0
With Test Drive 2.0, we wanted to start expanding the offerings to showcase more of the solution portfolio. The initial release allows users to explore 3 focus areas—managing your virtual infrastructure with Prism and AOS, monitoring and planning with Prism Pro, and easily deploying and publishing applications with Calm. There are guided tours and the opportunity to run through the full hands-on lab for each of these areas in the deep dives!
You can get started now by navigating to: https://www.nutanix.com/testdrive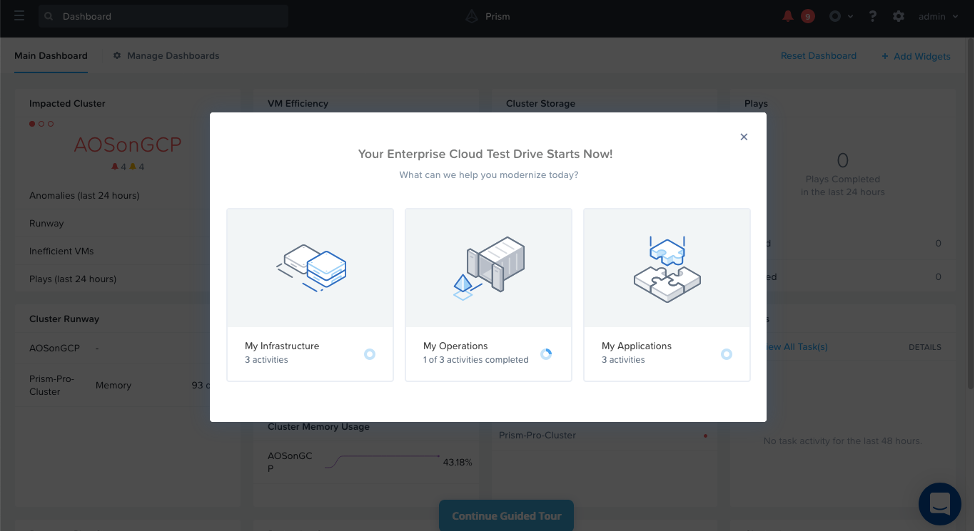 When you log in, you will be presented with three options of which aspect of your system you want to work with. These three focus areas are described in detail below.
Note: At any point during the guided tour, you can exit the tour by clicking the X in the top-right corner of the current window. You can return to the guided tour by clicking on the Continue Guided Tour button at the bottom of any screen.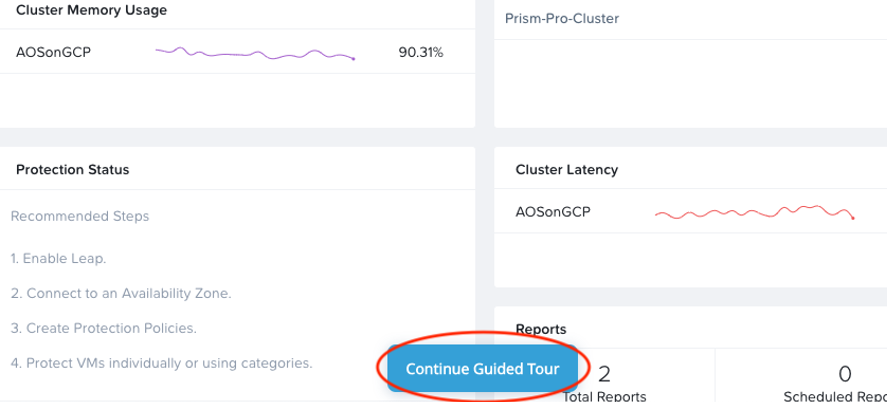 My Infrastructure
My Infrastructure focuses on the core HCI benefits using the Prism user interface. In this section, you'll do the following:
Spin up VMs quickly without having to carve out LUNs or worry about masking or mapping.
Effortlessly apply policies such as deduplication, compression, and erasure coding to storage.
Monitor the infrastructure using the same interface and take advantage of Nutanix's advanced machine learning algorithms that can make intelligent recommendations about your workloads.
My Operations
My Operations focuses on advanced analytics and intelligent automation using Prism Pro. In this section, you'll do the following:
View the efficiency of VMs running on the system. Inefficient VMs fall into one of 4 profiles:

Bully VM: A VM that consumes too many host resources for over an hour, potentially starving other VMs
Constrained VM: A VM that does not have enough resources for demand.
Overprovisioned VM: A VM that is oversized, the opposite of a constrained VM.
Inactive VM: a VM that has been powered off for more than 30 days or does fewer than 30 IOPs and whose storage throughput is less than 1 KiB per day.
With this information, you can make informed decisions on how to manage your VMs. You can also run reports on-demand, or schedule them and have them sent to your email.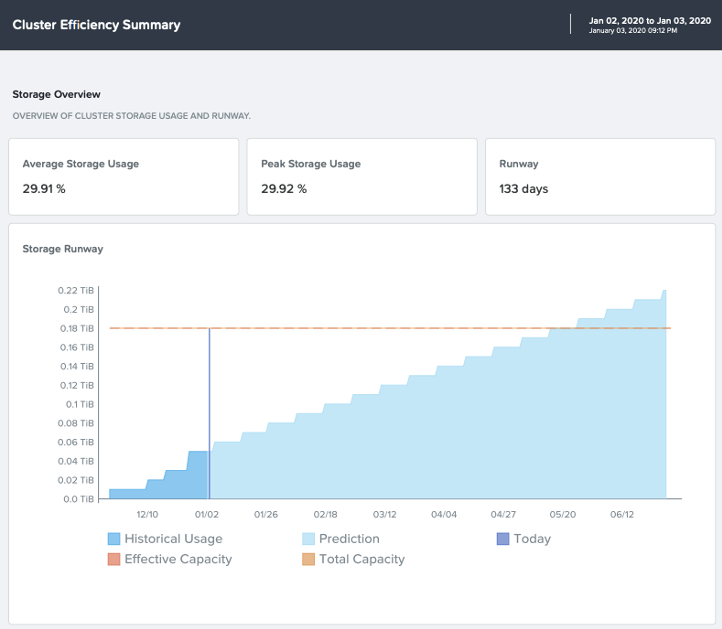 Use the Capacity Planning tool to view the predicted growth over time, walk through "what-if" scenarios to determine how additional workloads will impact your resources, and see what hardware configurations are recommended to meet your current and future requirements!
Use Playbooks to build out a sequence of actions on specific triggers. You can perform VM operations (such as hot-adding memory to a VM), send a Slack message, make an API call, execute scripts, and much more!
My Applications
My Applications focuses on deploying and managing applications with Calm. In this section, you'll do the following:
Learn how to quickly deploy an application from the Calm Marketplace. The Marketplace provides a set of pre-seeded application blueprints that are available for users to launch.
Create and edit blueprints to automate any task, such as running a script or sending an API call. (Blueprints are templates that describe all the steps that are required to provision, configure, and execute tasks on the services and applications that are created.)
Publish blueprints to the Marketplace to allow other users to launch your applications.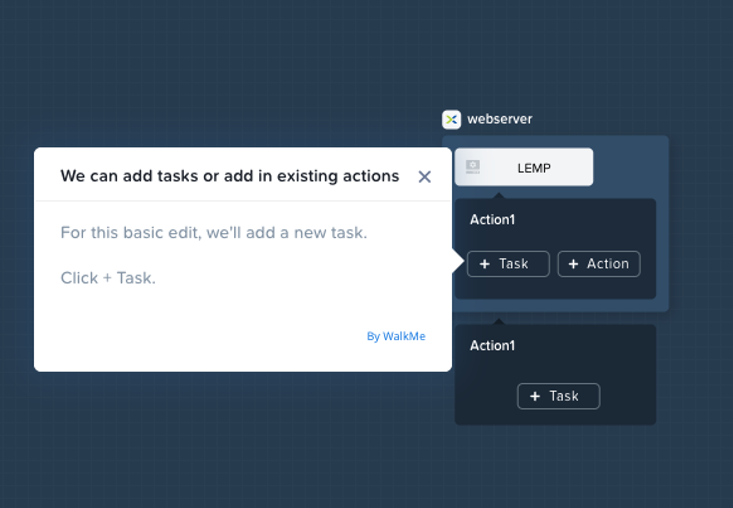 Tips & Tricks
You can do each walkthrough as many times as you would like! If you want to start over, feel free to X out of the current step and click on Continued Guided Tour at the bottom.
This is a live, fully functional system, so once you are done with the walkthroughs, feel free to explore on your own for the remainder of the time. Note that not all Nutanix solutions are currently able to be demoed in this environment.
Click the Quick Links menu at the bottom right of the screen to quickly jump to different guided tours and deep dives.
Join the Community
Be sure to join the conversation at our NEXT Community Forums!
This is just the beginning for Nutanix Test Drive. We are continuing to expand the experiences offered, so stay tuned for what's to come! Check it out now at https://www.nutanix.com/testdrive!