This post was authored by Matt Slotten Senior Manager, Technical Marketing Engineering
We are excited to release Nutanix Test Drive 2.5, which now includes the ability to experience the one-click simplicity, fast time to value, and integration between Nutanix and HYCU with Nutanix Mine, a dedicated data protection solution.
Nutanix Test Drive lets you try out the Nutanix platform easily and quickly, through your web browser. Earlier this year, we announced our new and improved Test Drive 2.0 running on Google Cloud Platform, which showcases Nutanix products and solutions through guided tours.
Test Drive Nutanix Mine with HYCU
Get started from our Test Drive Simplified Backup with HYCU site. When you log in, you will be greeted with on-screen instructions that highlight the components of Nutanix Mine with HYCU and how they fit together.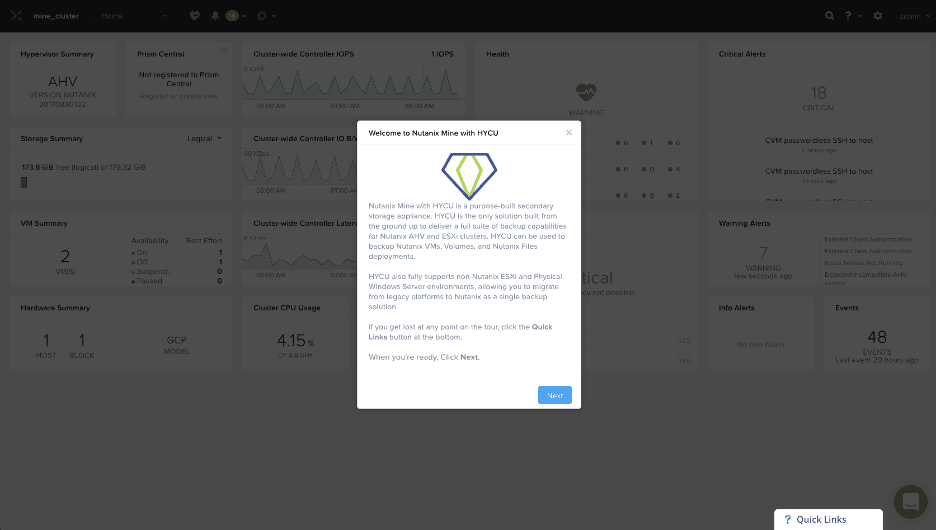 The guided tour for Mine with HYCU covers four primary topics:
How the physical and virtual components of Mine fit together
The integration between Nutanix

Prism

and HYCU in a simplified dashboard
The various Mine-specific and generic backup constructs within HYCU
How to configure and execute backup and recovery
Physical and Virtual Components
The guided tour introduces you to the Mine platform itself, as well as how the HYCU virtual backup controller is deployed on the appliance and how Nutanix storage is presented to HYCU for optimized backup performance.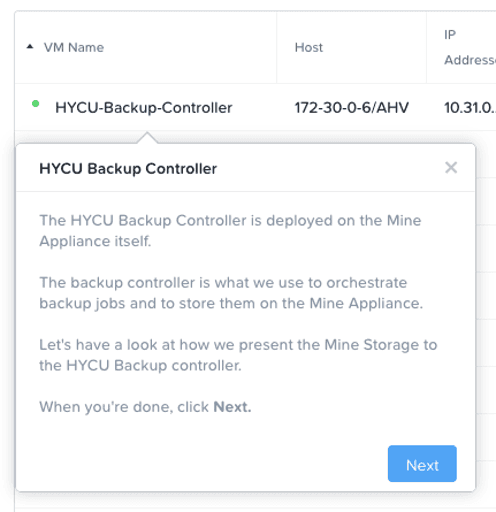 Integrated Mine Dashboard
The test drive introduces you to the integrated Mine Dashboard, which combines health data and metrics of the physical infrastructure, the Mine AOS, and HYCU for a simple, easy-to-read, and intuitive interface for managing the all-in-one backup solution.
Backup Constructs
From there, you will dive into the HYCU Backup Controller interface, where you'll learn how the Mine platform is configured as both a source and target within HYCU. You'll also learn what other source and target types are supported, such as using Nutanix Objects as a target for long-term retention and protection against ransomware attacks.  
Next, you'll explore the capabilities of HYCU, including what virtual and physical infrastructure it can backup, how to leverage built-in features (such as policies, reports, and self-service), and how to customize and configure the platform for your organization's needs.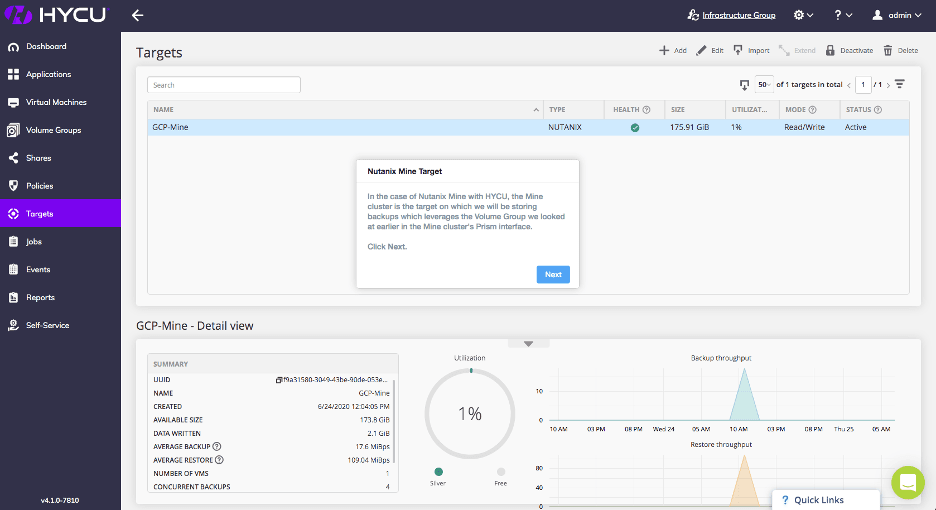 How to Configure Backup and Recovery of VM Workloads
The last section of the Mine with HYCU Test Drive covers configuring and executing a backup. HYCU makes it super simple to configure backup jobs for your infrastructure using policy-based backup. You will see how different levels of built-in policies (Exclude, Bronze, Silver, and Gold) are built-in to HYCU to ensure backups meet RTO, RPO, and other business requirements.

Tips & Tricks
If you want to explore outside of the guided tour you can simply click the "X" on any of the on-screen prompts. To return to the guided tour, use the Quick Links button at the bottom right.
If you have any questions during your test drive, you can use the chat function found at the bottom right of the screen to chat with a Nutanix Engineer.
Note that the "Launch HYCU" button available in the Nutanix Mine dashboard will not work in Test Drive due to how the network is configured in Test Drive. However, you can access the HYCU Backup Controller via the walk-through guidance or using the QuickLinks menu at the bottom right.
Once done, you can explore other Test Drives available by clicking "Test Drive Other Nutanix Solutions" in the Quick Links menu.
Mine with HYCU offers the ability to preserve HCI simplicity with native integration and a hypervisor-agnostic architecture that includes AHV and ESXi, and it makes fully reliable backup and recovery a sure thing. Try Nutanix Test Drive and experience first-hand the simplicity, integration, and fast-time to value of Nutanix Mine with HYCU.
---
© 2020 Nutanix, Inc.  All rights reserved. Nutanix, the Nutanix logo and all Nutanix product, feature and service names mentioned herein are registered trademarks or trademarks of Nutanix, Inc. in the United States and other countries. All other brand names mentioned herein are for identification purposes only and may be the trademarks of their respective holder(s). This post may contain links to external websites that are not part of Nutanix.com. Nutanix does not control these sites and disclaims all responsibility for the content or accuracy of any external site. Our decision to link to an external site should not be considered an endorsement of any content on such a site. This post may contain express and implied forward-looking statements, which are not historical facts and are instead based on our current expectations, estimates and beliefs. The accuracy of such statements involves risks and uncertainties and depends upon future events, including those that may be beyond our control, and actual results may differ materially and adversely from those anticipated or implied by such statements. Any forward-looking statements included herein speak only as of the date hereof and, except as required by law, we assume no obligation to update or otherwise revise any of such forward-looking statements to reflect subsequent events or circumstances.