This post was authored by Laura Jordana Technical Marketing Engineer Nutanix
In this digital age, we have grown accustomed to taking care of business with less paperwork. Gone are the days when you have to take hours out of your weekend to sort through your bills and pay them by check. Also gone are the days when the medical assistant at your doctor's office has to locate your file in a physical file cabinet before you show up for your appointment. Now that so many things are digital, all that needs to be done is to set up auto-pay with your bank or bring up your healthcare record in the computer instantly when you arrive.
All these documents, records, videos, images, and other data that has been digitized is a prime example of unstructured data. Unstructured data is drastically different than structured data that lives in databases and requires different management techniques to handle this data, especially as the growth of data explodes year over year.
This shift in data management has also uncovered the need for compliance laws, especially in the financial services or health care industries. Data must be protected and retained for a specific period of time as dictated by federal or local law. For example, many US states require healthcare records to be retained for at least 7 years, and banks and other financial institutions have similar laws they must abide by for retaining transaction records.
Nutanix Objects is an ideal solution for your long-term retention requirements. Managed from the familiar Nutanix Prism user interface, it leverages the underlying Acropolis Distributed Storage Fabric that powers other Nutanix core services. This means that with Nutanix Objects you are getting not only the simplicity, scalability, and enterprise-grade storage features provided by the storage layer, but also important features for long term retention such as:
WORM (Write-Once Read-Many)
One of the key features of Nutanix Objects is that it is compatible with the S3 Object Lock specification, which allows you to configure a bucket with a WORM (Write-Once Read-Many) policy. Once a bucket is marked as WORM, there is a 24-hour grace period for testing. Once the 24-hour period is up, no objects within this bucket, or the bucket itself, will be able to be deleted until the date specified by the WORM policy. The WORM retention period can be extended, but never reduced.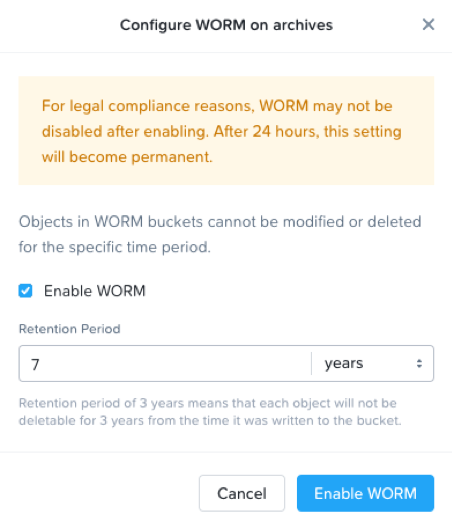 Object Versioning
Object versioning is a bucket-level feature that prevents objects from being accidentally overwritten or deleted. When versioning is enabled, any deletions or overwrites are protected. For example, if versioning is enabled on a bucket and the file is overwritten, the previous copies of the file are still retained with their version numbers recorded.
WORM buckets have versioning auto-enabled and cannot be suspended.
Lifecycle Policies
When managing massive amounts of data, it is important for a system to be able to automate data retention requirements. With lifecycle management, you can configure Nutanix Objects to automatically remove past versions of files after a certain period of time. You can also set a separate policy for current versions of objects. For example, you can set old versions to expire after one year, and current objects to expire after 3 years.
Note: WORM policies will supersede any lifecycle policy.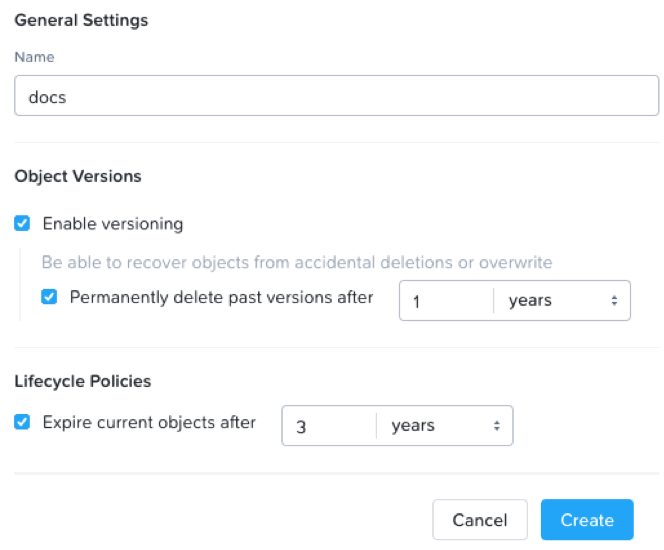 Data Encryption
The Nutanix Acropolis Distributed Storage Fabric offers data-at-rest encryption in the form of either self-encrypting drives or native software-based encryption. For key management, users can deploy an external key manager or leverage Nutanix's native key management solution. For more information on encryption, check out the following blog post:
https://next.nutanix.com/blog-40/security-with-simplicity-encryption-for-your-data-with-1-click-28225
For the encryption of data in flight, HTTPS is enabled by default on the object store.
Data Efficiency
Native data efficiency features of Nutanix such as compression and erasure coding are available on the Nutanix Objects storage container. Depending on the type of data being stored, compression rates may vary. Enabling erasure coding on a Nutanix Objects storage container is highly recommended as the immutable nature of objects allows it to take full advantage of the space savings offered by this technique.
The new features introduced with Nutanix Objects along with the storage services natively provided by the underlying Acropolis Distributed Storage Fabric make Nutanix Objects the simple solution for managing your long-term data.
With AOS 5.11 and above, 2TiB of Nutanix Objects is included for free on a per-cluster basis.
For more information on Nutanix Objects and object storage, check out the following resources:
2019 Nutanix, Inc. All rights reserved. Nutanix, the Nutanix logo and the other Nutanix products and features mentioned herein are registered trademarks or trademarks of Nutanix, Inc. in the United States and other countries. All other brand names mentioned herein are for identification purposes only and may be the trademarks of their respective holder(s).