This post was authored by Lakshana Rajendran and Laura Jordana, Technical Marketing Engineers
A little over a month ago, we launched Nutanix Test Drive 2.1 (TD 2.1) to showcase easy-to-use, no-install Disaster Recovery as a Service (DRaaS) enabled by Nutanix Xi Leap. Xi Leap is natively integrated with AOS and Prism and utilizes the Nutanix Cloud, a subscription-based public cloud services platform, and features guaranteed SLAs. Read this blog post to see what you can do with the initial Test Drive coverage of Xi Leap.
Today, we are pleased to inform you that these capabilities are enhanced with a new and improved Xi Leap deep dive (TD 2.1.6). A deep-dive lab allows you to explore selected topics further with an easy-to-follow guided tour. Read on to see what cool things you can do with the DRaaS Test Drive now!
Deep-dive into Disaster Recovery as a Service
Get started by navigating to our Xi Leap Test Drive site.
You'll receive an email with a link for direct access to your environment. When you log in, you will be presented with a welcome message and a guided tour description for the Xi Leap deep dive modules;
Cluster Pairing
Creating Categories
Updating a Protection Policy
Updating a Recovery Plan
Exploring Xi Cloud Portal
Performing a Failover
Failing Back
Cluster Pairing
The source cluster and the Nutanix Cloud Availability Zone must be paired in order to replicate VMs. In this module, you will verify the status of connectivity between the local and paired Availability Zone.
Creating Categories
Assign VMs to Categories. In this module, you will explore Categories, where you will learn about the parameters that form a category and will assign a category to an entity.

Updating a Protection Policy
Protection Policies are used to configure key DR metrics, such as RPO and RTO. They are synchronized between datacenters whenever they are created, updated, and/or deleted. You will get a closer look at Protection Policies and gain hands-on experience configuring them.
Updating a Recovery Plan
Recovery Plans orchestrate the recovery of protected VMs by controlling the boot order, network mappings, and boot delays to ensure graceful application recovery. In this module, you will delve into the Recovery Plan configuration and update existing plans.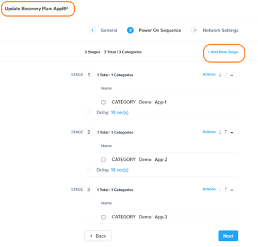 Exploring Nutanix Cloud Portal
Nutanix Cloud Services is a native cloud extension to the Nutanix Enterprise Cloud Platform. Protected VMs are brought online in the Nutanix Cloud in the event of a site failure. You will explore the Nutanix Cloud Services dashboard widgets that display the status of protection policies and recovery plans. You will perform a failover at the end of this task.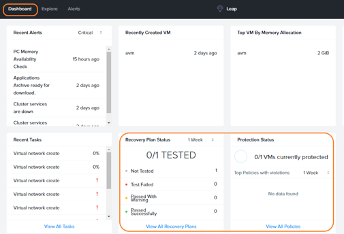 Failing Back
A Recovery Plan behaves the same way in both directions. Performing a failback is identical to performing a failover. You will execute a failback operation to the physical availability zone.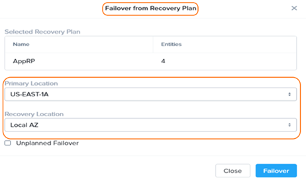 Tips & Tricks
If you want to start over, feel free to 'X' out of the current step and click on Quick Links at the bottom and select Welcome to Xi Leap Deep Dive.
On the Nutanix Cloud Portal, you can return to Prism Central at any time by clicking on Return to On-Prem Prism Central from the Quick Links menu in that interface.
Other Features of Test Drive
Read about the other features of Test Drive by checking out our latest blogs!
Join the Community
Be sure to join the conversation at our Community Forums!
To learn more about Xi Leap, please visit our Xi Leap page.
We are continuing to expand the experiences offered in Nutanix Test Drive, so stay tuned for what's to come! Check it out now at www.nutanix.com/testdrive!
---
© 2020 Nutanix, Inc.  All rights reserved. Nutanix, the Nutanix logo and all Nutanix product, feature and service names mentioned herein are registered trademarks or trademarks of Nutanix, Inc. in the United States and other countries. All other brand names mentioned herein are for identification purposes only and may be the trademarks of their respective holder(s). This post may contain links to external websites that are not part of Nutanix.com. Nutanix does not control these sites and disclaims all responsibility for the content or accuracy of any external site. Our decision to link to an external site should not be considered an endorsement of any content on such a site. Certain information contained in this post may relate to or be based on studies, publications, surveys and other data obtained from third-party sources and our own internal estimates and research. While we believe these third-party studies, publications, surveys and other data are reliable as of the date of this post, they have not independently verified, and we make no representation as to the adequacy, fairness, accuracy, or completeness of any information obtained from third-party sources.
This post may contain express and implied forward-looking statements, which are not historical facts and are instead based on our current expectations, estimates and beliefs. The accuracy of such statements involves risks and uncertainties and depends upon future events, including those that may be beyond our control, and actual results may differ materially and adversely from those anticipated or implied by such statements. Any forward-looking statements included herein speak only as of the date hereof and, except as required by law, we assume no obligation to update or otherwise revise any of such forward-looking statements to reflect subsequent events or circumstances.