Today - we will highlight the flexibility Nutanix offers with Protection Domains. You can access Protection Domains via the "Data Protection" Menu option in Prism.
DR Basics in Nutanix:
The foundation of data protection and disaster recovery in a Nutanix cluster is the concept of snapshots.
Snapshots work very similar to VM/vDisk clones - leveraging a "redirect on write" algorithm that marks a snapshotted vDisk as immutable and directing new write operations (block overwrites and new blocks) to a new vDisk.  Read operations reference the correct vDisk blocks based on metadata lookup from the meta-data store. 
From the Nutanix Bible - Book of Acropolis - Backup & Disaster Recovery
What is a Protection Domain (PD)?
* Key Role: Macro group of VMs and/or files to protect
Description: A group of VMs and/or files to be replicated together on a desired schedule.  A PD can protect a full container or you can select individual VMs and/or files.
A protection domain is a group of Virtual Machines for disaster recovery purposes. Protection Domains can be Async or Sync.
What is a Consistency Group (CG):
Key Role: Subset of VMs/files in PD to be crash-consistent
Description: VMs and/or files which are part of a Protection Domain which need to be snapshotted in a crash consistent manner.
This ensures that when VMs/files are recovered, they come up in a consistent state.  A  protection domain can have multiple consistency groups.
Please ensure you have one (1) Entity (VM) per consistency group - if you select "application consistent snapshots"
Async DR - Allows you to protect virtual machines hosted on a Nutanix cluster by replicating them to a secondary Nutanix cluster, with the smallest interval being an HOUR.
Prism : Creating a ASYNC Protection Domain
ASYNC Protection Domain offer multiple scheduling options from hourly, daily, weekly, monthly. You can also attach Multiple Schedules to a single protection domain. 
Snapshot Schedule
Key Role: Snapshot and replication schedule
Description: Snapshot and replication schedule for VMs in a particular PD and CG
Scheduling: (Think RPO and RTO)
On the schedule tab we attach single or multiple schedules to a Protection Domain. 
Scheduling policy will be based upon an organization's RPO and RTO. Nutanix Data Protection allows multiple schedules to be associated with a single protection domain in order to cater for flexible RPO and RTO. Along with RPO and RTO.
Nutanix Data Protection feature offers, hourly, daily, weekly and monthly scheduling to cater for an organisations RPO and RTO objectives.
Depending on the business requirements, you can have an hourly schedule associated with a single PD and you can have a daily or monthly or all attached to a single PD. Following screenshot shows that you can have multiple schedules attached to a single protection domain.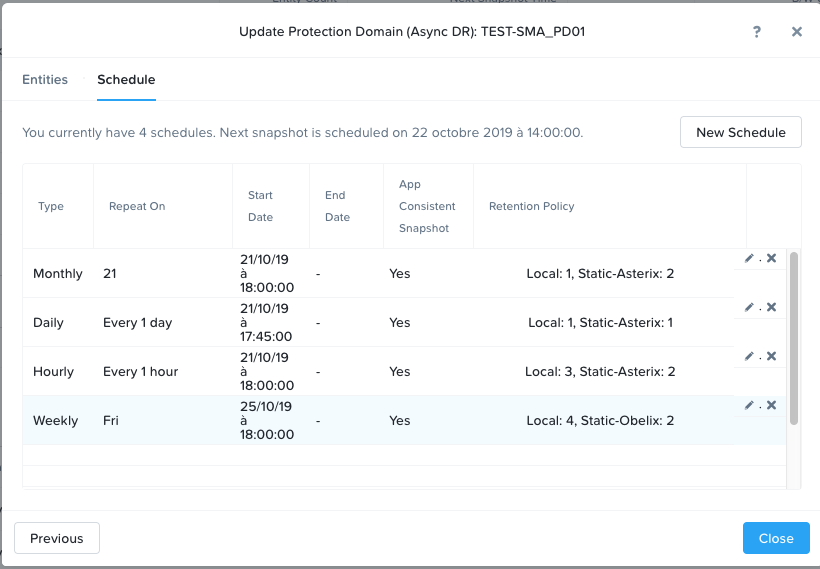 Any questions on the above? Please share your thoughts in the comments section or you can always create a new question to get further clarification on Nutanix Data Protection.