Hello,
I stumbled upon a very weird problem and I am not able to sort it out myself.
I have a pretty fresh Cluster running AHV which is for our Lab.
I installed a Server 2022 DC - all fine. I installed a second one - all good.
I created the Active Directory on the first one, edited IP-Settings on both machines including DNS and everything and tried to join the other Server as a second Domain Controller. That is where I got stuck. It wasn't able to join the Domain. On the Error Page it said it was able to find the Domain but wether A-Records are not correct or the Server is noch reachable.
Ping and nslookup works just fine though. I tried a day testing everything that was coming to my mind and after some while I tried to eliminate as much factors as possible. So I migrated both Servers to the same Node to eliminate networking issues - and this does the trick. When I want to domain join another Server from another Node it does not work anymore, as soon as it is on the same, it does.
I then tried to domain join from another virtual environment - not from nutanix - same outcome as when it's on different nodes. When trying to join the only additional step for the traffic is to go out the node on the physical interface on native vlan, to a switch and back to the other node - so no firewall, no packet inspection no nothing. Just plain raw networking, not even routing.
So for those reasons and because it also doesn't work coming from another source that nutanix I believe, that something happens with the packets entering the node. When I tried to do a wireshark the only differnce was a about 4 second delay and some retransmissions for the DNS when atrying to domain join: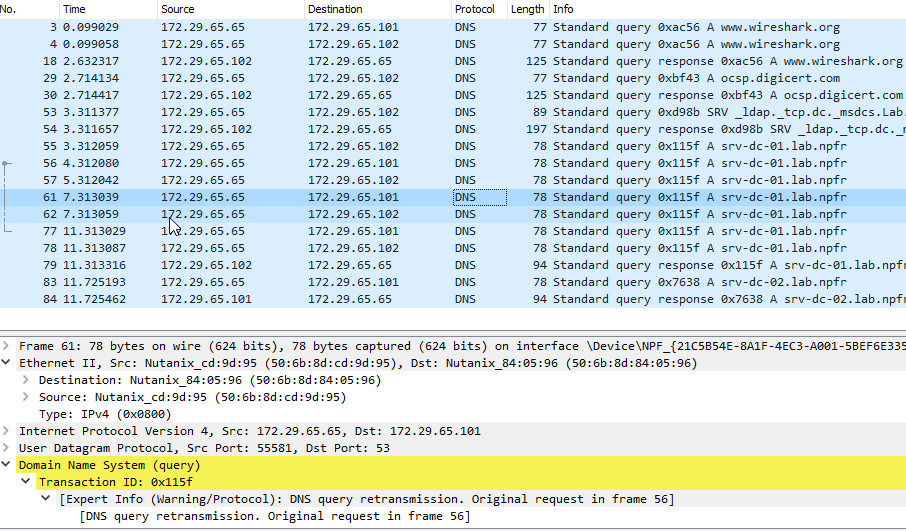 oppsed to a pretty clean DNS query when on same nodes:

Do you have any ides what is causing this? As a next step, I will make the Server on the other non-nutanix environment a DC and try joining it from Nutanix to this to see if this problem is only outgoing or both, outgoing or incoming.
Any advice will be highly appreciated!