NOTE: If you are running AOS 5.11.x 
Please upgrade to AOS 5.11.1.2 or higher before enabling the Remote Support Tunnel

What is the Remote Support Tunnel
The Remote Support Tunnel allows Nutanix SREs and Engineers to access a cluster via a Secure SSH Tunnel.
We can also send a public SSH key to allow access without the need for the cluster password to be exchanged.
Enable the Remote Support Tunnel
In Prism, go to; 
Settings, by clicking the gear wheel or from the Dashboard selection
Select Remote Support
Enable for n hour(s) (maximum of 24 hours)
After 5 - 10 minutes, go back or refresh the Remote Support setting screen to see the Status.
The Connection Status should be reporting "Success".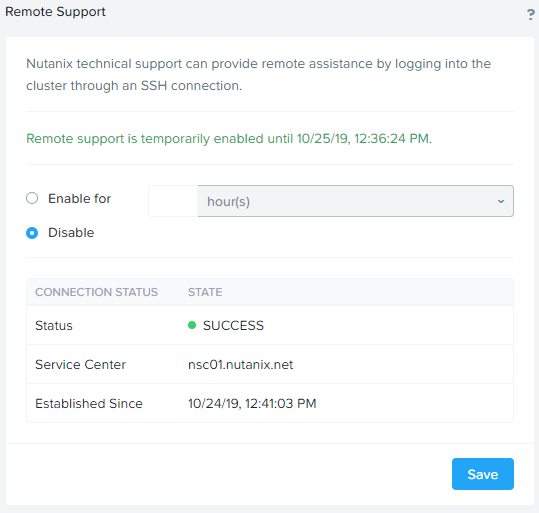 If the status is reported as Disabled, (as seen below), please review the following Knowledge Base Article for Troubleshooting options.
Nutanix Remote Support Tunnel Troubleshooting Guide