We're happy to announce that the 2020 Enterprise Cloud Solution Design Boot Camp and NPX Design Review schedule is available now!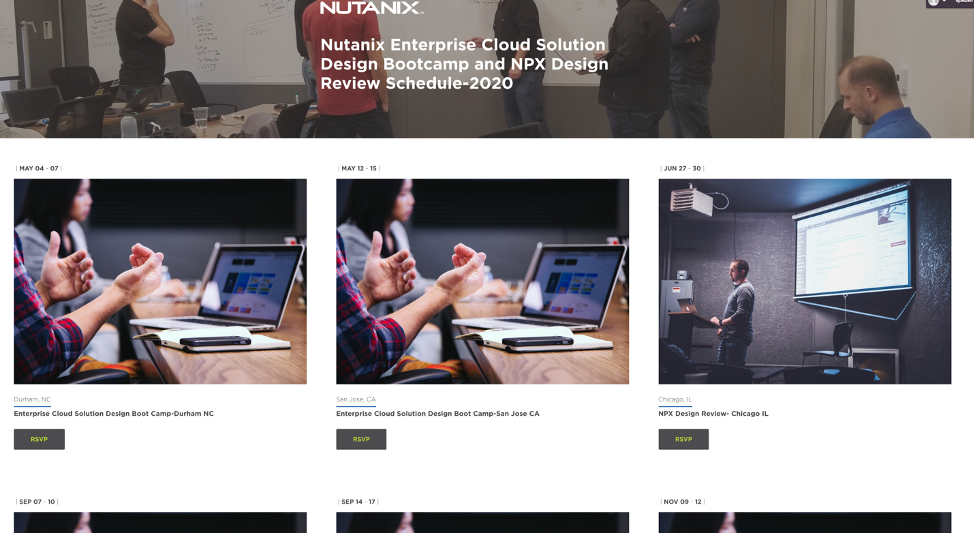 Currently, we have six Enterprise Cloud Solution Design Boot Camps and two Nutanix Platform Expert (NPX) Design Review Sessions scheduled around the globe for 2020.
Enterprise Cloud Solution Design Boot Camps
Prepare yourself to engage with enterprise customers and design Nutanix Enterprise Cloud solutions that deliver real business value, with one of these free, 4-day design boot camps. These boot camps are led by an onsite team of dedicated NPX-certified instructors who will focus on designing multi-hypervisor solutions capable of supporting enterprise-class applications according to clearly defined service level agreements.
The Enterprise Cloud Solution Design boot camps provide great immersive learning experiences that will change how you approach enterprise solution design and delivery.
Whether you are pursuing your NPX certification or looking to gain additional insight on Nutanix-based solutions, make sure you reserve a spot at a location nearest you. Please note that the Nutanix Certified Professional (NCP) is required to participate.
NPX Design Review
Registration for this event notifies the NPX Program Manager that you intend to submit an application for review and program acceptance.
NPX Design Reviews are by invitation only. Program requirements, instructions for submitting your NPX Program Application, and step-by-step instructions for achieving the credential are detailed in the Nutanix Platform Professional (NPX) Program Design Review Preparation Guide.
Click here to receive the latest versions of these documents.
Application due dates:
Chicago NPX Design Reviews are due Friday, 22 May 2020 at 5:00 pm Pacific Time
Durham NPX Design Reviews are due Friday, 7 August 2020 at 5:00 pm Pacific Time
Reserve your spot at a location nearest you.
Looking for more information on our NPX Certification? Click here
© 2020 Nutanix, Inc. All rights reserved. Nutanix, the Nutanix logo and all Nutanix product and service names mentioned herein are registered trademarks or trademarks of Nutanix, Inc. in the United States and other countries. All other brand names mentioned herein are for identification purposes only and may be the trademarks of their respective holder(s). This post may contain links to external websites that are not part of Nutanix.com. Nutanix does not control these sites and disclaims all responsibility for the content or accuracy of any external site. Our decision to link to an external site should not be considered an endorsement of any content on such a site.