Get an update on the Nutanix Certified Professional (NCP) global community and learn how you can be part of it!
As we near the end of 2021, it's time to take a look back at the top NCP program highlights and congratulate all of the new NCPs that joined the community in the past year. 
NCPs are now in over 126 countries around the world! Comment below to let us know which country you represent!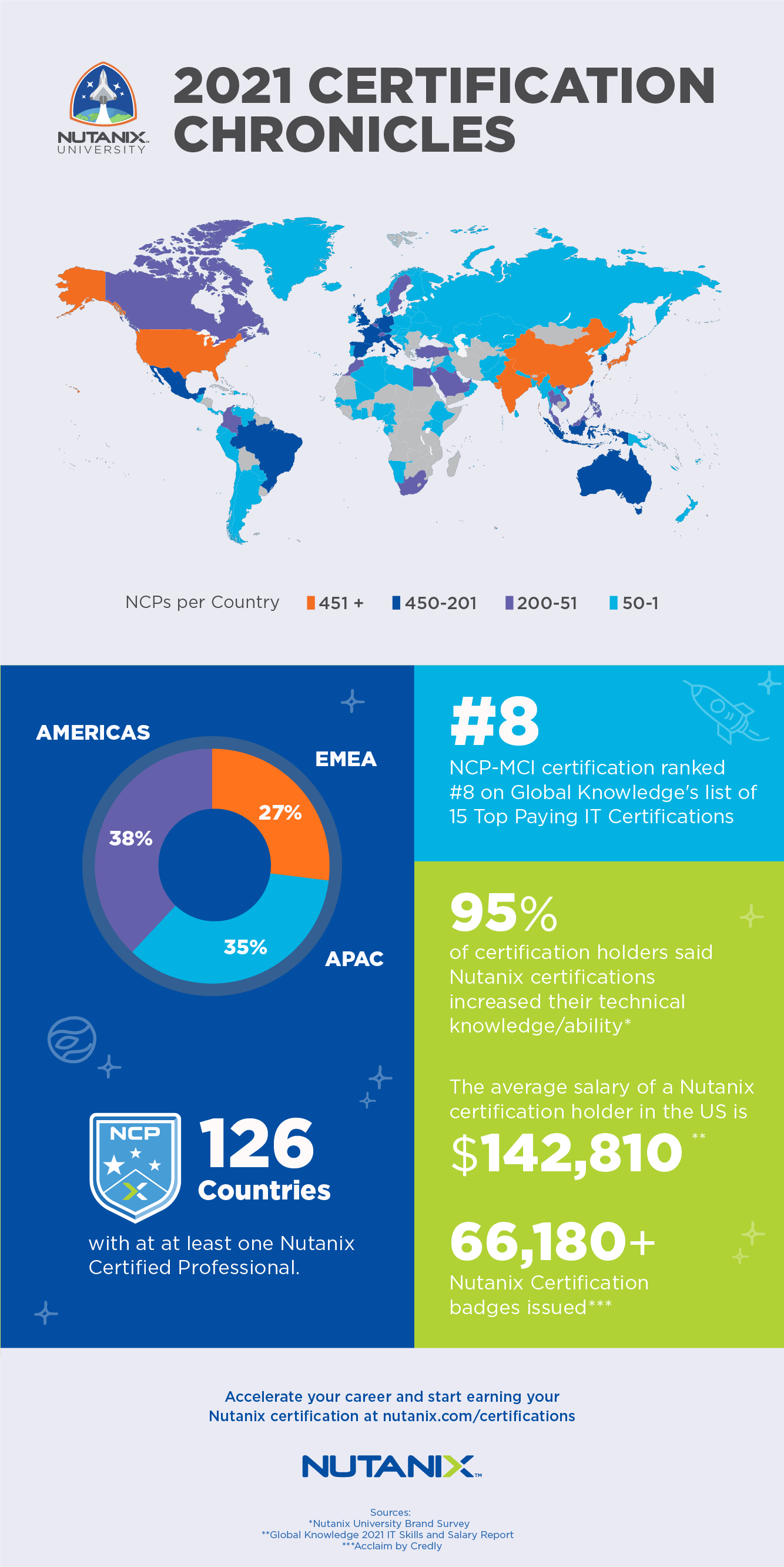 Congratulations to all those that became NCP certified this year! 
If you haven't received your NCP certification yet, now is a great time to start! In a recent survey by Global Knowledge revealing the top paying certifications today, the Nutanix Certified Professional - Multicloud Infrastructure ranked number eight on the list! » Click here to read the full article. 
Plus, for a limited time you can get a FREE certification exam when you complete a training course. » Click here to find out more about this exciting offer. 
Congratulations again to everyone who achieved their NCP certification this year and best of luck to those in pursuit of it! 
This article was written by Karlie Beil, Customer Marketing Specialist. 
️ 2021 Nutanix, Inc.  All rights reserved. Nutanix, the Nutanix logo and all Nutanix product, feature and service names mentioned herein are registered trademarks or trademarks of Nutanix, Inc. in the United States and other countries. Other brand names mentioned herein are for identification purposes only and may be the trademarks of their respective holder(s). This post may contain links to external websites that are not part of Nutanix.com. Nutanix does not control these sites and disclaims all responsibility for the content or accuracy of any external site. Our decision to link to an external site should not be considered an endorsement of any content on such a site. This post may contain express and implied forward-looking statements, which are not historical facts and are instead based on our current expectations, estimates and beliefs. The accuracy of such statements involves risks and uncertainties and depends upon future events, including those that may be beyond our control, and actual results may differ materially and adversely from those anticipated or implied by such statements. Any forward-looking statements included herein speak only as of the date hereof and, except as required by law, we assume no obligation to update or otherwise revise any of such forward-looking statements to reflect subsequent events or circumstances.