This post was authored by Derek Seaman & Venu Vuppalapati, Nutanix
Nutanix is proud to announce a new Xpert professional services portfolio to meet the needs of enterprises of all sizes in their database modernization and automation journey. The series of database modernization services will bring your Microsoft SQL Server, Oracle, PostgreSQL, and MySQL databases into a virtual environment and manage the full lifecycle of databases using the one-click simplicity of Nutanix Era.
The professional service offerings help IT organizations plan, design, and implement their next database environment, including helping them set up storage and virtual machines for Nutanix HCI core, and deploy and configure Nutanix Era to enable functions like provisioning, backup and recovery, and copy data management. The services can be consumed in two forms:
As individual or a la carte services

.

This includ

es

design workloads, database migration planning workshops, deployment service, backup and copy data management configuration services, and more.

As a service package. There are two service packages:

Starter

and

Pro

service pack. The Starter service package is focused on bringing Nutanix Era into your environment through a design workshop and deployment services. The Pro package

includes

a Database and Era design workshop

as well as a

database migration planning workshop to migrate your existing databases into an Era managed environment

while

using Era's advanced database backup and copy data management features.
In addition, the Pro package predefines sizes for you to choose from based on your environment. Our experts can work with you to determine the best fit based on the number, type, and size of databases that are in scope for your project.
Our Xpert consultants and partners also offer a range of services to help you operate and scale your environment, including helping to ensure your transition onto a Nutanix platform is seamless.
Service Offerings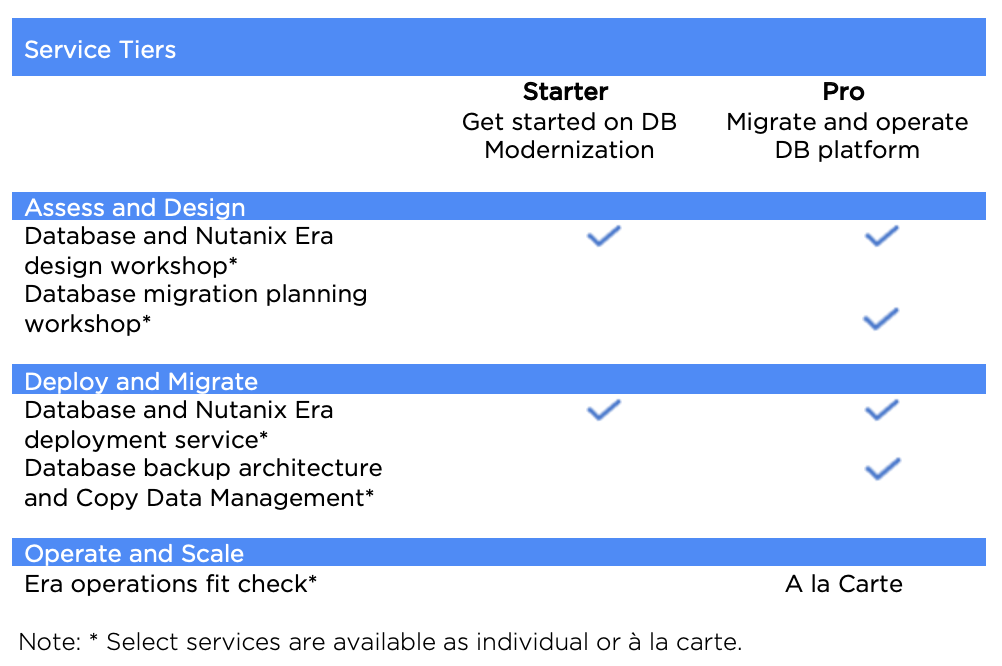 Here are the details for each services
Assess and Design
Assess customer Databases, capacity, performance requirements, security requirements, manageability, availability, resiliency requirements, growth requirements for Databases and provide a design for a Nutanix solution for databases including Nutanix Era and database engines design and best practices for storage, HA, and migration. Database & Nutanix Era Design Workshop
Assess existing database workloads, layout migration options to choose from, and build plan for database migration. Nutanix Database Migration Planning Workshop
Deploy and Migrate
Deploy and configure Nutanix Era and database engines according to design and scope. Nutanix Era Deployment
Build the SLA based on the customer's backup/recovery requirements and configure the Era Time Machine for single or multiple clusters. Deploy and configure Era to clone, refresh, and restore a database at any point in time. Set up users with RBAC and deploy dev/test database life cycle management best practices. Explore integrations to the existing CI/CD pipeline. Database Backup Architecture and Copy Data Management
Operate and Scale
Review the state of a currently installed and configured database environment, including Nutanix Era and Database- related infrastructure and virtualization best practices. Make recommendations to ensure optimal performance and reliability. Era Operations Fit Check.
Migrate your existing Oracle and SQL Server databases on to the Nutanix Platform. Database Migration.
Getting Started
We are excited to offer our end-to end portfolio of professional service offerings for database modernization and automation, ensuring a frictionless journey for your Microsoft SQL Server and Oracle databases onto the industry-leading Nutanix hybrid cloud infrastructure platform and Nutanix Era.  No matter how small or large your database environment is, we have a modernization package to fit your needs. Reach out at services@nutanix.com or your local authorized Nutanix partners for more information.
---
© 2020 Nutanix, Inc. All rights reserved. Nutanix, the Nutanix logo and the other Nutanix products and features mentioned on this post are registered trademarks or trademarks of Nutanix, Inc. in the United States and other countries. All other brand names mentioned on this post are for identification purposes only and may be the trademarks of their respective holder(s). This post may contain links to external websites that are not part of Nutanix.com. Nutanix does not control these sites and disclaims all responsibility for the content or accuracy of any external site.