This post was co-authored by Patrick Campbell, Sr Strategic Marketing Engineer, Nutanix and Cody Richard, Global Partner Solutions Architect, Red Hat
Nearly a year ago, Red Hat and Nutanix announced a strategic partnership to help customers leverage a full stack platform for any hybrid cloud workflow that includes server virtualization and containerization using Kubernetes. As leaders in our respective offerings, Red Hat and Nutanix strive to provide our customers with industry leading open source Kubernetes orchestration and management, a hybrid cloud platform, and a proven Linux distribution.
Red Hat Enterprise Linux and Red Hat OpenShift are certified to run on the Nutanix Acropolis Hypervisor (AHV), enterprise virtualization deployed on the Nutanix Cloud Platform (NCP). The relationship continues to grow with this recent addition of the Red Hat Ansible Certified Content Collection for Nutanix NCP, building momentum for customers of both Red Hat and Nutanix.
Why Ansible, Why Nutanix?
As new digital services define whether an organization can become or remain competitive, IT leaders must find ways to deliver digital value faster without adding a lot of operational or management overhead. Think about it. Why start from scratch if you already have tools and talent to achieve this digital value now?
Standardizing automation workflows across an organization makes utilizing existing tools even more compelling. This is now more urgent than ever. According to this survey, enterprises find a lack of integration and interoperability with existing tools as a significant challenge. This coupled with an ever changing pool of available resources can create the need for a powerful, easy to use, automation tool. Red Hat Ansible Automation Platform provides enterprise-grade integration and automation in a human readable format.
Leveraging the technical expertise from current DevOps teams using Ansible Automation Platform—in a more organization-wide strategy—addresses what many IT leaders want. They're looking to speed up processes by eliminating duplicate and independent technical overhead. Here's where Nutanix comes in. Nutanix Hyperconverged Infrastructure (HCI) provides an integrated solution including data services at scale that enables easy, rapid application configuration and deployment.
IT Operations teams benefit from the automation from DevOps teams that have been using Ansible Automation Platform—in some cases for several years. The end result is that the downstream end users utilizing NCP will have ready-to-use apps that run on an enterprise-grade HCI platform faster than if the administration is done manually in siloed infrastructure environments that do not scale well.
Example Use Case for Support Teams at Customer Sites
Suppose that a group of support engineers for a target customer need to access a "gold standard" of infrastructure resources with specific applications running in an NCP environment. They want to troubleshoot specific workflows introduced by customers or internal development teams and don't have time to set up this environment manually every time a client opens a support case.
Before automation, environments for testing like this needed to be manually configured on demand after support engineers submitted tickets for IT admins to set up and configure. In other cases, custom scripts were developed and used sporadically across the organization. But now, with the modules in the Red Hat Ansible Certified Content Collection for Nutanix NCP, the environment can be quickly set up (or torn down) for support engineers to do testing with what is considered a baseline scenario. Alternatively, they can use self-service blueprints defined in Nutanix that access Ansible automation and set up the desired NCP environment. It's all virtual and easy to deploy with predefined configurations so the support teams can quickly troubleshoot and then reset to the desired baseline state when they are done with a support case.
This standardization across the organization helps to eliminate those "one off" scenarios that creep up from the different siloed teams that might have a "do-it-yourself" mentality instead of using central IT. This is just one example of many for utilizing this newly forged collaboration between Nutanix and Red Hat.
Nutanix and Ansible
Prior to this Nutanix NCP Ansible Content Collection certification and still ongoing, engineers at Nutanix have been using Ansible for development. Current Self-Service blueprints can execute Ansible Playbooks to configure any hybrid multi-cloud destination. Nutanix X-Play actions for simplified IT operations can leverage Ansible workflow and job templates to execute to any target environment.
Get Started
The Nutanix Collection is available in Ansible automation hub and Ansible Galaxy. Customers who want supported content should use the Certified Collection in Ansible automation hub. Red Hat customers using certified content can open a Red Hat support ticket if there are issues using the Nutanix Certified Collection.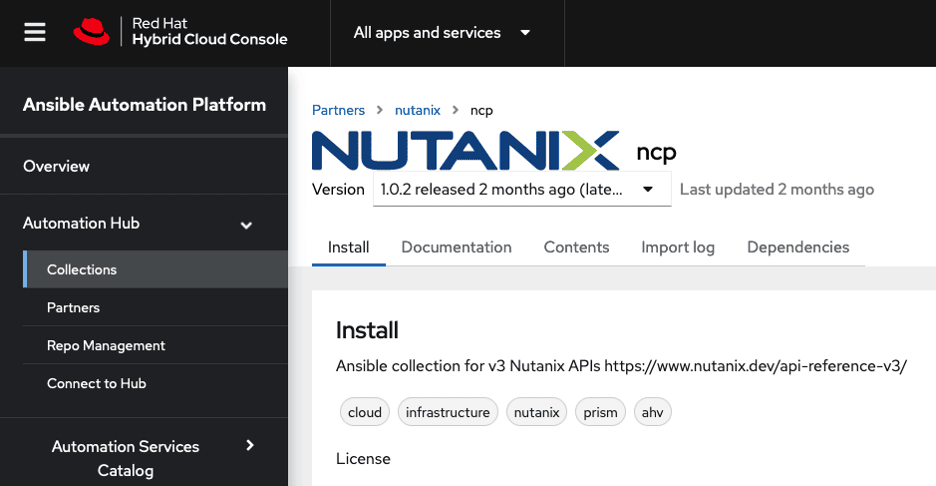 The current beta release on Ansible Galaxy now includes automating and configuring Nutanix Foundation tasks in addition to the configuration and management of VMs. The offerings coming from this collaboration help to promote the hybrid cloud platform value that Red Hat and Nutanix offer our customers.
To learn more about how Nutanix and Red Hat are "better together," visit our virtual booth at the Red Hat Summit, May 10-11, 2022. Otherwise, stay tuned for even more "better together" solutions as the collaboration between Red Hat and Nutanix evolves.
For more information, see:
---
2022 Nutanix, Inc. All rights reserved. Nutanix, the Nutanix logo and all Nutanix product, feature and service names mentioned herein are registered trademarks or trademarks of Nutanix, Inc. in the United States and other countries. Other brand names mentioned herein are for identification purposes only and may be the trademarks of their respective holder(s). This post may contain links to external websites that are not part of Nutanix.com. Nutanix does not control these sites and disclaims all responsibility for the content or accuracy of any external site. Our decision to link to an external site should not be considered an endorsement of any content on such a site. Certain information contained in this post may relate to or be based on studies, publications, surveys and other data obtained from third-party sources and our own internal estimates and research. While we believe these third-party studies, publications, surveys and other data are reliable as of the date of this post, they have not independently verified, and we make no representation as to the adequacy, fairness, accuracy, or completeness of any information obtained from third-party sources.
This post may contain express and implied forward-looking statements, which are not historical facts and are instead based on our current expectations, estimates and beliefs. The accuracy of such statements involves risks and uncertainties and depends upon future events, including those that may be beyond our control, and actual results may differ materially and adversely from those anticipated or implied by such statements. Any forward-looking statements included herein speak only as of the date hereof and, except as required by law, we assume no obligation to update or otherwise revise any of such forward-looking statements to reflect subsequent events or circumstances.