Nutanix X-Play
is a simple low-code/no-code automation tool built into the Nutanix Prism
management controller  that helps you automate routine operations and tasks, and provides the ability to auto-remediate issues that may occur.
Using the X-Play tool, you can define a set of actions or a series of actions (called a "playbook") based on a trigger, such as an event, alert, or an incoming webhook. The actions you can configure allow you to perform actions on your infrastructure, such as adding resources or running scripts. You can also integrate with APIs and 3rd party tools.
With the release of Prism Central 2021.7 comes four new out of the box X-Play actions to make life as an IT admin a little bit easier.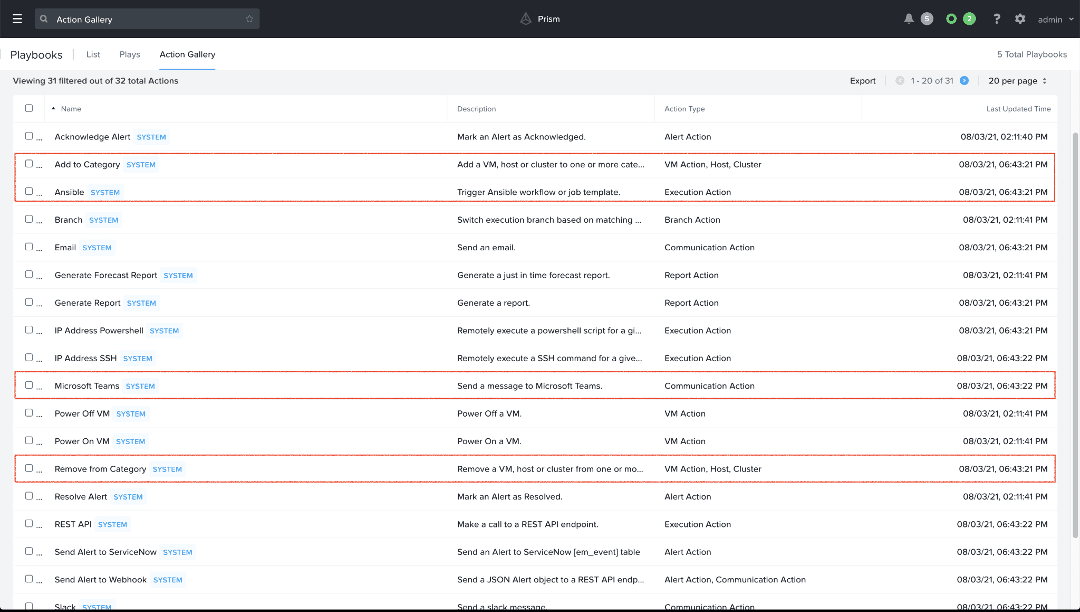 The 4 new actions are:
Add to Category - add a VM, host, or cluster to one or more categories
The ability to add a VM, host, or cluster to a category automatically has been an anticipated feature and is a great addition to the action gallery. Categories allow you to define security and protection policies among groups of VMs based on their category. With this feature you can create a playbook that will run when VMs are created that match a specific criteria. For example, you can construct a playbook that will act on a VM creation event and add the VM to a specific category if it matches a specific naming convention (using the string parser action to parse out this information).
Remove from Category - remove a VM, host, or cluster from one or more categories
The reverse of the first action, this action allows you to automatically remove a VM, host, or cluster from a category if desired. For example, if you have a VM that is overprovisioned you could trigger a playbook to add it to a specific category. The next time this VM is powered off, X-Play could trigger a playbook to automatically check to see if it is still overprovisioned, and if it is, take advantage of the VM being powered off to right size it (by reducing CPU or memory), and then remove it from the category.
Microsoft Teams - send a message to Microsoft Teams
Are you team Slack
or team... Teams?
There is already a built-in action for sending a message to Slack and now you can send a message directly to Microsoft
Teams. Previously, you could accomplish this by using the REST API action but now instead of having to construct an API call all you need to do is provide your channel webhook URL and a message.
Ansible  - Trigger an Ansible workflow or job template
With this action, you can now trigger an Ansible workflow automatically upon an event or alert trigger. For example, it could act on a VM creation event and if the VM(s) contained the name "webserver" you could kick off an Ansible workflow to set up a LAMP stack on the VM(s).
Get hands on with your own Nutanix cluster and be guided through setting up your own playbook from start to finish by taking the Nutanix AIOps & Automation Test Drive.
To learn more about Nutanix's AIOps & Automation solutions, please check out the following links:
This post was authored by Laura Jordana, Principal Technical Marketing Engineer
---
2021 Nutanix, Inc.  All rights reserved. Nutanix, the Nutanix logo and all Nutanix product, feature and service names mentioned herein are registered trademarks or trademarks of Nutanix, Inc. in the United States and other countries. Other brand names mentioned herein are for identification purposes only and may be the trademarks of their respective holder(s). This post may contain links to external websites that are not part of Nutanix.com. Nutanix does not control these sites and disclaims all responsibility for the content or accuracy of any external site. Our decision to link to an external site should not be considered an endorsement of any content on such a site. Certain information contained in this post may relate to or be based on studies, publications, surveys and other data obtained from third-party sources and our own internal estimates and research. While we believe these third-party studies, publications, surveys and other data are reliable as of the date of this post, they have not independently verified, and we make no representation as to the adequacy, fairness, accuracy, or completeness of any information obtained from third-party sources.
This post may contain express and implied forward-looking statements, which are not historical facts and are instead based on our current expectations, estimates and beliefs. The accuracy of such statements involves risks and uncertainties and depends upon future events, including those that may be beyond our control, and actual results may differ materially and adversely from those anticipated or implied by such statements. Any forward-looking statements included herein speak only as of the date hereof and, except as required by law, we assume no obligation to update or otherwise revise any of such forward-looking statements to reflect subsequent events or circumstances.