This post was authored by Bhavik Desai, Nutanix
Nutanix has been disrupting enterprise IT infrastructure for over a decade now, evolving from servicing VDI and dev/test workloads to powering the most demanding and performance-intensive workloads for more than 17,000 customers, across industries and around the world. When Nutanix engineers began designing AOS, the software foundation of hyperconverged infrastructure, they made some key architectural decisions that resulted in a very resilient, highly scalable, and performant architecture. Some of them were:
Fine-grained metadata, which enables flexible and dynamic data management, which also provides fast recoveries during failure scenarios and migrations.
Dynamic data management, enabling AOS to keep active data locally on the same node where the application is residing. Data locality helps in providing optimal performance to applications without having to traverse the network.
With newer versions of AOS, Nutanix engineers have made further enhancements in the software stack to optimize performance. One of them was Autonomous Extent Store (AES), which combined data locality with metadata locality by splitting metadata into global logical metadata, and local physical metadata, which optimized sustained write performance.

As storage media has become faster with the arrival of SSDs and the NVMe protocol, Nutanix engineers have further optimized the software stack to realize the true potential of advancements in storage media. With the latest release of AOS, Nutanix has delivered Blockstore, which optimizes the I/O data path. Blockstore builds on the foundation laid by fine-grained metadata, data locality, and AES to fully leverage the superior performance provided by new storage technologies.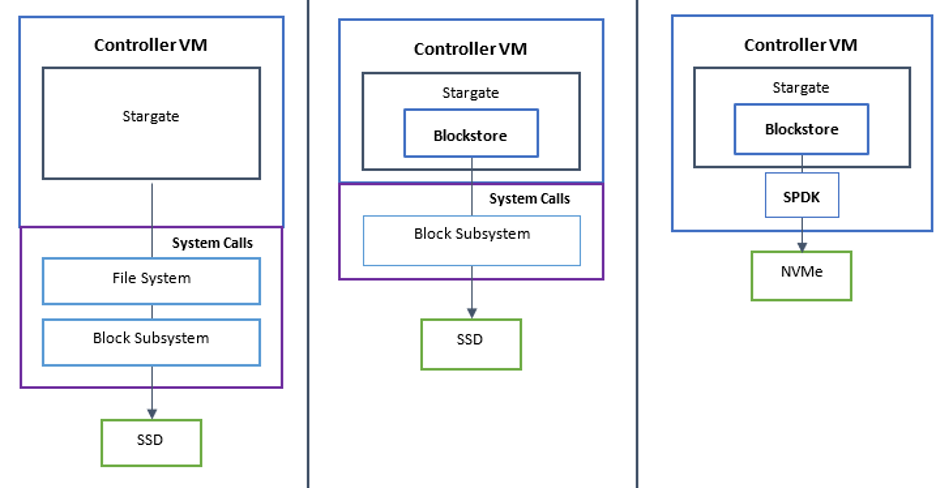 Rohit Jain, Principal Engineer at Nutanix, explains in this concise video the motivation for building Blockstore, it's architecture, and the benefits it provides. By moving more processes into user space, and bypassing the kernel, the datapath is far more efficient, dramatically improving performance, reducing latency, and increasing fault isolation. These Nutanix architectural innovations not only enable our platform to fully exploit the power of today's most advanced storage media, like NVMe and Optane, but the next generation as well.
---
© 2020 Nutanix, Inc. All rights reserved. Nutanix, the Nutanix logo and the other Nutanix products and features mentioned on this post are registered trademarks or trademarks of Nutanix, Inc. in the United States and other countries. All other brand names mentioned on this post are for identification purposes only and may be the trademarks of their respective holder(s). This post may contain links to external websites that are not part of Nutanix.com. Nutanix does not control these sites and disclaims all responsibility for the content or accuracy of any external site.