We're pleased to announce that the Approval Policies feature is now available in Tech Preview for the Nutanix Cloud Manager™ (NCM) Self-Service.
NCM Self-Service (formerly Calm) provides an easy and seamless way to consume simple Infrastructure as a Service VMs and multi-tier applications via the marketplace[JG1] . This is possible via easy to use blueprints to automate complex application deployment processes. As NCM Self-Service continues to grow its footprint across enterprise deployments, customers have remarked on the need for even better governance and controls on resources provisioned and managed. Governance is key to building a cloud-like experience for IT organizations, and the ability to easily define and monitor policies are important for enterprise customers.
Providing a marketplace or a self-service catalog is a great way to allow users to quickly create apps or trigger specific actions, and can help IT to focus on other tasks than just fulfilling repetitive requests. However, while addressing such use cases, Enterprise Admins have told us that they prefer to define some guardrails and governance around these requests. Continuing our focus on governance and controls, Approval policies are introduced with the Calm™ 3.5.0 release.  Enterprise admins looking for better controls on common actions, such as day 0 application launch, day 2 action execution, and run book execution, can now configure approval policies.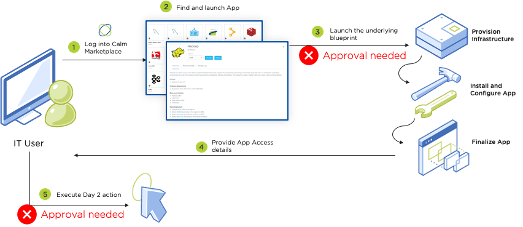 Approval policies in NCM Self-Service are a combination of these factors:
Entity and Trigger: Approvals are triggered against certain calm entities and associated actions within the specified project.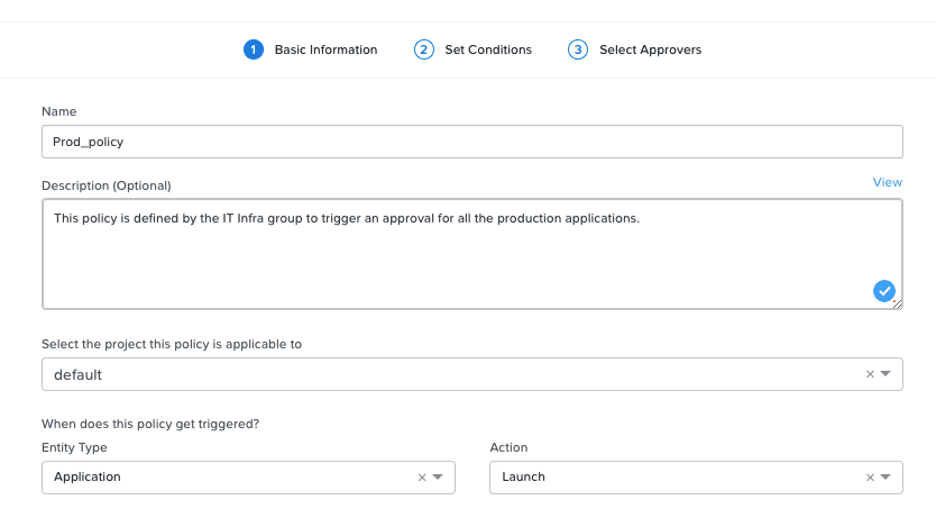 Conditions: Attributes associated with the entity selected are used to define conditions. If all the conditions in the policy are met, an approval request is triggered.
Approvers: Approvers can be one or more users/groups configured from AD/LDAP or local PC users. Multiple levels of approvers can be configured in the same approval policy.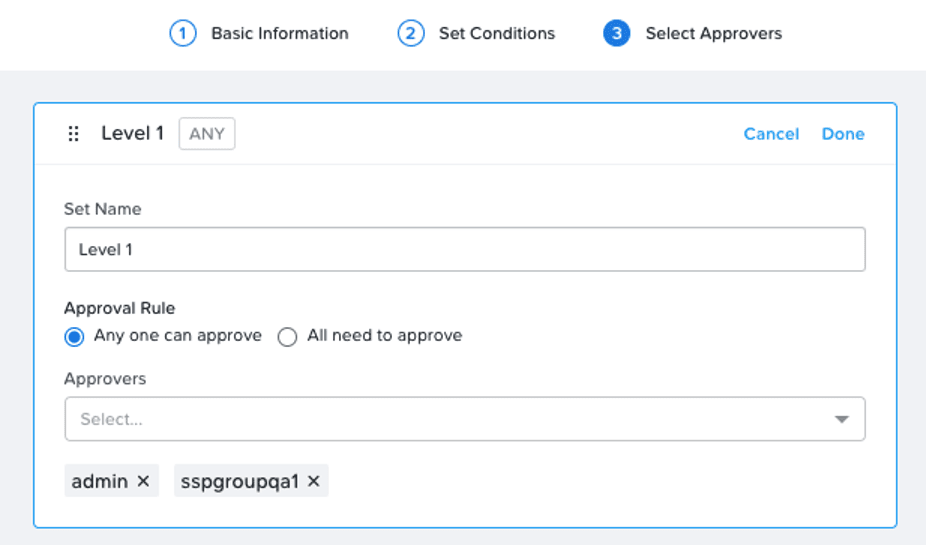 After the approval policy is successfully enabled, whenever any event matches all the conditions in the policy, an approval request is triggered. Approvers are notified of the pending approval request via email. Approvers can then login to NCM Self-Service to either approve or reject the request.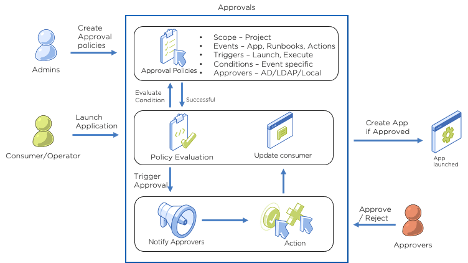 This feature is currently available as Tech Preview in Calm 3.5.0. For more information and detailed user guide, please refer to the Nutanix documentation.
If you want to try out the NCM Self-Service features for yourself, you can take a free Nutanix Test Drive, or you can learn more on its home page.
---
© 2022 Nutanix, Inc.  All rights reserved. Nutanix, the Nutanix logo and all Nutanix product, feature and service names mentioned herein are registered trademarks or trademarks of Nutanix, Inc. in the United States and other countries. Other brand names mentioned herein are for identification purposes only and may be the trademarks of their respective holder(s). This post may contain links to external websites that are not part of Nutanix.com. Nutanix does not control these sites and disclaims all responsibility for the content or accuracy of any external site. Our decision to link to an external site should not be considered an endorsement of any content on such a site. Certain information contained in this post may relate to or be based on studies, publications, surveys and other data obtained from third-party sources and our own internal estimates and research. While we believe these third-party studies, publications, surveys and other data are reliable as of the date of this post, they have not independently verified, and we make no representation as to the adequacy, fairness, accuracy, or completeness of any information obtained from third-party sources.
This post may contain express and implied forward-looking statements, which are not historical facts and are instead based on our current expectations, estimates and beliefs. The accuracy of such statements involves risks and uncertainties and depends upon future events, including those that may be beyond our control, and actual results may differ materially and adversely from those anticipated or implied by such statements. Any forward-looking statements included herein speak only as of the date hereof and, except as required by law, we assume no obligation to update or otherwise revise any of such forward-looking statements to reflect subsequent events or circumstances.