What is Foundation?
Foundation is a Nutanix provided tool leveraged for bootstrapping, imaging and deployment of Nutanix clusters. The imaging process will install the desired version of the AOS software as well as the hypervisor of choice.
By default Nutanix nodes ship with AHV pre-installed (depending on your country), to leverage a different hypervisor type you must use foundation to re-image the nodes with the desired hypervisor.
NOTE: Some OEMs will ship directly from the factory with the desired hypervisor.
The figure shows a high level view of the Foundation architecture: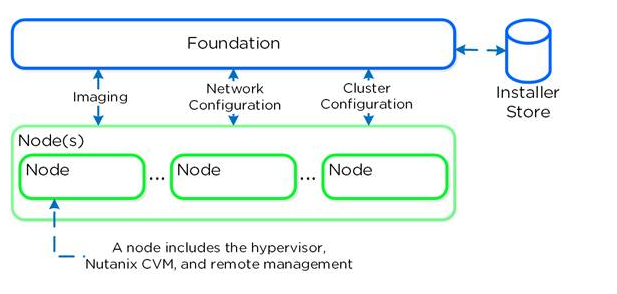 To use a different hypervisor (ESXi or Hyper-V) on factory nodes or to use any hypervisor on bare metal nodes, the nodes must be imaged in the field.
Foundation service is included on CVMs and can be accessed at port 8000 on a running CVM that is not in a cluster, or if the CVM IP address is not yet configured the Foundation Portable software can automatically discover the nodes.
Check out the prism web console guide to see the foundation use for expanding a cluster.
I also strongly advice you to check out the Nutanix bible since it has detailed explanation about all our services and architecture.