What is Metro Availability?
Nutanix provides native "stretch clustering" capabilities which allow for a compute and storage cluster to span multiple physical sites.  In these deployments, the compute cluster spans two locations and has access to a shared pool of storage. The solution is currently available for ESXi only. 
This expands the VM HA domain from a single site to between two sites providing a near 0 RTO and a RPO of 0.
In this deployment, each site has its own Nutanix cluster, however the containers are "stretched" by synchronously replicating to the remote site before acknowledging writes.
The following figure shows high-level architecture of a Nutanix Metro Availability deployment: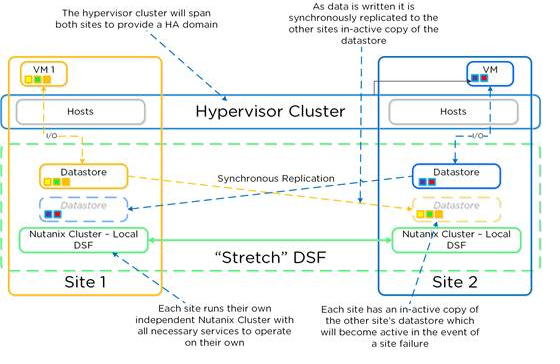 The following figure shows an example link failure:
Nutanix Metro Availability also can be set up with Async-DR replication to a third site to combine the multi-site resiliency of the Metro setup with traditional space-efficient incremental snapshot backups.
Metro Availability Configuration in 10 Easy Steps.
For the full documentation check out Metro availability.