Trying to find the right training course for you can seem like a daunting task. But it doesn't have to be! In this blog series, we will spotlight a variety of our courses that will help you choose the right course for your career goals.  
At Nutanix University, we offer a variety of training courses designed around flexibility and freedom. No matter which stage of the hybrid multicloud journey you're on, whether it be learning basic fundamentals or performing at an advanced level, we have the perfect course fit for your needs. 
Today, we will take a deep dive into our popular professional-level course: Enterprise Cloud Administration (ECA). 
What's covered in ECA? 
If you already have experience with administering a Nutanix environment, this course will broaden your knowledge as you grow in your career as a Nutanix administrator.
Designed with Prism Central as the focal point, this course illustrates the breadth and depth of Nutanix's centralized management capabilities, and allows you to explore the wide variety of features that are available in this one, single web console.
ECA is divided into four topic areas:
Understanding core Nutanix concepts, such as hyperconverged infrastructure (HCI) and the various Nutanix cloud solution packages. Also, the basic configuration of a cluster and the components that are needed to create and manage VMs – namely, networks and images.

Creating and managing VMs, how to protect VMs and their data, how to apply storage optimization features at the VM level, and how to migrate your workloads to a Nutanix environment.

Managing alerts, events, log collection, reporting, and how to use various features in Prism Central to identify, analyze, and remediate performance issues.

Setting up a cluster for maintenance activities – such as starting and stopping nodes and clusters – and how to manage and upgrade licenses and installed software with just a few clicks.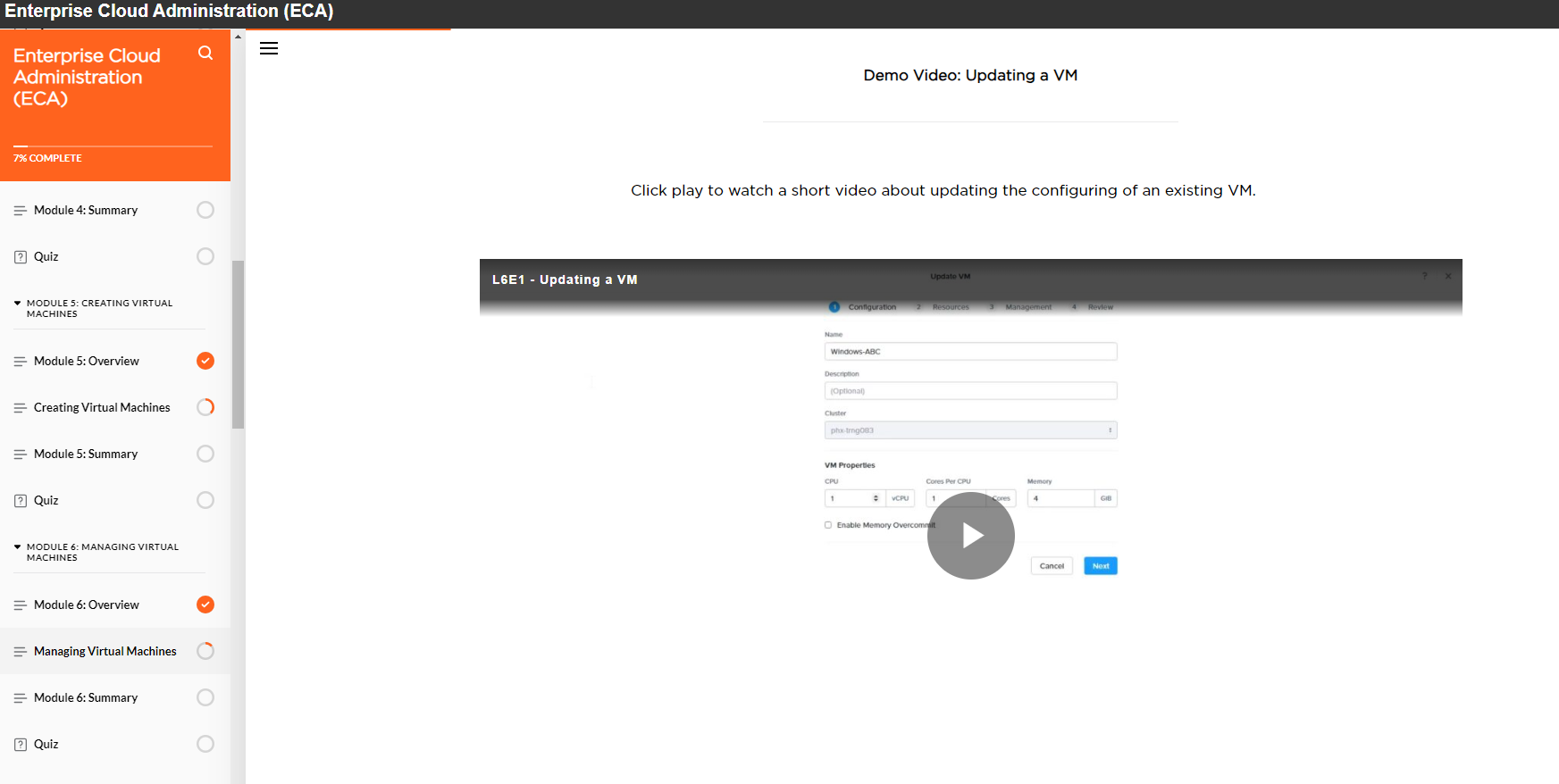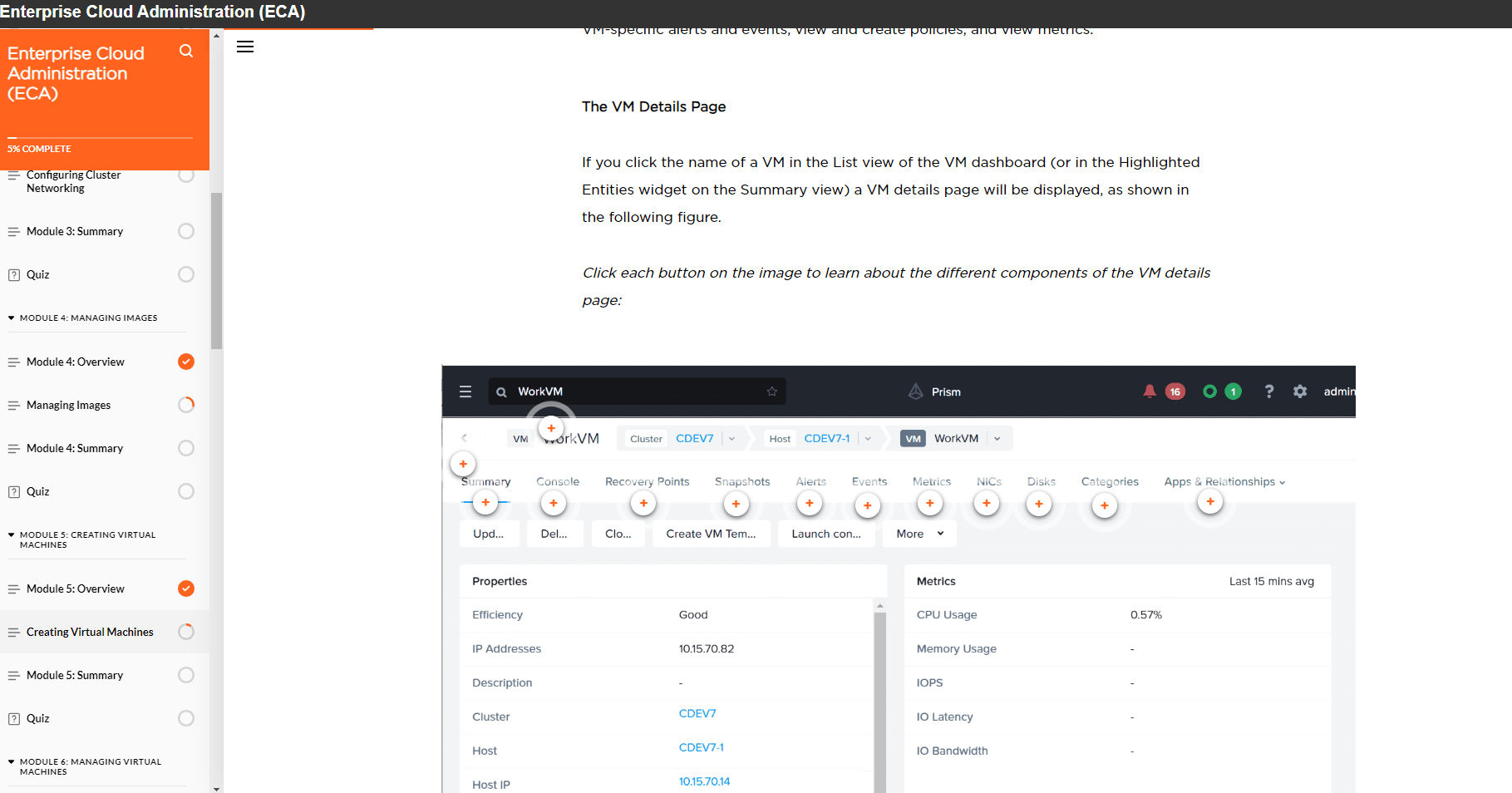 Here's what a few recent ECA students had to say about the course: 
"Overall, one of the better classes I've taken in my IT career! A++!" 
"This is the best training I have ever been to. Everything the instructor told us was valuable. Thanks for sharing knowledge… Amazing!!!!" 
"I'm walking away fully understanding so much more and feel more confident on my Nutanix setup." 
Who should take it? This course is great for administrators, engineers, and others who manage Nutanix clusters in the datacenter. 
ECA is also perfect for anyone who's interested in securing the Nutanix Certified Professional - Multicloud Infrastructure (NCP-MCI) certification as it covers key objectives that are tested on the exam.
Delivery format 
4-day instructor-led (virtual or in-person)

20-hour self-paced online (free)

1-day Facilitated Labs to supplement your learning 

👉 Learn more about ECA and enroll here. 
Stay tuned for future training spotlight features that will help you navigate the hybrid multicloud world.
Make sure to visit nutanix.com/training to find out about our other available courses. 
This article was written by Karlie Beil, Customer Marketing Specialist. 
©️️️️ 2023 Nutanix, Inc.  All rights reserved. Nutanix, the Nutanix logo and all Nutanix product, feature and service names mentioned herein are registered trademarks or trademarks of Nutanix, Inc. in the United States and other countries. Other brand names mentioned herein are for identification purposes only and may be the trademarks of their respective holder(s). This post may contain links to external websites that are not part of Nutanix.com. Nutanix does not control these sites and disclaims all responsibility for the content or accuracy of any external site. Our decision to link to an external site should not be considered an endorsement of any content on such a site. This post may contain express and implied forward-looking statements, which are not historical facts and are instead based on our current expectations, estimates and beliefs. The accuracy of such statements involves risks and uncertainties and depends upon future events, including those that may be beyond our control, and actual results may differ materially and adversely from those anticipated or implied by such statements. Any forward-looking statements included herein speak only as of the date hereof and, except as required by law, we assume no obligation to update or otherwise revise any of such forward-looking statements to reflect subsequent events or circumstances.