Calling all Nutanix customers! Join us on Nutanix Connection (formerly Xtribe) and participate in exclusive Nutanix University challenges. Read on to learn more about some special activities that await you on Xtribe.  
Join your fellow Nutanix customers on Nutanix Connection where you can share your unique story, learn more about other members' experiences, and connect with the Nutanix community through discussion forums and engaging challenges.
Through your participation, you can earn points for member-only rewards. And the best part? We have some Nutanix University challenges for you!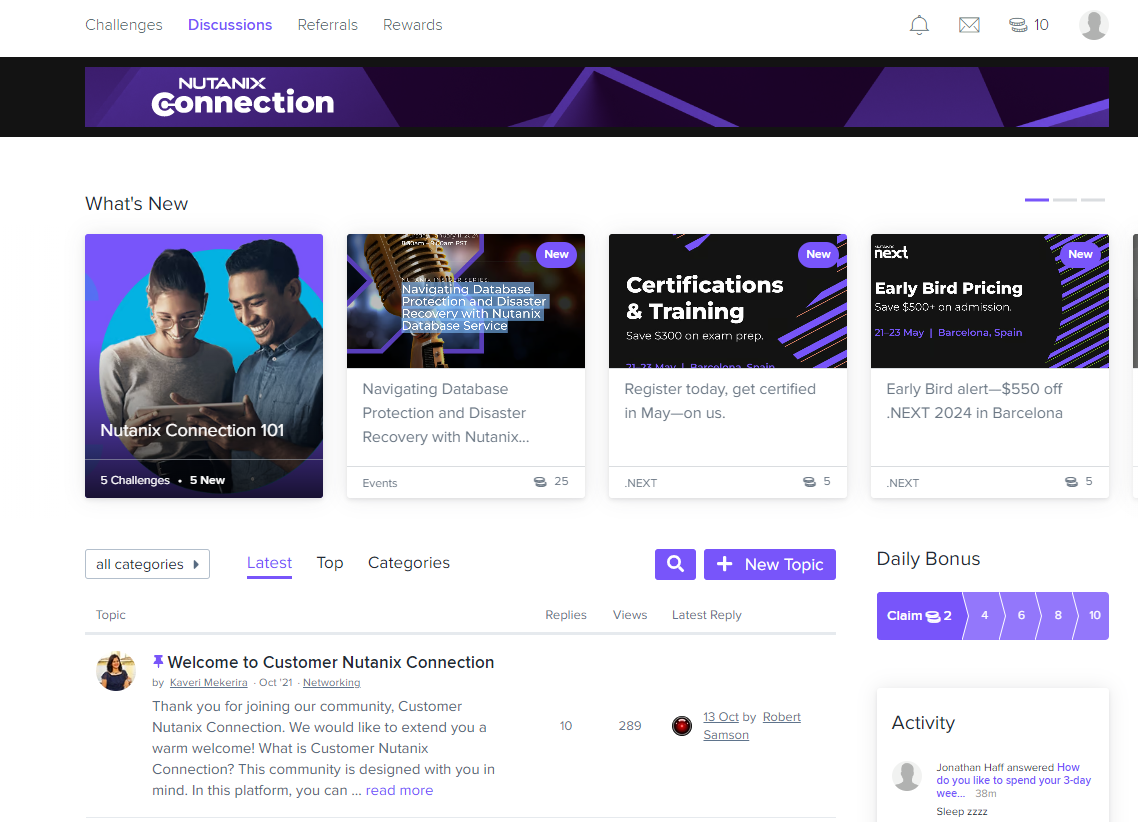 When you complete one of the Nutanix University training courses or certifications listed below you can earn points on Nutanix Connection! Redeem your points for member-only prizes, gift cards, or certification exam vouchers. 
Training Courses: 
Nutanix Hybrid Cloud Fundamentals (NHCF): 200 points 
Enterprise Cloud Administration (ECA): 400 points 
Nutanix Database Management & Automation (NDMA): 200 points 
Nutanix Multicloud Automation Administration (NMCAA): 200 points 
Nutanix Unified Storage Administration (NUSA): 200 points 
Nutanix End User Computing Administration (NEUCA): 200 points 
Advanced Administration Performance Management (AAPM): 400 points 
NHCF Facilitated Labs: 100 points 
ECA Facilitated Labs: 100 points 
NCA Exam Prep: 100 points 
NCP-MCI Exam Prep: 100 points
Certifications:  
Nutanix Certified Associate (NCA): 300 points 
Nutanix Certified Professional (NCP) all versions: 750 points 
Nutanix Certified Master (NCM): 1,000 points 
There's more! You can also earn points by sharing the latest Nutanix University how-to videos and blogs with your network. 
Nutanix Connection is open to all Nutanix customers. 
New to Nutanix Connection? You can create an account here. If you have any questions, contact kaveri.mekerira@nutanix.com. 
Already have a Nutanix Connection account set up? Join us using your my.nutanix.com credentials here. 
Welcome aboard! 🚀
This article was written by Megan Guibord, Marketing Intern. 
©️️️️️ 2023 Nutanix, Inc.  All rights reserved. Nutanix, the Nutanix logo and all Nutanix product, feature and service names mentioned herein are registered trademarks or trademarks of Nutanix, Inc. in the United States and other countries. Other brand names mentioned herein are for identification purposes only and may be the trademarks of their respective holder(s). This post may contain links to external websites that are not part of Nutanix.com. Nutanix does not control these sites and disclaims all responsibility for the content or accuracy of any external site. Our decision to link to an external site should not be considered an endorsement of any content on such a site. This post may contain express and implied forward-looking statements, which are not historical facts and are instead based on our current expectations, estimates and beliefs. The accuracy of such statements involves risks and uncertainties and depends upon future events, including those that may be beyond our control, and actual results may differ materially and adversely from those anticipated or implied by such statements. Any forward-looking statements included herein speak only as of the date hereof and, except as required by law, we assume no obligation to update or otherwise revise any of such forward-looking statements to reflect subsequent events or circumstances.