This post was authored by Tanuja Ingale, Sr. Product Manager for AHV
Over the last few years, the Nutanix Enterprise Cloud OS platform has evolved by leaps and bounds in terms of platform robustness, simplicity in management and continuous innovation from storage and infrastructure level all the way up to multi-cloud multi-application management framework.
Key features such as data resiliency, performance, scalability, and product maturity make Nutanix HCI a truly compelling and complete platform for running a wide-range of workloads. It simplifies deployment of enterprise-class applications and services running in bare-metal, virtualized or cloud-computing environments.
Hyperconverged Infrastructure and Platform Scalability
Nutanix Enterprise Cloud is an integrated system that natively converges Compute, Storage, Networking and Virtualization, and is managed through a unified management interface of Prism. This hyperconvergence results in significant TCO savings, pay-as-you-grow scale-out performance, a superior operational experience with High Availability, and Software-Defined Data management.
Mission-Critical Enterprise and Big-Data Application readiness
The above features provide performance, administrative ease and simplicity to run mission-critical applications and virtualize licensed databases such as Oracle, Oracle RAC, MS SQL, as well as applications designed for greater agility and scale such as big-data workloads.
Scaling for Specialized Database Workloads
Virtualized databases are an excellent fit for hyper-converged infrastructure, but some enterprises do have challenges with licensing databases such as Oracle, Oracle RAC, and SQL with:
Complex Licensing for Virtualized Databases (Oracle, SQL)
The primary factor causing friction in adoption of virtualization for Oracle, Oracle RAC workloads is the inherent licensing complexity associated with it. Oracle licensing is typically applicable per individual CPU core.
Virtualization adds a so-called challenge because workloads could potentially get live-migrated across any node in a multi-server cluster. Hence, some are led to believe that *every* physical CPU core in the cluster needs to be licensed because the workload could *potentially* run on any core. Though licensing is between customer and vendor, the uncertainty and doubt make it complicated and customers sometimes end up paying an exorbitant licensing cost for all cores.
To alleviate this problem, some customers either:
Choose smaller clusters to limit the number of cores used for Oracle, OR
Forego virtualization and hyperconvergence benefits completely, and continue to run on bare-metal as a trade-off, taking a serious hit on performance and management.
Running on bare-metal or using iSCSI redirection has its own challenges such as:
Cumbersome management
Difficult to scale compute/storage resources
Higher TCO, and higher OpEx
The need to scale resources independently (for specific workloads)
With hyperconvergence comes the implicit requirement to scale compute and storage together. The Nutanix platform offers a wide range of choices when it comes to multiple combinations of CPU, Storage and Memory suiting to various workload needs. Even then, some applications may have specific demand for scaling resources primarily in one vector only (either Storage or Compute separately).
With Nutanix's Storage-Heavy and Storage-Only node offerings, one can easily scale Storage separately, without having to acquire additional Compute. Also for compute-scaling, Compute-Heavy configurations help address additional Compute needs, however, there is still a requirement to purchase some storage with them.
Addressing Database Licensing Challenge with Nutanix
With VM:Host Affinity policy setting available on Nutanix, the database VM is guaranteed to run on the host that it has been affinitized to. However, unfortunately, it is completely up to the software vendor on whether to honor this setting as being in licensing compliance or not.
A more defensible solution might be to mark a node as Storage-Only. The Nutanix platform will ensure that NO User VMs will be scheduled on this host ever unless it is explicitly taken out of the cluster and the Storage-Only marking is cleared.
The blog "Save Money and Gain Control of Licensed Databases on AHV" explains in great detail how one can gain control of licensed databases on AHV using Nutanix's Storage-Only setting and Audit Trail feature that was released in AOS 5.10.
If you are looking to maximize the licensed CPU cores toward your database workloads further, Nutanix just broadened its spectrum of hardware configuration choices with the introduction of Compute Only nodes on AHV.
Nutanix Introduces AHV Compute Only nodes in AOS 5.11
Nutanix just broadened its spectrum of hardware configuration choices with the introduction of Compute Only nodes on AHV. The Nutanix Compute Only (CO) solution is available with AOS 5.11. It allows seamless expansion of exclusively Compute-only resources of your AHV cluster by the addition of certified servers with no storage. Traditional Server(s) with no storage can be imaged via Foundation as a Compute Only node and joined to an AHV cluster that comprises of Hyperconverged nodes.
Easy Scaling of Exclusively Compute Capacity
Compute Only allows Nutanix customers to drive infrastructure utilization by expanding compute capacity independent of storage. It provides flexible compute 'services,' and expands application workload support to CPU-intensive, high performance applications.
Zero Operational Experience Change
Nutanix continues to adhere to its 1-click simplicity with this new feature! Thus, both Hyperconverged and Compute Only nodes can be seamlessly managed via our single-pane of glass management software of Prism. Unlike other vendors in the market, where management is heterogeneous and needs layers of software to manage compute resources separately from storage resources, Nutanix makes it very simple, efficient and seamless.   
Seamless Cluster and Life Cycle Management
Create Cluster: One can create a mixed cluster comprising of Hyper Converged and Compute Only nodes from scratch using Foundation Imaging.
Expand Cluster: Compute Only node can be imaged via Foundation and added to an existing cluster using Prism's Expand cluster workflow.
Life Cycle Management (LCM): Both CO and regular HC nodes can enjoy seamless upgrade capability for AHV and firmware via LCM.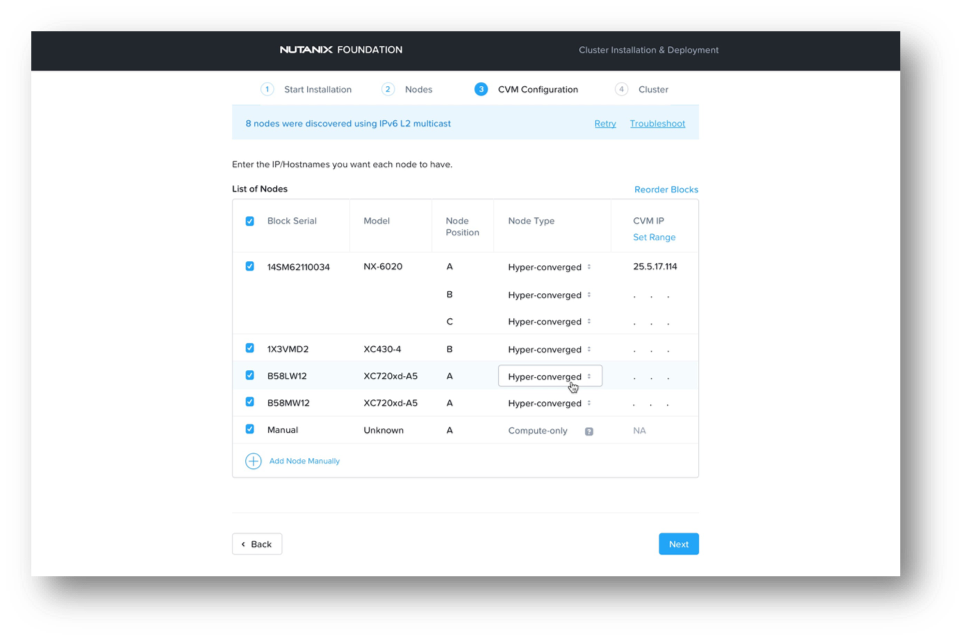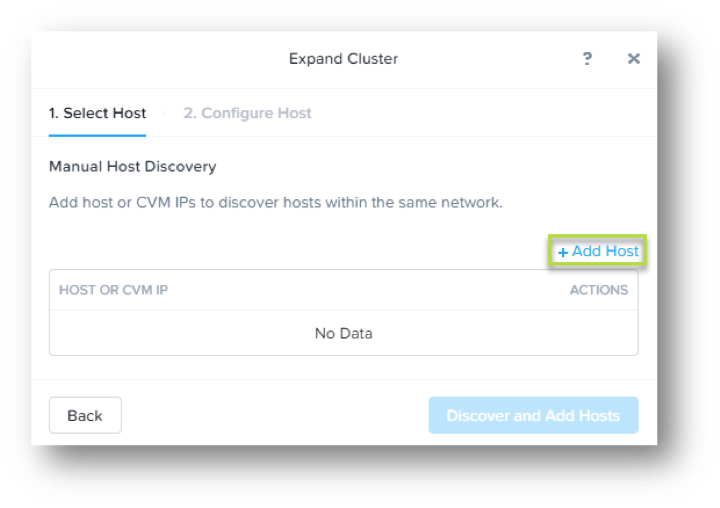 Core HCI benefits Preserved
The core HCI benefits such as High Availability (HA), Acropolis Dynamic Scheduling (ADS) will continue to be supported seamlessly on AHV CO nodes.
One of the key components of AHV is ADS that is responsible for optimal placement of VMs, dynamic resource scheduling and hot spot remediation within a cluster. With the introduction of Compute Only, ADS placements of VM and resource scheduling will be made CO-aware to ensure efficient resource management.
Maximize CPU utilization by affinitizing specific workloads on CO nodes.
Seamless experience for User VM management
User VMs can be scheduled on CO nodes. Though there will be no local storage on the CO node, the distributed storage fabric in the cluster will handle the storage needs of the VMs using a heuristics-based approach.
User VMs running on the CO node can continue to have vDisks or Volume Groups as storage disks without any change in operational experience
Choice of hardware
In AOS 5.11, AHV CO will be supported on a range of hardware:
NX Certified hardware (Any node with thin storage can be repurposed and reimaged as a CO node - it is that simple!
Dell XC Core (Software Only) platform
Cisco UCS
Maximize Licensing ROI for Oracle using AHV Compute Only
For use cases that are impacted by high licensing costs, Compute Only offers great flexibility in terms of maximizing all the licensed cores exclusively toward your application (Oracle/SQL etc.).
On Nutanix HCI nodes, Controller VM (CVM) is the primary orchestrator of distributed storage fabric and greatly enhances the value of the core technology. For Oracle workloads running on HC nodes, in effect some of the licensed cores will be utilized toward the CVM.
Enter AHV Compute Only. When there is no CVM running on your Compute Only node, you could dedicate the entire node for your licensed database workload. Hence, the license gets used for the workload of your choice, versus
Paying for cores used by CVM. This results in significant ROI for licensing.
Here are some best practice guidelines and recommendations on configuring your nodes with Compute Only on Nutanix AHV.
Minimum HC node count: Start with 4 HCI nodes to ensure a fully resilient and self-healing cluster. Nutanix normally recommends having at least 3 HC nodes in the cluster. With Compute Only nodes added to the configuration, we would recommend to add a 4th node to ensure further resiliency and performance enhancement.
HC:CO node ratio: To ensure that there is no saturation at the storage layer in the cluster, we recommend maintaining a 2 HC:1 CO node ratio in the cluster.
High Availability (HA) Fault Domain: If you are running database VMs on the Compute Only node, you should have at least 2 CO nodes to ensure High Availability (HA) of the database VMs. i.e. during an HA event, with the second CO node in the cluster, your database has a place to get HA restarted.
Bandwidth Requirements >= 10Gbps: In CO, where there is no local CVM running on the node, the I/O reads and writes will be served over the network within the cluster. To ensure minimal latency and maximum I/O throughput for mission critical database workloads running on CO nodes, we recommend having at least 10Gbps or more on both, HC and CO nodes in the cluster.
VM:Host Affinity + Host Audit Trail: To ensure that your Oracle VMs will always only run on the CO nodes, you can set the VM:Host Affinity and pin Oracle workload to CO nodes. The categories and policy feature will also allow you to categorize a group of VMs and assign affinity policies at the group level. For e.g. in this example, you can define the 2 CO nodes as the running domain and assign VM:Host affinity policy on that group. Nutanix AOS 5.11 release included the AHV Auditing feature that provides automatic VM auditing for configuration changes, live migrations, and more. It also provides the ability to configure Remote syslog server for long-term retention of the audit logs.

Cluster A in the below diagram has 4 HC nodes that are running non-Oracle workloads.
The 2 CO nodes have been configured to run Oracle workloads by pinning the Oracle VMs to those 2 nodes.
The VM:Host affinity setting + Audit Trail will ensure Oracle licensing will be fully utilized toward the database workloads only.

Nutanix Storage Only nodes + Compute Only nodes configuration: To fully optimize the ROI for your licensing, marking the HC nodes as Storage Only nodes will ensure that User VMs will never run on those nodes.

Cluster B in the below example shows 4 Storage Only nodes that will not allow any user VMs to run on them.
2 CO nodes that are pinned and licensed for running Oracle VMs.
Benefits include:
Better ROI on restrictive licensed applications using AHV CO
Licensed CPU cores will only be used for your database VMs - Immediate cost savings!
Host Affinity and Audit Trails to ensure no licensing violations
Dedicated CPU for licensed Applications
Oracle Licensing Cost Savings Example on AHV CO
Based on the example published in Reducing Oracle License Cost on Oracle, The EE Oracle DB licensing lists for $47,500 per 2 CPU cores. Adding EE options of Diagnostics ($7,500), Tuning ($5,000) and Partitioning ($11,500) comes to $24,000. We assume that we're using 10 processor licenses whether physical or Nutanix:
3-Tier Physical - Oracle Licensing Cost: 10 X 1 X ($47,500 + $24,000) = $710,500
Nutanix - Oracle Licensing Cost: 10 X 0.5 X ($47,500 + $24,000) = $357,500
Around 8 vCPU cores dedicated for CVM on HC nodes  ...
Oracle license savings: ($47,500 + $24,000) * 8 / 2 = $286,000 = ROI for your licensed CPU per AHV CO node
Achieve High ROI with Nutanix Compute Only Today!
With the introduction of Compute Only nodes, Nutanix has broadened the spectrum of managed Hyperconvergence offering customers a simple, seamless and efficient way of expanding compute resources. This broadens the workload footprint to modern CPU-intensive applications, and offers a cost viable solution with great ROI for restrictive licensed based applications such as Oracle/MS SQL. As with every feature, AHV Compute Only comes with 1-click simplicity of management, High Availability and a seamless operational experience for workloads that would otherwise remain physical. It provides an affordable alternative for customers looking to unlock their virtualized server instances from expensive virtualization software or customers looking to manage complex licensed applications on bare-metal by allowing them to be seamlessly managed on Nutanix.
References + Additional Reading resources
1. Flexibility and Expanded Application Support with Compute Cloud
2. Save Money and Gain Control of Licensed Databases on AHV - By Luke Congdon
3. Reducing Oracle License Cost on Oracle - By Steven Kaplan
2019 Nutanix, Inc.  All rights reserved. Nutanix, the Nutanix logo and the other Nutanix products and features mentioned herein are registered trademarks or trademarks of Nutanix, Inc. in the United States and other countries. All other brand names mentioned herein are for identification purposes only and may be the trademarks of their respective holder(s).