While Nutanix has grown and matured, so has its customer base.  With much broader adoption comes a wide variety of legacy applications from complex infrastructures that benefit by migrating to the Nutanix
AHV hypervisor.  Sureline Systems tackles the challenges of migration from these complex environments.
What Makes Migration from Complex Environments Challenging?
Complexity comes from a variety of factors that need to be handled correctly to avoid any negative impact on the migrated applications or cause needless delays.  A migration solution needs to migrate servers that are running on physical servers, hypervisors including VMware, Hyper-V, KVM, OpenStack, and other major cloud infrastructures. It must also support migration of both Microsoft Windows and Linux servers.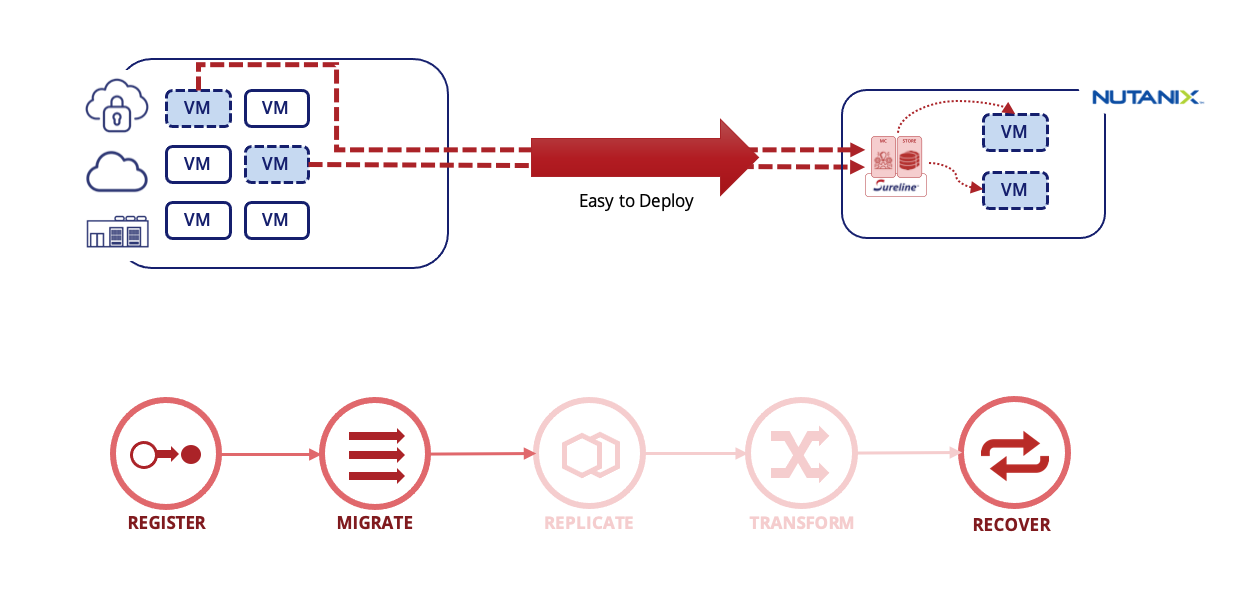 But complexity is not just in the platform, it is also in the nuances of the version of the operating system that the application is running on, and how the data is stored on persistent disk on drives, volumes, and file structures.  Many applications may be running on older and possibly unsupported versions of the OS.  During migration, any environmental dependencies that are not met need to be clearly flagged so that they can be quickly root-caused by the IT Admin to avoid costly delays. Various services have to be stopped on the server before being migrated and then restarted after recovery. The servers need to be captured in an application-consistent manner, especially active servers.
Multi-tier applications with interdependencies need to move together, restart in a defined order, and remain consistent.  Of course, you want to do this without having an impact on production servers during the migration process and testing. And it needs to be done at scale with the least amount of manual intervention and errors as possible.
Sureline's Migration Solution
Following are 10 ways Sureline's SUREedge Migrator addresses the challenges of a complex migration process across all environments.
It migrates from all of the popular hypervisors, physical servers, and clouds.
It is application-agnostic and captures the servers in an application-consistent manner.
Starting the SUREedge installation process is as simple as installing one Windows VM in AHV.
It is not necessary to add a driver or reboot servers to be migrated.
Migration is a simple 3-step process: register, replicate, and recover.
Migration activities are hands off, as all aspects of the capture, transformation, server grouping, and stopping and restarting of services are planned upfront using an intuitive UI and submitted to the system to be automatically acted upon.
Many OS versions can be automatically upgraded during the migration process.
Testing of the migrated servers can be done in isolation, without any impact on the production environments.
With no drivers installed on the source server, the risk of an added driver negatively affecting the production server during the migration process is non-existent.
Migration plans and automated workflows in the SUREedge Migrator make large scale migrations (100s or 1000s of server migrations) complete in a smooth, consistent, and predictable manner.
SUREedge Migrator is an easy to use, reliable, and scalable product that has migrated 10's of thousands of workloads and Petabytes of data in challenging environments.  To learn more about the SUREedge Migrator:
This post was authored by our friends at Sureline Systems.
---
© Sureline Systems, Inc. All rights reserved. Sureline Systems, the Sureline logo, and SUREedge are registered trademarks or trademarks of Sureline Systems, Inc. in the U.S. and other countries. All other trademarks are the property of their respective owners. Information regarding products, services and offerings are subject to change without notice. For the latest information, please visit www.surelinesystems.com