This post was authored by David Teague, Technical Marketing Engineer, Nutanix
Nutanix Test Drive for Era, the Nutanix database-as-a-service (DBaaS) solution, has added some exciting new features. In just a few clicks you can now experience how easy it is to deploy multi-region databases with replicas, set up data protection, and apply a patch--all key database management activities.
Updates to the deep-dive into Database as a Service
When you register at the Era Test Drive site, you'll receive an email with a link for direct access to your environment.
After logging in, you will be presented with a welcome message and an updated guided tour description for the Database-as-a-Service Deep-Dive modules:
Provisioning: Deploy a single instance database.  NEW--Deploy multi-region database with replicas. 

NEW--Patching: Create a new Patch Standard and apply the patch to a database server.

NEW--Database Protection: Do an in-place database restore of a corrupted database

Copy Data Management: Create a clone of a production database and refresh a clone from the source.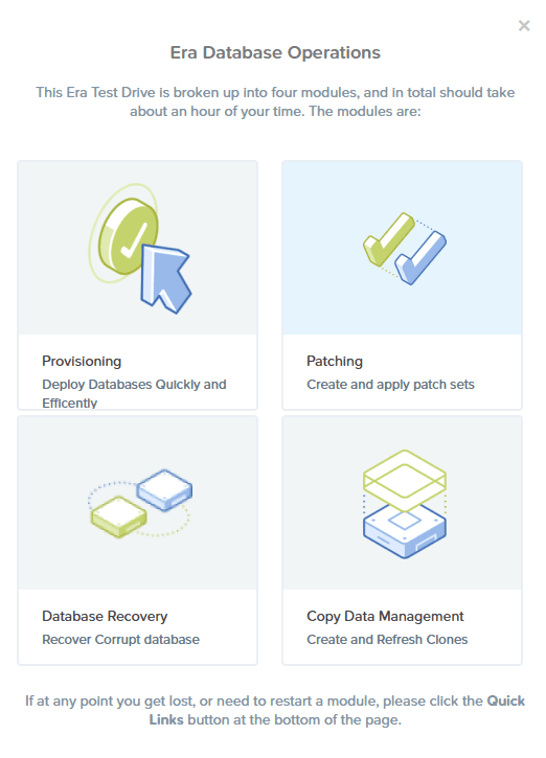 Provisioning
Experience how quick and easy it is to deploy a database with our DBaaS, all while using best practices. In this example, you will deploy a MariaDB database on a new server using predefined profiles. You can customize your database deployments while ensuring consistency and repeatability of deployments. In addition to Maria DB, we support Oracle, MS SQL, My SQL, and PostgreSQL databases.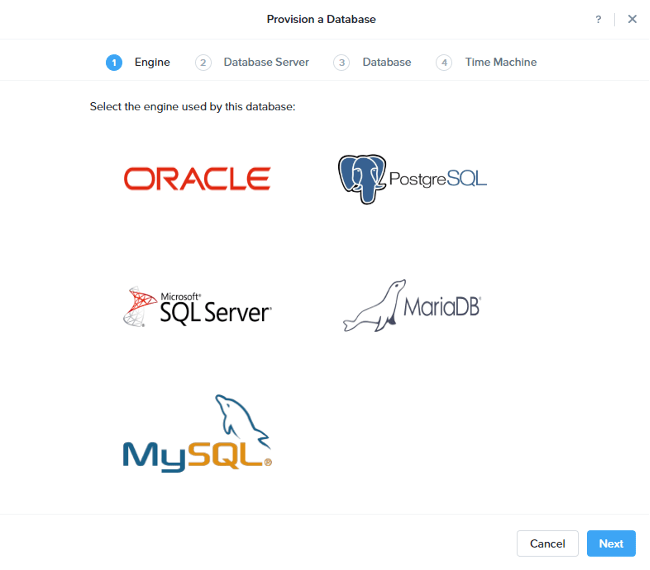 Once you have completed the deployment of the Maria database, you can see how quickly and efficiently you can get a PostgreSQL high-availability (HA) cluster deployed.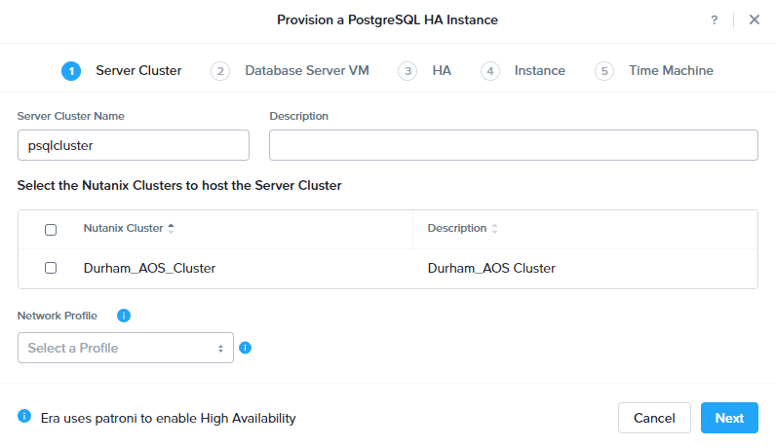 Patching
Database patching can be a time consuming and risky process. Yet, it is essential to keeping business-critical apps secure. By automating manual tasks, Era makes lengthy patching a breeze for database administrators. The Era 2.0 release adds support for patching to Microsoft SQL Server and PostgreSQL databases,  in addition to existing patching support for Oracle.
In the first section of patching in Test Drive, you will walk through the steps to create a new patching set using Era's software profiles. You will update that software profile with an existing PostgreSQL database server. You will then publish that profile letting any servers that were deployed using that software profile show that an update is available.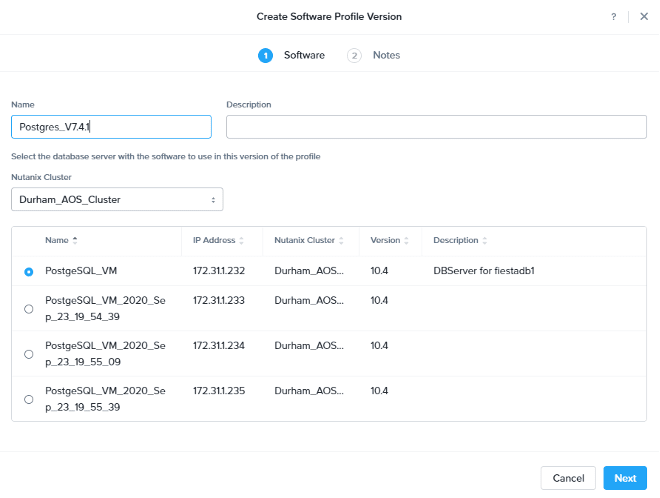 Once the creation process for the software profile is complete, you will move onto patching an existing PostgreSQL VM. Notice how quickly you can start updating your database servers once a new patch set has been made available through a new software profile version. Patching can be done on-demand or scheduled for outage windows. With PostgreSQL, high availability databases, Oracle RAC HA, and Microsoft SQL Server availability groups will follow patching best practices and keep the database accessible during the update.

Database Protection
A vital part of the database administrator's job is protecting the database. Era simplifies this, using its Time Machine feature to track, replicate, and manage backups across multiple Nutanix Clusters. If you do need to do a recovery, thanks to Nutanix HCI's native snapshot capabilities, Era can reduce your outage time.
With updated Era Test Drive, you can now see how easy it is to do a complete database recovery using the in-place restore feature. In this test drive section, you will step through the process of replacing a production DB from a previous snapshot with just a few clicks.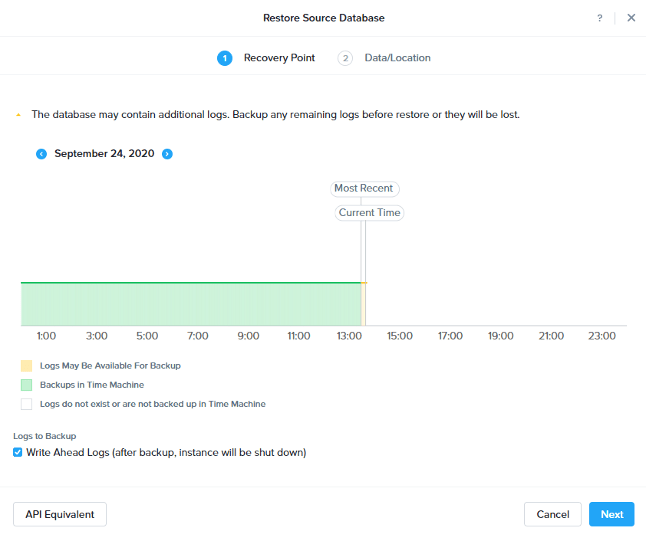 Copy Data Management
Database cloning is one of the most common, and painful, requests that DBAs handle. It is a highly time-consuming task (hours for large databases) because of the need for creating test environments of a production database. You would need to build a new database server, make a backup of a database, and copy it back to the new database server. 
Our Time Machine feature, which leverages Nutanix HCI's native snapshot capabilities, makes clones in minutes, instead of hours. The pain of database cloning is a thing of the past. Get the feel of the speed with Test Drive! 
Thanks to the predefined profiles and built-in database vendor best practices, you will validate consistent deployments. Last but not least, database cloning can be scheduled.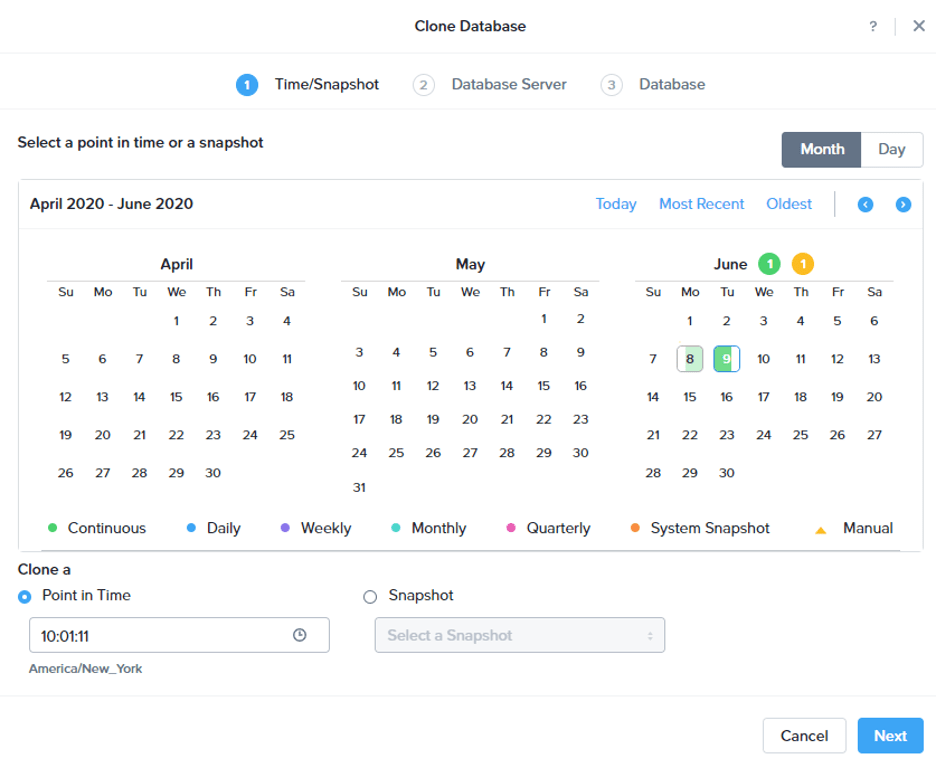 Once you have completed the clone creation section, we will refresh a clone from the source database. Refreshing clones of the database is quick and painless with Era. With just a few clicks, you can update your clone with data from the existing source database. Just as with database cloning, you can also schedule the refresh.
We hope this walk-through has excited you to try and experience the simplicity of database lifecycle management! 
Tips and Tricks
If you want to start over, feel free to 'X' out of the current step and click on Quick Links at the bottom and select Era Deep Dive Menu. 
On the Nutanix Cloud Portal, you can return to Prism Central at any time by clicking on Return to On-Prem Prism Central from the Quick Links menu in that interface.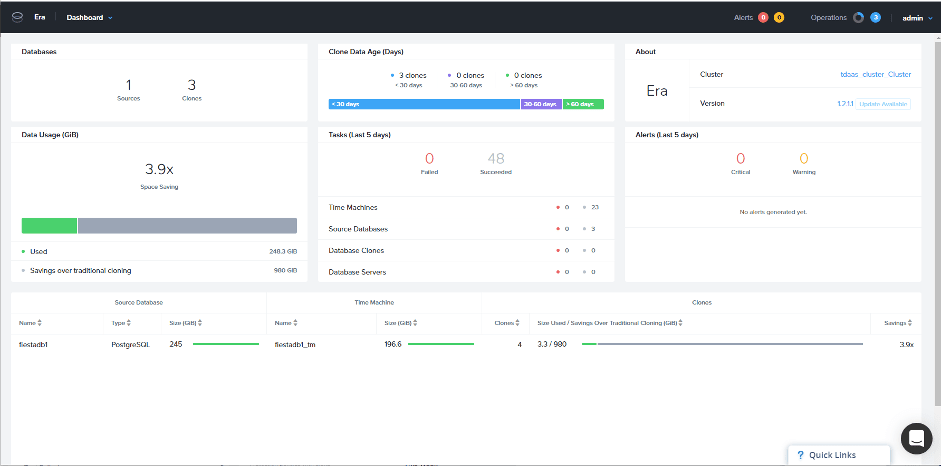 Other Features of Test Drive
You can read about the other features of Test Drive by checking out our latest blogs!
Join the Community!
Be sure to join the conversation at our NEXT Community Forums! 
To learn more about Era, please visit our Era page.
We are continuing to expand the experiences offered in Nutanix Test Drive, so stay tuned for what's to come! Check it out now at www.nutanix.com/testdrive!
© 2020 Nutanix, Inc.  All rights reserved. Nutanix, the Nutanix logo and all Nutanix product, feature and service names mentioned herein are registered trademarks or trademarks of Nutanix, Inc. in the United States and other countries. All other brand names mentioned herein are for identification purposes only and may be the trademarks of their respective holder(s). This post may contain links to external websites that are not part of Nutanix.com. Nutanix does not control these sites and disclaims all responsibility for the content or accuracy of any external site. Our decision to link to an external site should not be considered an endorsement of any content on such a site. Certain information contained in this post may relate to or be based on studies, publications, surveys and other data obtained from third-party sources and our own internal estimates and research. While we believe these third-party studies, publications, surveys and other data are reliable as of the date of this post, they have not independently verified, and we make no representation as to the adequacy, fairness, accuracy, or completeness of any information obtained from third-party sources.
This post may contain express and implied forward-looking statements, which are not historical facts and are instead based on our current expectations, estimates and beliefs. The accuracy of such statements involves risks and uncertainties and depends upon future events, including those that may be beyond our control, and actual results may differ materially and adversely from those anticipated or implied by such statements. Any forward-looking statements included in this post speak only as of the date hereof and, except as required by law, we assume no obligation to update or otherwise revise any of such forward-looking statements to reflect subsequent events or circumstances.