This post was authored by Michael Cade, Senior Technologist in Veeam
Nutanix Mine with Veeam was announced in Anaheim at the Americas version of Nutanix .NEXT. This integrated solution brings the highly-scalable and agile hyperconverged infrastructure of the Nutanix platform together with the enterprise‑class data Availability that comes with Veeam software.
A turnkey solution that simplifies your data protection between on premises and cloud.
A key differentiator of Veeam Backup & Replication is the benefit of choosing where and what you use for your backup compute and storage since agnostic and choice is very important. The ability to roll your own hardware and storage targets for your backups is great and works for some, but many also want to follow the hyperconverged methodology which brings an easy and simplified approach to where the data will reside.
Nutanix Mine with Veeam brings this hyperconverged methodology but also allows scalability, the ability to scale up and down according to the environment whilst following a validated reference architecture and design. Another absolute simple approach is a single SKU including hypervisor, hardware, platform OS management storage and support including your Veeam licensing.
The key differentiator here is that this is an independent cluster of a resource specifically catered for the Veeam components, regardless of the production workload this could be Nutanix AHV, VMware vSphere, Microsoft Hyper-V, Windows or Linux physical workloads or any other virtualisation platform where we do not yet have access to the underlining hypervisor. This solution provides the ability to roll out a simple independent secondary approach to protecting all those workloads.
The extensibility of this offering with further Veeam and Nutanix technologies allows for an even stronger offering: the ability to leverage the Veeam Cloud Tier to move or copy your workloads into the Nutanix Buckets and take advantage of simple object storage.
The Veeam enterprise application plugins will also enable this all-in-one solution to be a certified and validated availability solution. The ability to integrate into Oracle RMAN and SAP to perform database backups and give visibility to your database administrators as well as to your infrastructure engineers.
At Veeam we have also progressed in regards to the Veeam Availability for Nutanix AHV, a huge uptake in installations and feedback regarding our v1 of the product which was released in 2018 will see a big step forward in 2019 with v2 of the product being released bringing lots of new features including centralised deployment capabilities and more visibility from both Veeam Backup & Replication and Veeam ONE providing you with insight into your Nutanix AHV environments and the workloads that are being leveraged there.
The v2 release will also see a much stronger integration into the Nutanix distributed storage fabric and the ability to leverage native storage snapshots as well as restore from those snapshots which brings a much tighter RTO to our customers.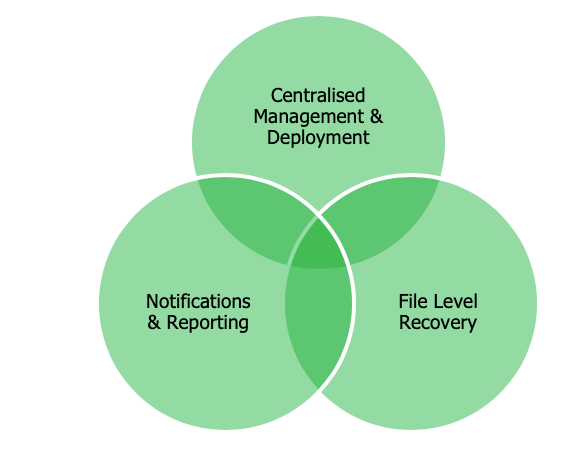 My session at .NEXT in Copenhagen will cover some of these future enhancements as well as a demo of Nutanix Mine with Veeam and the simple and flexible approach to converging your availability platform. We will also touch on Veeam Availability for Nutanix AHV v2 and Veeam Backup & Replication v10. We hope to see you there.
2019 Nutanix, Inc. All rights reserved. Nutanix, the Nutanix logo and the other Nutanix products and features mentioned herein are registered trademarks or trademarks of Nutanix, Inc. in the United States and other countries. All other brand names mentioned herein are for identification purposes only and may be the trademarks of their respective holder(s).