There are usually confusions around the Nutanix Files version compatibility with the installed Acropolis Operating System. Usually the confusion persists because of the issues seen in the past/ However those days are over.
These are the points which needs to be considered before Nutanix Files new deployment or Upgrade :-
Nutanix Files 2.0 became GA along with AOS 5.0 release. have come a long way and the latest available version in this branch in 2.2.4.

Nutanix Files release is decoupled from AOS release cycle which means Nutanix Files releases are not synchronous with Nutanix AOS release cycle. However, there are a few dependencies there especially UI and Storage.
Nutanix Files 2.2.x version is supported on all AOS versions released post 5.0.
Nutanix 3.x version became GA in early Jan 2018 and is supported on AOS 5.6 and later.
We have 3.2.x and 3.5.x branch maintained.
Note :
* Nutanix files product team recommends to follow the
Upgrade Path
&
Software Product Interoperability
page to understand the correct Files Upgrade path and compatibility with AOS.
** It's important to keep track of
End of Life Information
for Files and AOS versions and always stay on the latest supported version.


How AOS and Files Compatibility is maintained.
In order to explain this, I'll take an example of Nutanix Files 2.2.4 and AOS 5.10.3.2
The AOS versions are updated in the Nutanix Files metadata. Like any product metadata, Files metadata is also source of truth about the support upgrade path and compatibility with AOS versions. Now Files 2.2.4 was released in Feb 2019 but AOS 5.10 was not available by that time.
Nutanix Files maintains it's own release cycle and if AOS Metadata has correct
compatible_with_file_server entries
, we will be able to install/upgrade Files instance though the Files Metadata doesn't have AOS version listed.
It's not a AND rule but instead an OR rule is applied, so either of the metadata should have the entries listed and we will be able to proceed with AFS deployment or upgrade.
Let's understand this with the help of an example
Nutanix files 2.2.4 was released before AOS 5.10.3.2 and doesn't list AOS 5.10.3.2 under nos_versions (compatible AOS version)
AOS 5.10.3.2 lists 2.2.4 as a compatible file server version under compatible_with_file_server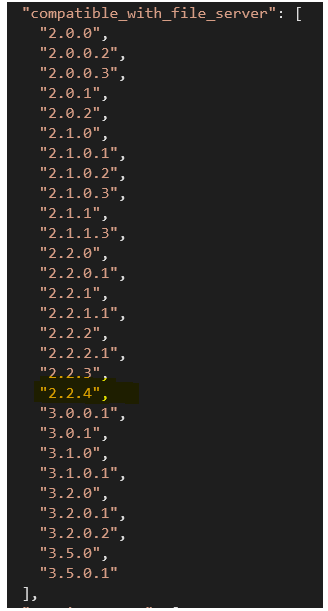 So ideally it should not allow me to do a fresh installation of AFS 2.2.4 on AOS 5.10.3.2, which isn't the case. I am able to deploy a fresh instance of AFS 2.2.4 on latest AOS 5.10.3.2

Conclusion
So if AOS metadata file contains
compatible_with_file_server section
with the required files version, though Files (metadata)JSON doesn't have updated AOS version, since AOS is released later but have updated JSON, we are covered. So whichever JSON is released later ( with the product) will have the latest update and Files Upgrade and Deployment will honor it.
We maintain the relevant AOS and Files compatibility on
Software Product Interoperability
page on the Support Portal.