I have an ESXi cluster on 5.5.4 running vSphere 6.5 vCenter server appliance. I want to test converting the cluster to AHV and I understand the vCenter server cannot reside in the cluster I want to convert to AHV. I have a second cluster running on AHV that I am trying to migrate my vCenter server appliance to. I have setup the second cluster as a remote site under Data Protection.
When I go to Data Protection in Prism and highlight the Protection Domain I created with the vCenter server appliance in it and click on Migrate I get the following error: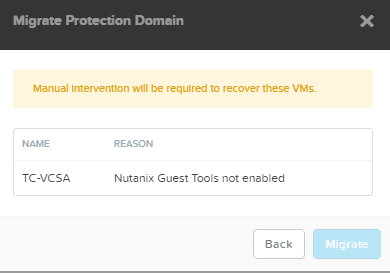 Since the vCenter server is the appliance and not Windows does it need NGT installed? I am stuck. Thanks for any help.