I have an ESXi cluster on 5.5.4 running vSphere 6.5 vCenter server appliance. I want to test converting the cluster to AHV and I understand the vCenter server cannot reside in the cluster I want to convert to AHV. I have a second cluster running on AHV that I am trying to migrate my vCenter server appliance to. I have setup the second cluster as a remote site under Data Protection.
When I go to Data Protection in Prism and highlight the Protection Domain I created with the vCenter server appliance in it and click on Migrate I get the following error: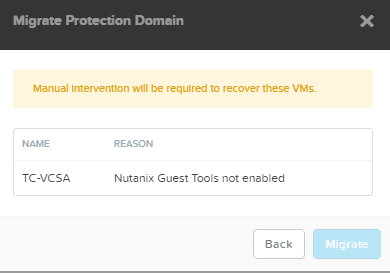 Since the vCenter server is the appliance and not Windows does it need NGT installed? I am stuck. Thanks for any help.
Best answer by Stanislav_Panich 20 April 2019, 13:45
Hello, I had the same question, vcenter VM 6.5 with esxi 6.5 connected.
Did it in few steps:


Power off vcenter VM in ESXi.

Remove vm from inventory in esxi menu.

open datastore and copy vcenter vm folder to a new one

add the original vcenter vm back to inventory and power on (nutanix xtract requires vcenter for migration operaitions)

once vcenter is up register the "copied vm" in the the same esxi - add to inventory.

Refresh vcenter inventory inside nutanix xtract.

select copy of the vcenter from the list (powered off).

in the next settings choose 2 things: a. Retain MAC address , b."bypass guest operations"

run the process - it will copy the data and will wait for "cutover approval" - approve cutover.

once done - disconnect nic on your existing and running vcenter and power on migrated copy on Nutanix AHV.

ping the IP of the vcenter - it will load in a while ( depends on how much SSD you have in the system).

Thats it 🙂 vCenter VM running on Nutanix AHV and controlling all the rest of ESXI hosts.
View original