Hi together,
I have build the network scenario with 2x 10GB and 2x 1GB NICs separated like shown in the figure.
https://portal.nutanix.com/#/page/solutions/details?targetId=BP-2071-AHV-Networking:top_open_vswitch_bridge_and_bond_recommendations.html
br0: (br0-up / balance-tcp)
eth2, 10GB NIC
eth3, 10GB NIC
br1: (br1-up / balance-tcp)
eth0, 1GB NIC
eth1, 1GB NIC
Everything works so far..
Now I have created a new VLAN on bridge br1 for the VMs.
#
acli net.create br1_vlan99 vswitch_name=br1 vlan=99
I can see it in Prism under Settings/Network Configuration.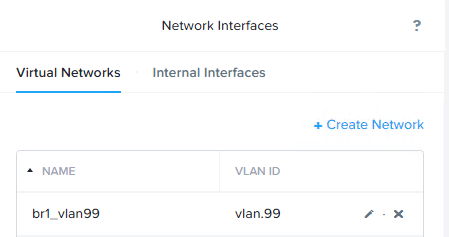 Now my questions are:
1: How can I see on which bridge the vlan is mapped?
For example, I need to know which vlan goes over the 10GB bridge and which on the 1GB bridge.
The option when creating a new vlan interface contains the bridge name doesn't count!
2:
Where is the config file located for this vlan interface (tap)?
If I am correct this should be an tap interface on each nutanix AHV node..
Thanks a lot for your help!