Greetings to all,
After an update of the AOS from 5.8.2 to 5.10.5, the following alerts began to be received:
IPMI sensor mismatch
IPMI sensor data unavailable on host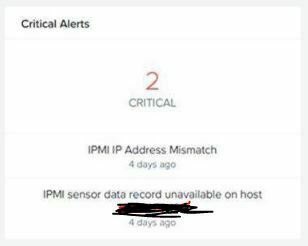 This is in a cluster with 3 Lenovo HX host, and all hosts have the same configuration when the cluster was created with the Foundations, I have already reviewed the access to the network to the BMC port and all the IPs respond and the users and passwords with correct.
https://docs.vmware.com/en/VMware-vSphere/6.5/com.vmware.vsphere.resmgmt.doc/GUID-D247EC2C-92C5-4B9B-9305-39099F30D3B5.html
This cluster uses the ESXi 6.5 hypervisor with vCenter 6.5, the information in the ESXi on the IPMI has already been added. The 3 CVM's respond to the ping between them and the BMC ports.
Is there any parameter within the CVM that should be reviewed or from the PRISM console?