A little late to the party but wanted to wait till I have the 3rd node installed proper.
So this is my homelab, it's gone through several iterations to get to this point but it's been a very enjoyable and fruitful journey. Here is what is ended up as...
From the top..
Tripp-Lite 12U Wall mount
Tripp-Lite 24port cat6 1U patch
Meraki MX64 - hiding behind the top patch panel
Ubiquiti US-48port switch
Tripp-Lite 24port cat6 1U patch
APC PDU hiding behind the bottom patch panel
Ubiquiti 16-XG 10Gbe switch
Synology 1815+ - 1x250GB SSD, 2x3TB setup as raid1 w/ssd read cache. 5x8TB
Supermicro SuperServer 5018D-FN4T - 8core/64GB, 1xSamsung 960 PRO 512GB, 3x2TB, Intel x520-DA2
Supermicro SuperServer 5018D-FN4T - 8core/64GB, 1xSamsung 960 PRO 512GB, 3x2TB, Intel x520-DA2
Supermicro SuperServer 5018D-FN4T - 8core/64GB, 1xSamsung 960 PRO 512GB, 3x2TB, Intel x520-DA2
AC Infinity CLOUDPLATE T2 Intake
APC SMX750 - on the floor
I do have a 6U wall mount in the box as I'm most likely going to be splitting the network and the compute (16-XG would stay with compute and storage) for additional expansion.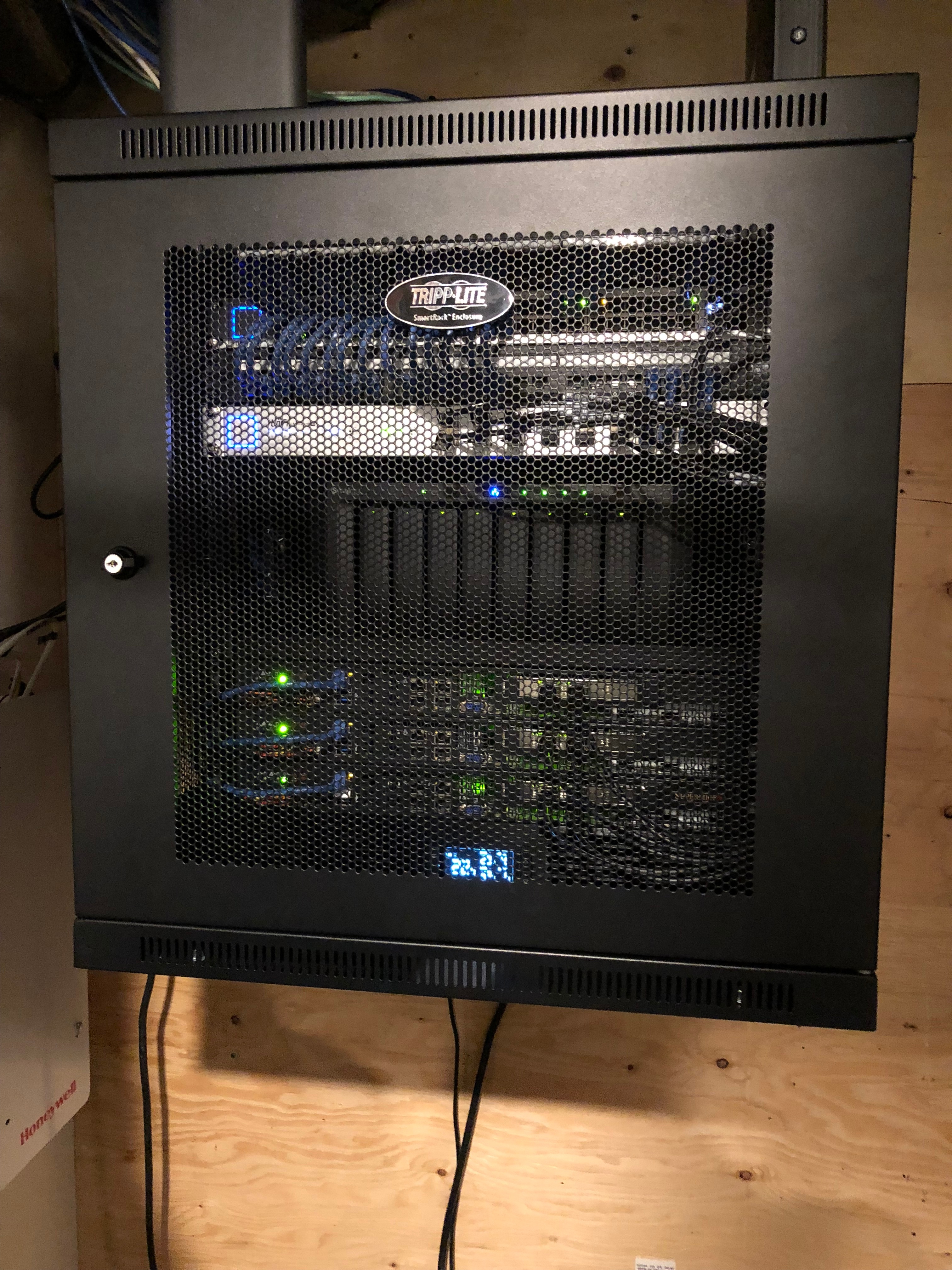 A bit of history...
Started out with decommissioned gear from work.. a pair of IBM x235, I quickly out grew them and the power draw was crazy. I moved to Dell T3400 workstation and then upgrade to T3500s, At the peak I think I had about four of them. At first I had a 4 bay QNAP todo iSCSI and such, moved to a Synology 1512+ and ended up with the 1815+. Networking was the same, started with some 3coms and then went linksys/cisco SBS route, has a slm2028, SG200, SG300. About a year ago I was running the limits of my homelab and decided to do a full refresh as most of the stuff served it's purpose well for the last 7+ years and I decided that I wanted a smaller foot print as I started to build my home around/specifically for my server cage (power and network drops). Sold off my IBM 26U server cage, IBM KVM, PC's, Switches, ATS and other miscellanies parts to fund the start of this iteration. The first version of these servers actually has Intel 750 400GB NVMe cards but as I started to look into 10Gbe switches to get ready for the 3rd node it became apparent that the cost was high and availability was low for 10Gbe copper switches. I decided to switch those out with the Intel x520 (looked at the x710) and use DAC's to the UBNT solution, this also resulting in the switch to the 960 PRO's. As it's very compact space I was getting creative on space and cooling, I changed from a 2U 48 port patch panel to 2x1U patch panels so I can hide some gear behind it, as well changed around the cooling as keep the air moving and make sure that it was quiet enough. As it sits right now I'm very happy with the lab, and looking forward to using it for the next several years. So far the only planned changes would be to split the gear at some point into another rack just to allow for some more growth and maybe increase the ram to 96 or 128 as required.
Another fun fact, I'm actively looking into how to capture the heat produced by my lab and pump it in to my garage for some extra warmth in the winter.