[We've written how Nutanix is bringing a breath of fresh air to IT in remote and branch offices in a previously posted
blog - here
].
Backing up and recovering data in a remote and branch office is one of the top challenges IT admins universally agree they face. A ROBO site typically does not have a dedicated backup and recovery administrator and, more often than not, the task is performed by local personnel as a secondary responsibility.
Not having skilled personnel on staff may result in backups that cannot be used to restore data because tapes may have been overwritten accidentally or are unusable. Other ways include backing up to a central site where data can deduplicated, replicated, and copied for disaster recovery. The downside is utilizing costly WAN bandwidth, which can also sometimes be unpredictable if the remote site is located where network access is limited (for example: on oil rigs).
At the end of the day, a majority of our customers prefer local backup with a separate failure domain, coupled with centralized management -- a need most often fulfilled by a dedicated backup appliance.
A dedicated backup appliance is also not the ideal solution as it introduces complexity and adds cost. Multiply that by hundreds of ROBO sites and we are looking at a complicated and expensive solution, which organizations do not like.
Enter the Nutanix 1-Node Replication Target
The Nutanix 1-Node Replication Target is a local backup solution aimed at solving ROBO challenges with backup and recovery. The Nutanix backup target is a separate appliance that runs one node, designed purely for backup and replication purposes.
With a raw capacity of up to 60 TB, customers can take native snapshots and back up to a single node cluster. Compression and deduplication can be enabled to get data storage efficiency. The 1-Node Target is highly available and durable as it can withstand single disk failure without downtime or loss of data. The node runs our native hypervisor AHV, thus eliminating any third-party license fees, and the solution is ready to go as soon as it is shipped from factory.
Customers also have the option of leveraging the TimeStream feature, which enables on-cluster snapshots to provide faster restores in case of SW misconfiguration or virus attacks.
The benefits are clear - integrated backups on your Nutanix infrastructure, eliminating the need for point products for backup. Particularly in a ROBO environment where resources are limited, this solution offers one less backup product to worry about.
A single click is all it takes to recover your data with Prism Central. Admins do not need to log in to any other management console. Moreover, this can be managed remotely, an administrator need not be present on site to manage the backup. This clean and elegant backup system is available in your local ROBO site.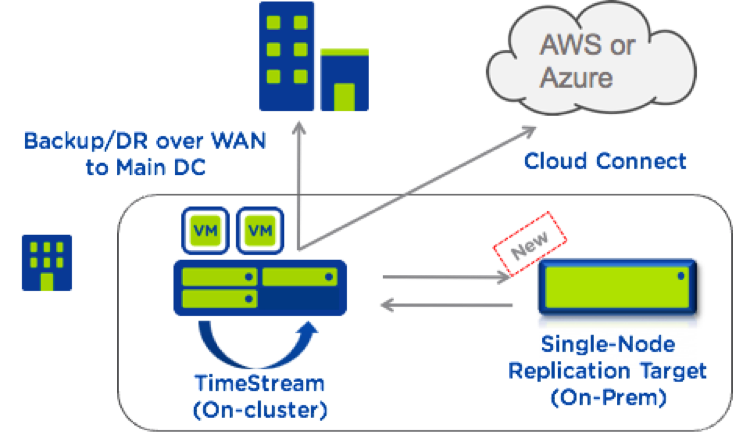 Contact Nutanix for information on the availability of 1-Node Replication Target.
At Nutanix, our primary goal is customer delight. We believe that this new and innovative approach to managing local backups, coupled with a comprehensive portfolio of Backup/DR choices, will truly elevate IT administrators to new levels where they can focus on the business and applications more, and less on the day-to-day administration of ROBO sites.
Interested in learning more and just happen to be at Microsoft Ignite in Atlanta, GA? Be sure to swing by the Nutanix booth at booth #1310 (September 26 - 30). You can also send us a note at info@nutanix.com or connect with us on Twitter (DM
@nutanix
).
This post was authored by Rachna Srivastava, Senior Services Marketing Manager at Nutanix, and Amit Jain, Principal Product Manager at Nutanix.
Disclaimer: This blog contains links to external websites that are not part of Nutanix.com. Nutanix does not control these sites and disclaims all responsibility for the content or accuracy of any external site. Our decision to link to an external site should not be considered an endorsement of any content on such site.