This blog was authored by Magnus Andersson, Sr. Staff Solution Architect at Nutanix.
The Nutanix Enterprise Cloud Platform is a hardware-agnostic software solution, providing the resiliency, availability, and functionality you would expect to see in today's modern cloud-based solutions. Nutanix Enterprise Clouds supports generic server workloads, business-critical applications, VDI, and big data deployments across multiple virtualized environments.
VMware vRealize
Automation (vRA) enables enterprises to automate IT service delivery to meet specific business needs and fully manage the release process for enterprise, SMB, and service provider cloud solutions. Policy-based governance allows administrators to reduce time-to-value, and optimize the delivery and management of infrastructure, applications, custom services, resource utilization, and sizing, leading to significant OpEx and CapEx savings.
With its support for private, public, and hybrid cloud implementations, enterprises can use vRA in conjunction with their existing or new business processes and tools to leverage a very flexible, highly automated, and intuitive self-service experience for the end user.
vRA's versatility makes it easy to maintain control over provisioned physical workloads, virtual workloads, and applications via its centralized provisioning structure, governance, infrastructure, and application management capabilities.
For example, administrators can manage VM workload lifecycles via vRA through built-in processes for:
Request
Approval
Provisioning
Management
Reclamation
Decommission
vRA manages vSphere ESXi-based VMs for IaaS via the vRA logical construct Endpoint. Endpoint connects to the vCenter Server, which manages the vSphere ESXi hosts for VM operations.
Nutanix Acropolis supports the following existing VMware vSphere features and capabilities:
Storage based on the NFS Version 3 protocol
In-guest iSCSI connections
VMware vSphere Storage API for Array Integration (VAAI)
VMware High Availability (HA)
VMware Distributed Resource Scheduler (DRS)
VMware vMotion
Network I/O control
VM resource configuration
ESXi host maintenance mode
The following features are also supported by Nutanix, but as a best practice we do not recommend their use with vRA and Nutanix Enterprise Clouds
Datastore cluster
Storage DRS
Distributed power management (DPM)
vRealize Automation: Deploying the Nutanix Way
Nutanix offers two solutions that meet the requirements of different business drivers:
Cost- and performance-focused solutions will use the Nutanix Enterprise Cloud Platform intelligent data tiering for hybrid disk (flash and spinning disks) solutions to deliver high performance at a low coast to meet vRA performance requirements during cloud service peak hours.
Performance-focused solutions will use the Nutanix Enterprise Cloud Platform all-flash solutions to always deliver high and predetermined performance.
The Nutanix linear scaling approach enables customers to select any initial deployment size and grow in granular data and compute increments. This capability removes the hurdle of costly up-front overprovisioning and ensures a faster time-to-value for the implementation.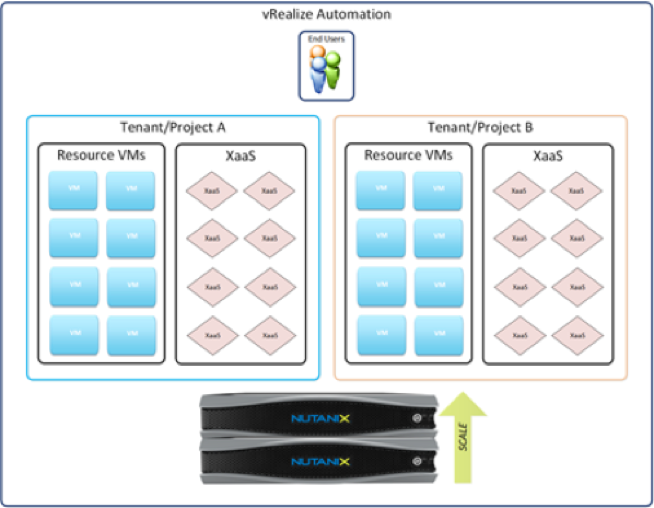 One of the key advantages of building your cloud with vRA and the Nutanix Enterprise Cloud is the Platform's automation capabilities. vRA strongly relies on VMware's orchestration engine vRealize Orchestrator (vRO) for connecting with all third-party systems that need to be updated during VM, application, and custom services lifecycles. The vRA orchestration capabilities are one of the reasons we are seeing success in the field with vRA.
The Nutanix REST API makes it possible for vRA and vRO to provide additional value apart from VM, application, and custom service lifecycle management and provide a fully automated environment including:
Nutanix cluster provisioning and expansion
Nutanix cluster management, including configuration and reporting
Nutanix node and hypervisor host provisioning
vRA capacity extension
VM backup and restore capabilities
Read more about vRealize Automation on Nutanix: Private Cloud in a box in this solution report:
https://www.nutanix.com/go/vrealize-automation-on-nutanix.php
Nutanix at VMworld 2017
Stop by the Nutanix Booth #1207 at the Solution Expo and experience the following:
Nutanix experts, customers, and partners presenting short sessions running every 30 minutes
Demonstration stations
Technical deep dive and Q&A with Nutanix staff
Visit
https://www.nutanix.com/vmworld2017/
for further details and booth schedules.
Follow-us on Twitter
Nutanix
and tweet us about VMworld using #NutanixatVMworld.
2017 Nutanix, Inc. All rights reserved. Nutanix, the Enterprise Cloud Platform, and the Nutanix logo are registered trademarks or trademarks of Nutanix, Inc. in the United States and other countries. VMware and the VMware products mentioned are registered trademarks or trademarks of VMware, Inc. or its affiliates in the United States and/or other jurisdictions. All other brand names mentioned herein are for identification purposes only and may be the trademarks of their respective holder(s).