Author: Seyi Verma, Druva Phoenix Product Marketing
Druva
delivers a 100% cloud-native SaaS solution that brings together backup, archival, and disaster recovery features while harnessing the ease and scalability of the public cloud. The cloud has not only helped organizations deliver a flexible and affordable foundation for infrastructure and applications, it has also enabled a totally new way to scale global data protection. The Druva Cloud platform, powered by AWS, delivers modern data protection and management by centralizing and streamlining the processes of backing up data and making it immediately available from physical and virtual servers across an organization's distributed infrastructure.
Today, Druva is announcing the achievement of Nutanix Ready validation for Druva Phoenix, thereby providing confidence in joint solution compatibility.
Nutanix Ready
validation demonstrates current mutual product compatibility, continued industry relationships, and interoperability. Nutanix users can now take full advantage of Druva Phoenix's unique cloud-first approach, with centralized data management and security designed to achieve lower total cost of ownership (TCO) for their data protection needs. Workloads running on Nutanix powered solutions can now be easily protected using customizable settings within a single intuitive interface.
Nutanix and Druva: Enabling Digital Transformation Together
Organizations, from enterprises to government agencies, are in the midst of the largest technology system and process refresh in recent history. As a growing number of organizations embrace digital transformation, an increasing share of infrastructure and application services are migrating to the cloud. This digital transformation includes the mass adoption of software as a service (SaaS) applications (e.g., Salesforce.com, Marketo, ServiceNow, and MS Office 365), infrastructure as a service (IaaS), and the embracing of platform as a service (PaaS) providers.
By fully embracing the public cloud, Druva can provide a highly scalable, secure, and elastic data protection service with unparalleled efficiency and lower cost. Druva Phoenix requires zero on-premises infrastructure and is delivered as a 100% SaaS service, making it simpler to consume, manage, and implement than legacy solutions. Plus, with Druva's unique consumption-based pricing model, you only pay for the capacity that you actually use. Through this new partnership, Druva can now protect virtual machines (VMs) that are running on Nutanix, by providing:
Host level backup & restore of VMs running on ESXi hypervisor on Nutanix using VADP APIs
Agent based backup & restore of VMs running on AHV
Backup and restore of Nutanix AFS shares using Phoenix file server agent
Druva extends the simplicity, flexibility, and cost savings that Nutanix brings to your virtualized infrastructure by protecting these workloads through automated backup, archival, and disaster recovery.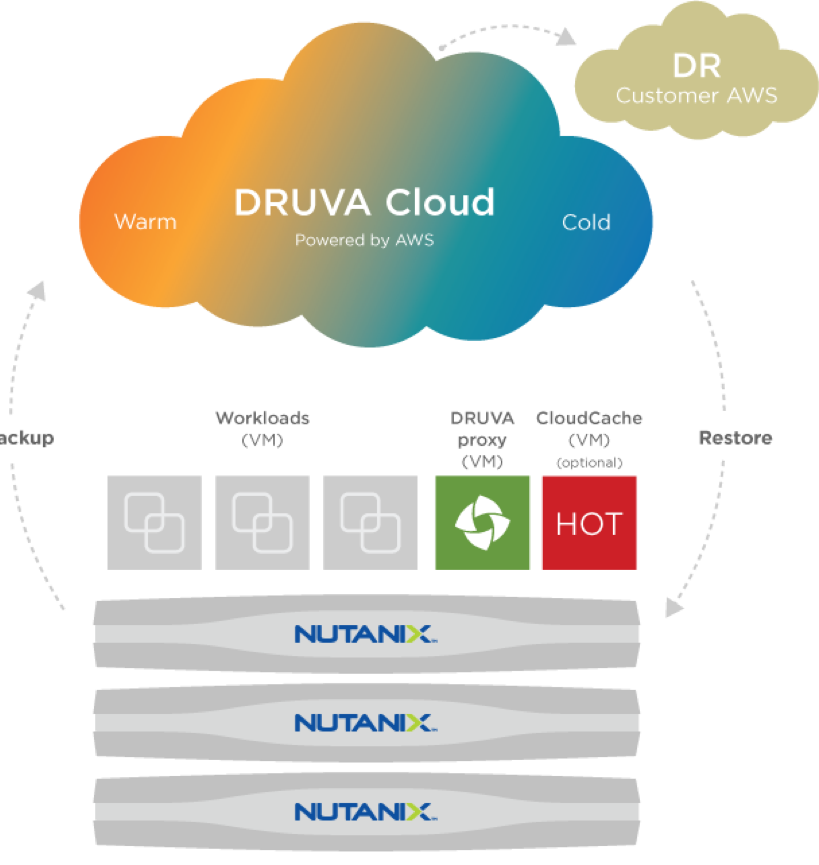 Nutanix customers can back up their virtualized workloads running on VMware vSphere, Nutanix AHV and Nutanix AFS (Acropolis File Services) and other server data directly into the Druva Cloud. Configured Virtual Machines can also be easily spun up in the cloud for immediate disaster recovery, with a 10 minute SLA from Druva, coupled with reliable and flexible recovery point objectives (RPOs). Customers can maintain local or hot copies of their backup data for recovery and replication purposes by deploying Phoenix CloudCache, which has been certified to run as a VM on Nutanix. Druva is also certified to protect the data on Nutanix's web-scale file-serving solution: Acropolis File Services (AFS).
Together, Nutanix and Druva are a formidable combination. The best-in-breed solution offered by Nutanix and Druva provides full backup, recovery, governance, and data analytics for your Nutanix workloads -- both dramatically simplifying and increasing the efficiency of enterprise infrastructure.
Advantages of Partnering with Druva's Cloud-Native Technology
Nutanix and Druva combine to create an unrivaled solution that can offer true peace of mind. Druva customers often reduce their overall TCO over legacy systems, and here's how:
Cloud-scale efficiency—Druva provides Nutanix customers with a data protection platform that delivers on-demand capacity that quickly scales to meet their needs for backup, recovery, DR and archival.
All the benefits of a 100% SaaS deployment—Druva Phoenix provides everything you've come to expect from true cloud-native SaaS solutions: superior SLAs, predictable ongoing costs, and continuing innovation.
]Transparent pricing— Druva is the only provider that passes these savings on by using a pure consumption-based pricing model, meaning customers only pay for the back-end storage they use (post deduplication), and there are no restore charges or other 'hidden fees'
No additional hardware requirements - ]With Druva, data backup is in the public cloud. There's no need to invest time and money in additional physical data backup infrastructure.
Workload mobility and fast recovery—Leveraging the public cloud enables customers to be more flexible with replication for Test & Dev or at-the-ready disaster recovery in multiple regions.
Central data governance and compliance management - Central auditability, legal data accessibility, and long-term retention automation allow for a dramatically simplified governance and compliance effort.
As a Nutanix Ready validated solution, Druva Phoenix is certified to meet Nutanix's standards for quality and interoperability. We are excited to join the Nutanix Elevate Program, and together deliver the next generation of enterprise IT hyperconverged infrastructure with a cloud-native data protection solution to our customers.
To learn how Nutanix and Druva are working together to provide the next generation of cloud-native data protection for hyperconverged workloads, see us at our booth (S8) at the .NEXT conference or visit
www.druva.com/nextoffer
.
Learn More
Nutanix Partnership Page:
www.druva.com/nutanix
Blog:
The Data Transformation: Understanding the Druva Growth Story
eBook:
Cloud Information Management for Dummies
Disclaimer: This blog may contain links to external websites that are not part of Nutanix.com. Nutanix does not control these sites and disclaims all responsibility for the content or accuracy of any external site. Our decision to link to an external site should not be considered an endorsement of any content on such site.
2017 Nutanix, Inc. All rights reserved. Nutanix is a trademark of Nutanix, Inc., registered in the United States and other countries. All other brand names mentioned herein are for identification purposes only and may be the trademarks of their respective holder(s).