This post was authored by our friends at Cyxtera
If you're a Nutanix customer, you already know the benefits of using Hyper-converged Infrastructure on-premises or in your colocation data centers. You're able to rationalize compute, storage and management, automate lifecycle management or repurpose nodes for new workloads that require a different operating environment. All of this saves you time and money.
In the era of cloud-first, however, how can you justify the upfront CapEx outlay and time to provision HCI against the OpEx model and speed to provision cloud? The answer lies in more flexible consumption models, made possible by the
Cyxtera On-demand Data Center platform
(CXD).
Why CXD?
CXD is an on-demand data center platform that enables you to point, click and provision connectivity and dedicated HCI nodes from a portal or API, in an OpEx consumption model. As such, it's an ideal enterprise cloud environment for workloads not suited for public cloud such as steady-state or legacy apps. You can also manage your CXD provisioned HCI nodes via the Nutanix Prism interface you already know.
Since
CXD's debut at .NEXT 2018
, enterprises have learned just how powerful this platform can be for their business. Let's explore how CXD is delivering the comparable benefits customers need to justify On-demand HCI as their alternative to cloud-first.
CXD Lowers TCO
When compared with the costs of actual HCI deployments on-premise or in colocation, the CXD platform can lower your TCO for HCI by 25-50%. Here's how.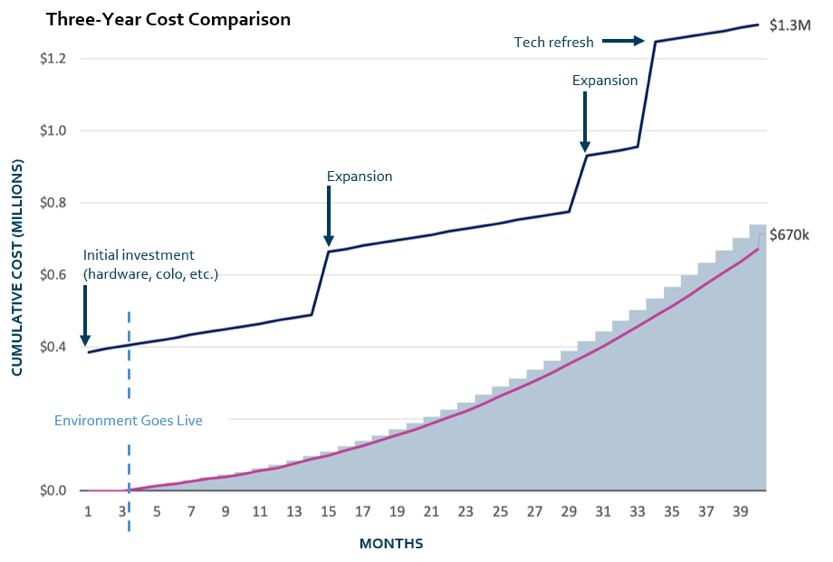 Consider the cost of purchasing HCI appliances and deploying them in traditional colocation. In the above chart, you can compare the cost of purchasing HCI appliances and deploying them in traditional colocation (top line) from when your environment goes live, vs. the cost of delivering the same capacity with the on-demand HCI model of CXD Compute Nodes (bottom graph). In the above example, one customer identified
a savings from $1.3M down to $670K – over 50% lower TCO over three years.
Rather than purchasing HCI and deploying it in colocation, with Cyxtera CXD and
CXD Compute Nodes
you can add capacity – with the newest version of appliances available – only as your demand grows. This removes the need to build for future peak loads and avoids the cost of over-provisioning. HCI's automated lifecycle management also eliminates the cost of hardware refresh and minimizes hardware maintenance. You also avoid the need to hire contractors or use valuable resources to rack and stack equipment, design and install network cabling or perform on-site activities.
CXD On-demand HCI in Action
CXD is proving to be a viable solution to several top priority use cases for enterprises today. Customers are leveraging CXD's HCI-powered Compute Nodes to easily add capacity for existing workloads, spin up dev/test labs or standup new infrastructure to support a VDI deployment. They're able to do this without a large capital investment or multi-year contract.
Managed service providers or SaaS providers are using CXD to grow dedicated compute and storage capacity as their customer demand increases. This allows them to match infrastructure spending with service revenue. CXD does all this while allowing cost-effective, yet rapid growth into new markets with a minimal footprint that can grow with additional nodes as the business grows.
Attending .NEXT? Learn more about how to build your business case for On-Demand HCI
If you are attending .NEXT 2019, be sure to attend the session "The Business Case for On-demand HCI in a Cloud-first World". It will feature a fireside chat with me and one of our enterprise customers discussing their experience and benefits with CXD.
You can also get a
demo of Cyxtera CXD Command Center to see how to provision HCI on-demand.