My previous blog post titled "
Nutanix Community Edition. The Prestige
" – I discussed the concept of taking something "Ordinary" and making it "Extraordinary" followed by the grand "Prestige."
Take the recent platform updates contained in our Acropolis Base/Hypervisor/Storage Fabric and combine that with the latest generation of Intel's NUC (Next Unit of Computing) family and our Prestige continues to evolve with Nutanix Community Edition (CE).
In version 4.6 we introduced a wealth of feature sets and advancements including;
► Updates to the Distributed Storage Fabric; Scale-Out file server, Volume Groups, Self Service restore, etc..
► App Mobility / Cross Hypervisor DR
► OpenStack Integration and much more …(More information
here
)
While the platform continues to deliver exceptional features, and greater value, the main constraint we were faced with was the limitations of Intel NUC 5th Generation hardware. An Intel i7 Processor (2 cores @ 3.1Ghz) and up to 16GB RAM (Supported), required a "tweak" to CE's installer to ensure it would pass its hardware validation tests since the NUC would not meet the 4 Core Processor requirement to operate the Controller Virtual Machine (CVM).
[
Related
:
Nutanix Community Edition. The Prestige
]
For the average home user/developer/partner, this was not a big deal. Neither was Overcommitting on CPU and yea you could lower the CVM's RAM requirements to squeeze in some more VM's – But you're now in unsupported territory.
Thanks to Intel's 6th Generation NUC, the Skull Canyon - we are no longer faced with these limiting constraints since this tiny form factor PC (211mm x 116mm x 28mm) delivers an incredible amount of horsepower and platform capabilities in your pocket!
With an Intel 6th Generation Processor (i7 / 4 Cores @ 2.6Ghz), up to 32GB RAM and Dual M.2 Slots for SSD's, you now have the ability to take advantage of feature sets like a Scale-Out file server, Openstack or simply just build better demonstration capabilities for your customers and prospects.
Perhaps you just want to build a home lab or develop a cluster in a box solution similar to my previous blog. The possibilities are endless.
So first things first, what do you get with the Skull Canyon kit? Inside the neat packaging, you'll find;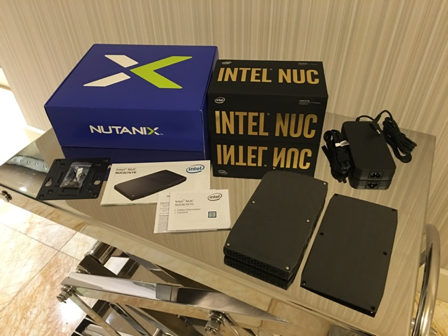 The Skull Canyon NUC
► A Spare cover (without the Skull logo – I must admit, I'm not a fan of the pirate like theme)
► A power supply 19v/120w (USA Specific adaptor only) – The wattage is higher on these, infact double, but I suppose that has to do with the horsepower + the 3D graphics etc
► Vesa mounting bracket
► Instructions….And not forgetting the little intel sticker
Note; you will need to provide your own RAM as well as your SSD's since the Skull Canyon does not come with these components.
For this build we are using Kingston Technology Hyper X Impact 32GB Kit (2400MHz DDR4) as well as FIPS-140-2 Certified and validated SSD's from Integral.
Having the SSD's encrypted means that our data is safe and secured with AES 256Bit Encryption – Even to the point where the chip's on the circuit board feature a tamper proof epoxy resin that will disintegrate the chips if you were to try and de-solder if from the circuit board. Pretty neat huh?
After the hardware components were installed (RAM and SSD) – It was time to install Community Edition.
To get started you'll need to first register and download the latest build/image file of CE, as well as spare/blank USB key to create the bootable image of AHV.
If you're a Nutanix User already, the bootable USB Device is like the SATADOM inside a conventional rackmount server.
This will live permanently attached to the NUC.
► Once you've downloaded the bootable image file, the next step is to create a bootable USB Flash drive from the CE image
► On a Mac:
► Insert your flash drive
► In a terminal window run "
diskutil list
" to determine the device node assigned to your flash media (e.g. /dev/disk2).
► Next run "
diskutil unmountDisk /dev/diskN
" (replace N with the disk number from the last command)
► Now type "sudo dd if=/path/to/downloaded.img of=/dev/rdiskN bs=1m"
Note: /path/to/downloaded.img is the path where the image file is located; for example, ./ubuntu.img or ./ubuntu.dmg).
/dev/rdiskN is the location of the USB Flash drive as you recorded in step 3b
► On a Windows PC
► Download a utility called
Rufus
to create the USB Bootable drive from the CE Image file
► It's pretty straight forward, though make sure you set "Create a bootable disk using dd image."
Browse to the location to where the image file is located and click the start button to begin the process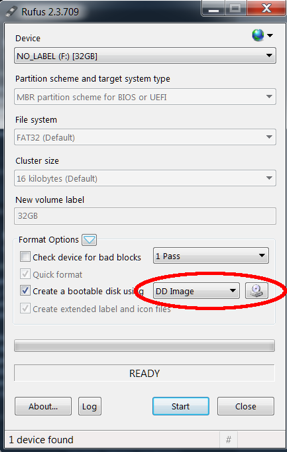 Now since the Skull Canyon is pretty new, you'll find that the drivers for Intel NIC aren't included in the AHV build (Don't worry we're working on this…) So, for now, we'll need to install the drivers manually.
Thanks to my colleague Adam Fried-Gintis (Community Edition Lead) for providing the necessary steps!
Insert your newly created USB key into either a Windows PC with a utility like EXT2FSD installed so you can read/write to the EXT4 based partition on the USB key or a linux based VM.Download the file "e1000e.ko" file and copy/overwrite the existing "e1000e.ko" driver on bootable CE USB stick into the following directory:
Download the file "e1000e.ko" file and copy/overwrite the existing "e1000e.ko" driver on bootable CE USB stick into the following directory: /lib/module/3.10.0-229.4.2.e17.nutanix.20150513.x86_64/kernel/drivers/net/ethernet/intel/e1000e/e1000e.ko
Once copied/overwritten – Insert the USB key into your Intel NUC and proceed to boot off the USB Key
You'll now see the following prompt:

Login as "root" and the default password "nutanix/4u"
Load the Intel e1000e driver by typing:modprobe e1000e
Restart the network service by typing:service network restartLog out of "root" and now run the CE installer
Log out of "root" and now run the CE installer
Type "Install" to get started

Enter the relevant IP addresses for your CVM and Hypervisor
Select "Create Single-Node Cluster" if you only have one appliance
Accept the EULA and Select "Start."
Once the installer concludes, simply enter the IP address of the Controller Virtual Machine (CVM) in a web browser, and you'll be presented with Prism.
While you're at it, make sure you check for updates too.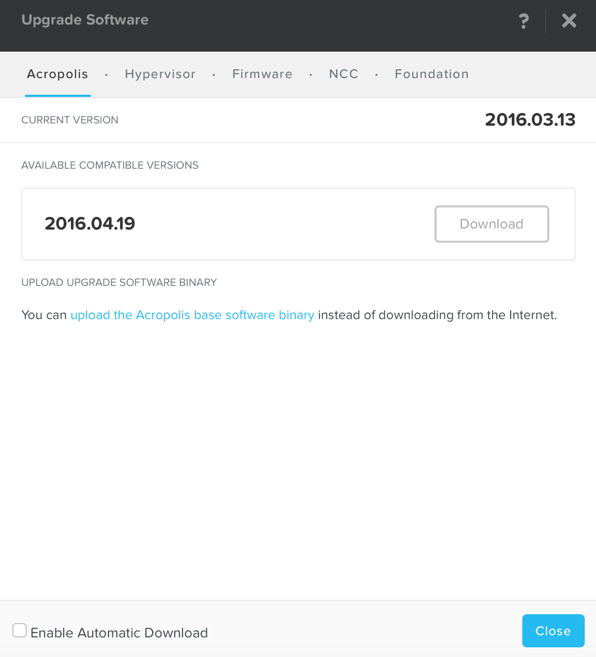 Now that the cluster was installed and fully functional, it was time for some Plasti-Dip and Nutanix branding of course.
Plasti-Dip is such a versatile product with multiple use cases. Think of it as vinyl wrapping though you're spraying it out of a Can!
The best part about this product is that you can peel it off when no longer required.
Simply spray 5-6 even coats and let it dry and you're done. Easy!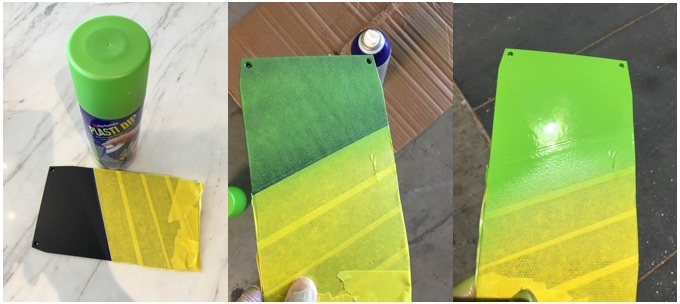 The Final Product.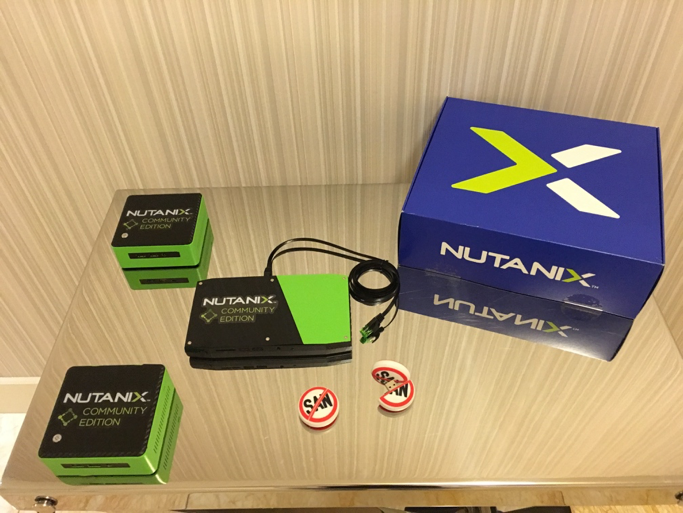 This post was authored by Richard Arsenian, Nutanix Global Solution Architect – OEM Alliances | VCDX #126 | NPX #09