This blog is authored by John Williamson, Technical Writer at Nutanix.
As expected, .NEXT 2017 in Washington DC delivered a wide range of transformational announcements, including foundational new steps on our continuing journey to the cloud (or, more accurately, multi-clouds). We announced Nutanix Calm, which elevates operations from VMs and containers to applications, and Nutanix Xi Cloud Services, which is a native cloud extension of the Enterprise Cloud Platform. We also announced a new partnership with Google, in which our software stack will be seamlessly integrated with the Google Cloud Platform, utilizing both Nutanix Calm for automated application provisioning and life-cycle management, and Xi for Disaster Recovery, among other features.
But as Chief Product and Development Officer Sunil Potti observed during the Day 2 keynote, a first-rate multi-cloud solution requires a first-rate private cloud. Nutanix announced numerous new features and enhancements to the Enterprise Cloud Platform, which provides a single fabric for all applications, be they enterprise-grade "mode 1" (Oracle and SAP) or developer-friendly "mode 2" (Docker and Hadoop). We demoed several of these new features and capabilities live on stage—no safety net! These were such extraordinary moments that we wanted to single out three of them: Xtract for Databases; performance on the new NX-9030-G5 platform; and NearSync replication. As these demos make clear, the Nutanix Enterprise Cloud Platform makes every application a first class citizen.
Migrating essential applications like Microsoft SQL Server Databases to a new platform can be an onerous task, one that typically requires a lot of tribal knowledge, human capital, and professional services. Nutanix Xtract for Databases allows you to move your SQL servers onto Nutanix quickly and easily. During the .NEXT keynote, we migrated two SQL environments, one based on SQL Server 2008, running on Windows 2008, with 3 GB of data, and the other based on SQL Server 2014, running on Windows 2012, with 62 GB. The figure below provides a view of the databases in the larger VM.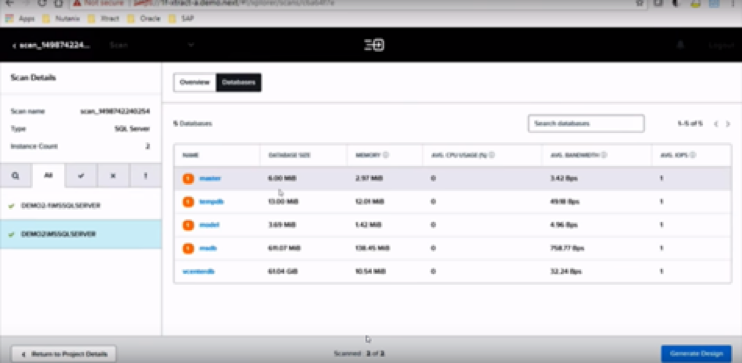 Figure 1 Databases in the SQL Server VM
Xtract starts by discovering your SQL servers wherever they are, whether they are running virtualized, bare-metal, or in the public cloud. It then automatically optimizes the servers' configuration and performance profiles for a Nutanix deployment. Xtract automates numerous steps that would otherwise have to be done manually, such as recommending a range of AOS storage properties, VM compute and networking, and most importantly, all of the database disk layouts within the SQL VM.
With Xtract for Databases, moving SQL servers from one infrastructure environment to another is no longer a painstakingly complex process that eats up days or even weeks. It takes minutes to initiate the process and then minutes to hours to migrate the data, depending on the size of your databases. As the demo illustrated, we have transformed a tedious and time consuming process into one that is simple, turnkey, and one-click. If you'd like a deeper introduction to Xtract, check out
Mike McGhee's blog
.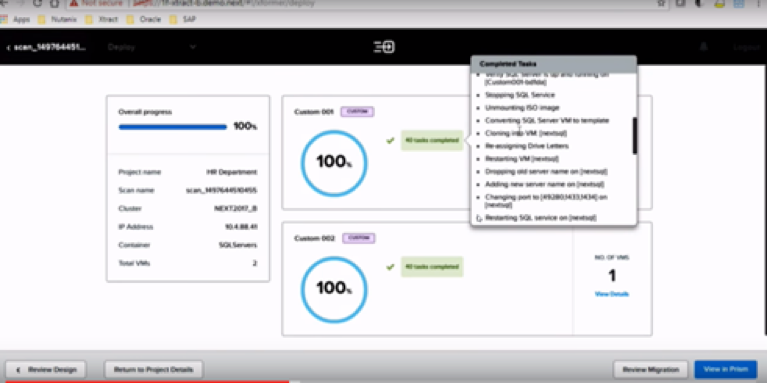 Figure 2 Migrated SQL Server VM with View of Completed Tasks
Mission-critical, tier-1 databases like SQL Server or Oracle RAC deserve best-of-breed performance as well. However, to achieve first-rate performance and availability, enterprises have had to rely on prohibitively expensive and complex systems. This is no longer the case. During the .NEXT keynote we generated a steady 450K IOPS at 1.2ms latency on our just-announced NX-9030-G5 platform, which was running the Nutanix AHV hypervisor. We drove these IOPS with an eight-node cluster running four large Oracle RAC virtual machine nodes, 44 cores and 240 GB of memory each.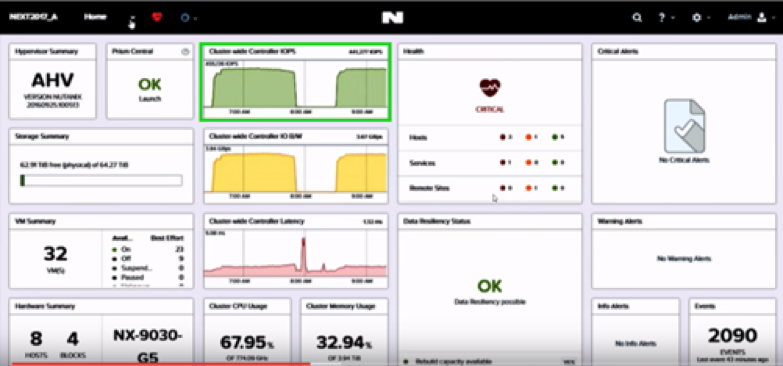 Figure 3 450K IOPS with Oracle RAC VMs on NX-9030-G5 Platform
These numbers represent a striking 5x improvement over our .NEXT 2016 demo, where we hit around 80K IOPS from two four-socket E7-8890v3-based Oracle RAC bare metal servers via Acropolis Block Services. As Vice President of Product Management Raja Mukhopadhyay observed, these performance gains are a testament to our software-defined architecture. Because we control the stack, we are poised to leverage innovation. We delivered this year's remarkable numbers in part by utilizing AHV Turbo mode, which creates a highly optimized I/O path between the user VMs and the I/O engine. AHV Turbo mode ensures that our platform is future proofed for hardware and networking advances—in this case we used newly available NVMe flash as well as RDMA, which enabled extremely low latency while increasing throughput. With Nutanix, you have the flexibility to run your apps bare-metal or virtualized; either way, you get best-in-class performance.
No less important is having reliable availability against all kinds of failures. This requires a well thought out DR strategy that includes data replication across sites, cities, or regions. Previously, we promised that our near-synchronous replication would provide a 15 minute RPO (recovery point objective)—that is, the maximum exposure to data loss from a regional failure is less than 15 minutes worth of data. At the .NEXT demo, we showed that NearSync has the technical capability to take snapshots as rapidly as every 15 seconds. In the future, however, we are expecting to provide one minute RPO.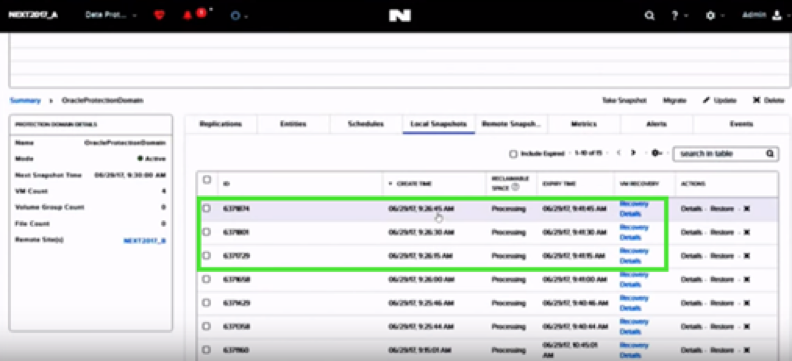 Figure 5 15 Second Snapshots with NearSync
No matter if your datacenters are thousands of miles away on opposite coasts, or in neighboring cities, NearSync gives your apps unrivaled availability and protection—all without the additional expense and complexity of add-on tools.
Click
here
to watch these demos and others in real time, alongside many other announcements and insightful conversations with industry leaders.
Forward Looking Statements: This blog includes forward-looking statements including but not limited to statements concerning our plans and expectations relating to product features and technology that are under development or in process and capabilities of such product features and technology, strategic partnerships that are in process, and product performance. These forward-looking statements are not historical facts, and instead are based on our current expectations, estimates, opinions and beliefs. The accuracy of such forward-looking statements depends upon future events, and involves risks, uncertainties and other factors beyond our control that may cause these statements to be inaccurate and cause our actual results, performance or achievements to differ materially and adversely from those anticipated or implied by such statements, including, among others: the introduction, or acceleration of adoption of, competing solutions, including public cloud infrastructure; a shift in industry or competitive dynamics or customer demand; failure to form, or delays in the formation of, new strategic partnerships and the possibility that we may not receive anticipated results from forming such strategic partnerships; and other risks detailed in our quarterly report on Form 10-Q for the fiscal quarter ended April 30, 2017, filed with the SEC. These forward-looking statements speak only as of the date of this press release and, except as required by law, we assume no obligation to update forward-looking statements to reflect actual results or subsequent events or circumstances.
2017 Nutanix, Inc. All rights reserved. Nutanix, the Enterprise Cloud Platform, and the Nutanix logo are registered trademarks or trademarks of Nutanix, Inc. in the United States and other countries. All other brand names mentioned herein are for identification purposes only and may be the trademarks of their respective holder(s).