This post is authored by Denis Guyadeen, Product Manager, and Andrew Nelson, Distributed Systems Engineer at Nutanix and reviewed by John Williamson.
Nutanix is proud to announce that it has joined the
Docker Certification Program
, a framework for partners to integrate and certify their technology to the Docker Enterprise Edition commercial platform.
"We would like to congratulate Nutanix on their acceptance into the Docker Certification Program," said Marianna Tessel, EVP, Strategic Development. "Enterprise IT teams are looking to Docker to provide recommendations and assurances on the ecosystem of container content, infrastructure, and extensions.
The company's inclusion into the program indicates that the Nutanix Docker Volume Plugin (DVP) has been tested and verified by Docker, confirming for customers that its container images have been evaluated for security and are supported and built according to best practices."
Now not only can Nutanix customers consume compute via containers alongside VMs, they can also consume storage via Acropolis Block Services, Acropolis File Services, and our Docker storage plugin, the Nutanix Docker Volume Plugin (
available here
).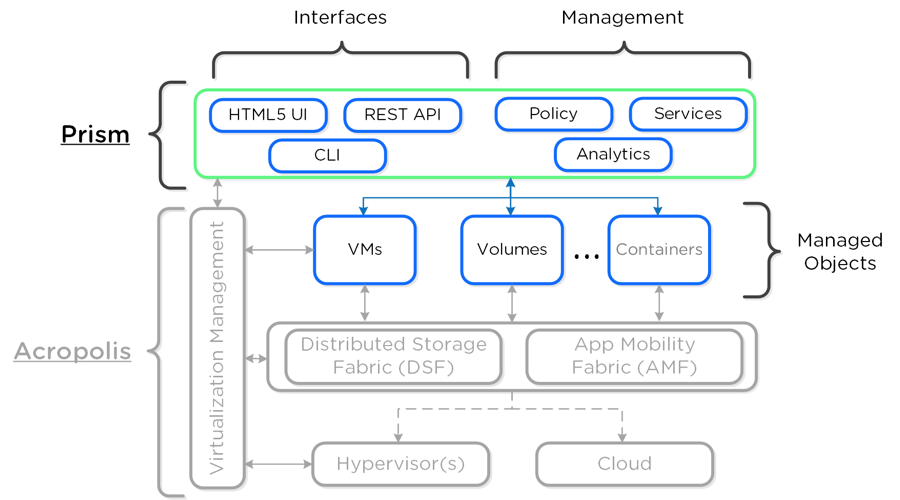 Figure 1 High-Level Prism Architecture
The
Docker managed plugin API
, formerly part of the
experimental branch in 1.12
,
has now been merged as a feature. Because the API has changed significantly, you must first uninstall the plugins before upgrading to
Docker 1.13
(or
Docker EE 17.03
) using the
docker plugin rm
command. This new capability allows you to install plugins as easily as pulling images (which is why we developed the Volume Plugin as a SideCar Container in the first release). Instead of manually installing plugins on the host environment with unique commands, as was previously required, you now manage the process with a new
docker plugin
top-level command, with
install
,
enable
,
disable
,
rm
,
inspect
, and
set
subcommands.
Once installed, the plugin starts before other containers, ensuring that the plugin API is available when containers are launched. This is a significant advance over the previous
volume plugin implementation (V1)
, which didn't offer boot ordering to enforce that plugins always started before containers.
Another major development is that Docker has now officially launched
Docker Store
, which is an enterprise-grade version of Docker Hub. Docker Hub was a powerful and secure distribution channel that contributed significantly to Docker's rise to success. However, with Docker Hub, customers needed access to the Nutanix Portal to get our hardened CentOS VM image, which included a script that pulled the Volume Plugin Image.
If you were a
Nutanix CE
user you needed to contact Nutanix for the Volume Plugin. Although we did our due diligence to make sure that the Volume Plugin Image was secure, end users had to just take our word for it. Docker Store now includes Image Scanning, the same tech used for Docker Cloud and Docker Trusted Registry; Docker Store effectively curates and validates our images, ensuring that the images you pull are safe and trusted.
How will these developments help Nutanix users? For example, customers building a multi-cloud approach can work with a public cloud provider while also taking advantage of the scalability and flexibility of Nutanix for their on-prem workloads. Docker provides both an environment-agnostic framework as well as services with Docker EE with Docker Datacenter that Nutanix customers can use to build, ship, and run their apps without lock-in to a single cloud provider.
With Nutanix, there's no longer any need to run containers on siloed, inefficient infrastructure. The Enterprise Cloud Platform, which
is API-driven
, supports granular workload capacity planning and disruption-free 1-click upgrades. Docker on Nutanix gives your on-prem infrastructure operational awareness and automation alongside the simplicity and flexibility of a cloud environment.
Watch this brief walkthrough of the new Docker Volume Plugin by Andrew Nelson, which shows how easy it is to assign stateful storage to containers running on Nutanix.
For more information on Nutanix and containers:
Acropolis Container Services
Docker Container Best Practices Guide
Nutanix Bible - Container Services
[Blog] Containers enters Acropolis
[Blog] Stateful Container Services on Nutanix Part 1
[Blog] Stateful Container Services on Nutanix Part 2
[Blog] Stateful Container Services on Nutanix Part 3
[Video] Tech TopX: Introduction to Docker on Nutanix
[Video] Nutanix Acropolis 4.7 - Container Support Demo
Let's Discuss
- Join the conversation in the
community forums
Disclaimer: This blog contains links to external websites that are not part of Nutanix.com. Nutanix does not control these sites and disclaims all responsibility for the content or accuracy of any external site. Our decision to link to an external site should not be considered an endorsement of any content on such site.