This post was authored by Maryam Sanglaji, Product Marketing Principal and Bala Kuchibhotla, General Manager of Databases Nutanix
We understand the complexity of managing and operating databases because we see the challenges our customers face around managing databases at scale. Leveraging multiple solutions for database operations such as provisioning, cloning, refreshing, etc, results in a complex environment that slows business agility and efficiency. For enterprise databases, for instance, the requirement is not just to copy/paste of a particular instance but the ability to create clones from any point-in-time. Many organizations are seeking Cloud database or DBaaS to bring agility, cost-effectiveness, scalability, and elasticity to their database estates.
Nutanix Era delivering one-click operations
Leveraging the Nutanix Enterprise Cloud, we were able to take advantage of the power of the full stack: Data, compute, and software. This allowed us to take our innovations around simplicity, automation, and efficiency with hyper-converged infrastructure services and expand them to platform services for creating cloud databases or DBaaS solution. The result? Nutanix Era.
Nutanix Era automates and simplifies database management, bringing one-click simplicity and invisible operations to database provisioning and lifecycle management (LCM). Nutanix Era provides a consumer-grade experience for enterprise database operations. It also makes database operations such as cloning efficient, thereby driving down the TCO of database management for our customers. Nutanix Era lets admins define standards for their database provisioning needs and provide end-state driven provisioning functionality that includes mission-critical cluster HA database deployments.
Copying and pasting databases that are terabytes in size should be as easy as doing it on your computer. Nutanix Era time machine powers the one-click database copy and paste operations while maintaining specific SLAs. It provides one-click database operations for multiple database engines with an API first architecture.
Registering or Provisioning a DB
Provisioning a database starts with selecting a database engine through a catalog of database engine options. These database engines are based on the database with OS images that are created by the database administrator. The provisioning process allows the use of database parameter files as well as pre/post database creation scripts, achieving specific database tuning during the provisioning. The last step is to protect the provisioned database with a set of SLA requirements. These SLAs are customizable based on the organization requirements. Once the SLAs are set, the time machine is activated.

Time Machine under the hood
As part of the time machine activation process, Nutanix Era installs an Era Agent on the existing database server. This Era service discovers the logical layout of the database and the maps of physical disk resources that are powering the database.
It takes the first application consistent database snapshot (including the OS). By leveraging Nutanix snapshots (redirect-on-write) and database native APIs, Nutanix Era can quiesce the database and create application consistent snapshots.
In order to achieve point-in-time-recovery, Era collects the transaction logs periodically based on the specified SLAs. Era agent maintains a small staging disk where it periodically sweeps the logs from the database to this staging location. Then the logs are synced into the time machine. The time-machine introspects its log-disk for content beyond the RPO. Once the logs exceed the RPO requirements it purges them.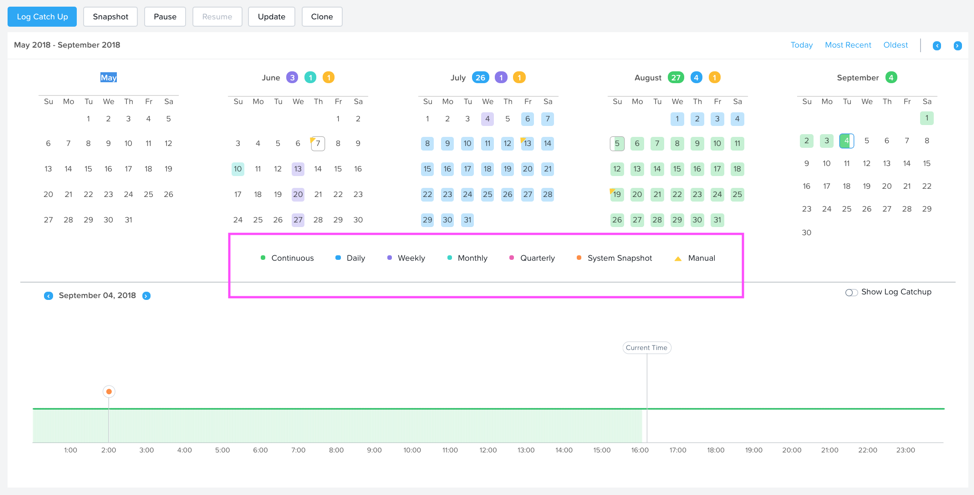 One-click Cloning/Refreshing, Backing up/Restoring a database
Now that the time machine is activated, it can serve the one-click database operations such as clone, refresh, backup, and restore. Based on the set SLA or specified RPOs, databases can be taken to any specific point in time.
The time-machine feature enables Nutanix Era to deliver the simple copy and paste operations for databases that are TBs in size in just a few minutes. More importantly, with Nutanix Era databases can be taken to any specific point in time with the granularity of seconds. This short blog covered only the time machine feature. If you are interested to learn more, stay tuned for more Nutanix Era under the hood short series. The features discussed herein are currently in limited release and are expected to be generally available in the future.
Forward-Looking Statements Disclaimer
This blog includes forward-looking statements, including but not limited to statements concerning product features and technology that are under development or in process and capabilities of such product features and technology, and our plans to introduce product features in future releases. These forward-looking statements are not historical facts, and instead are based on our current expectations, estimates, opinions and beliefs. The accuracy of such forward-looking statements depends upon future events, and involves risks, uncertainties and other factors beyond our control that may cause these statements to be inaccurate and cause our actual results, performance or achievements to differ materially and adversely from those anticipated or implied by such statements, including, among others: failure to develop, or unexpected difficulties or delays in developing, new product features or technology on a timely or cost-effective basis; delays in or lack of customer or market acceptance of our new product features or technology; and other risks detailed in our Annual Report on Form 10-K for the fiscal year ended July 31, 2018, filed with the Securities and Exchange Commission. These forward-looking statements speak only as of the date of this blog and, except as required by law, we assume no obligation to update forward-looking statements to reflect actual results or subsequent events or circumstances.
© 2018 Nutanix, Inc. All rights reserved. Nutanix, the Nutanix logo and the other Nutanix products and features mentioned herein are registered trademarks or trademarks of Nutanix, Inc. in the United States and other countries. All other brand names mentioned herein are for identification purposes only and may be the trademarks of their respective holder(s).